'RHOBH': Denise Richards Responds to Brandi Glanville's Shocking Accusations That Made Her Leave the Show
Brandi Glanville is back on 'RHOBH' and spreading rumors about Denise Richards, how did her reps respond?
Real Housewives of Beverly Hills star Denise Richards is not backing down. Following rumors that Richards had a secret love affair with Brandi Glanville, Richards' publicist shut down the reports in a recent statement. Sources claim that fans will find out what really happened between Richards and Glanville when RHOBH premieres later this year, but that is not stopping Richards from getting ahead of the drama.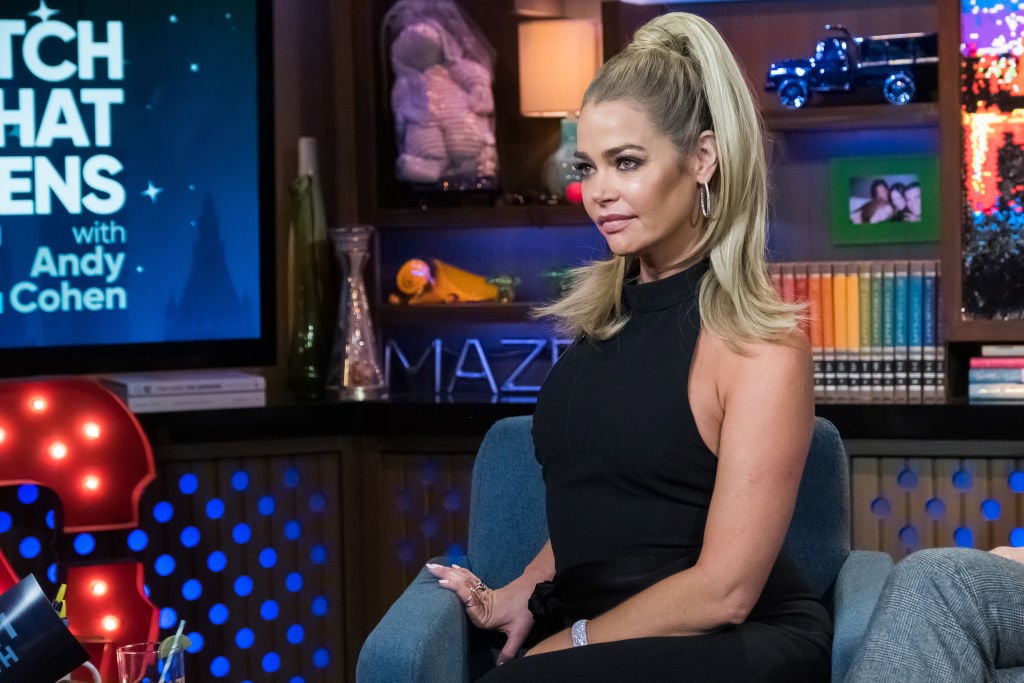 Denise Richards responds to Glanville's shocking accusations
Rumors recently surfaced that Denise Richards and Brandi Glanville were romantically involved during the production of season 10 of RHOBH. Their affair reportedly lasted several months, and sources claim that it was the real reason why Richards left the series before filming was finished.
In light of the reports, Richards' publicist released a statement denying the rumors. They did not elaborate on why the rumors aren't true, but it sounds like fans will find out in the upcoming season.
"It isn't true," the spokesperson shared.
According to Just Jared, an insider revealed that Denise Richards skipped out on the finale party last month. This led to rumors that Richards had stopped filming altogether, though the insider noted that production had ended long before the party was held.
The source then assured fans that the truth will be revealed in the upcoming season. We do not know what really happened between Richards and Glanville, but it is clear that there was a major falling out.
Glanville lashes out
There has been a lot of rumors surrounding the upcoming season of RHOBH, particularly when it comes to the major feud between Brandi Glanville and Denise Richards.
In a recent interview, Glanville did not hold back when asked about the drama. Without giving away too much, Glanville claimed that she is the one who got Richards to talk about some of her shady past and said that her co-star is completely faking it.
"She's faking it, and she has some skeletons in the closet, and guess what? They're out. I brought 'em out," Glanville stated.
Apart from the finale party, there were other events in season 10 that Denise Richards reportedly missed. This has allegedly created a lot of beef with some of her co-stars, like Lisa Rinna.
The drama has gotten so far out of hand that Richards is reportedly refusing to show up for the season 10 reunion. This is exactly what happened to Lisa Vanderpump last season, so it wouldn't be a huge shocker if it happened again.
Inside those affair rumors
There is no telling if the feud rumors are true, but it is a little early for Denise Richards to declare that she is skipping the reunion. Bravo has not even released a season 10 trailer, so filming for the reunion is still a few months off.
That said, we cannot help but wonder if there is any truth to the affair rumors.
Per inside sources, Richards has an open relationship with her husband, Aaron Richards, so she wasn't exactly cheating when she hooked up with Glanville.
But issues surfaced when Denise Richards failed to keep her hubby in the loop. When Glanville spilled the beans, the two had a major falling out.
To be fair, Glanville thought that Richards' husband knew what had happened and did not purposefully say things to hurt her RHOBH co-star.
Rinna weighs in on the Denise Richards drama
While we wait to hear more on the cheating front, Lisa Rinna has officially shared her thoughts on Denise Richards' behavior in season 10. Taking to social media, Rinna called out Richards for skipping the finale party and sarcastically asked if she was doing okay.
"Denise are you ok? You never showed up to Dorit's Sat night we were all so worried about you. What happened?" Rinna wrote. "You said you were coming, you were meeting Garcelle [Beauvais], We never heard from you. What happened?"
Rinna's post only sparked more debate amongst RHOBH fans. It also led to some intense speculation that Rinna and Richards are about to butt heads in a major way.
In light of all the feud talk, Rinna recently shared a nude photograph of herself after a source claimed that she was about to get exposed in front of the cameras.
Although Denise Richards has made enemies this season, Camille Grammer came to her defense and slammed Rinna for taking the feud to social media. She also assured fans that Richards did not quit RHOBH or hookup with Brandi Glanville.
Bravo has not revealed when season 10 of the Real Housewives of Beverly Hills will premiere.