'RHOBH': Do Kathy Hilton and Kyle Richards Have the Same Father?
Kathy Hilton has quickly become the most popular member of the 'Real Housewives of Beverly Hills' – a show her sister Kyle Richards has been running for over 11 seasons. Kathy and Kyle's mom Big Kathy was an outrageous personality who raised her daughters in an unconventional environment – so do they have the same father?
ARTICLE HIGHLIGHTS
Kathy Hilton has become a fan-favorite on the 'Real Housewives of Beverly Hills'
She joined tthe after finally mending fences with her sister Kyle Richards
The girls had an unconventional childhood — but do they have the same dad?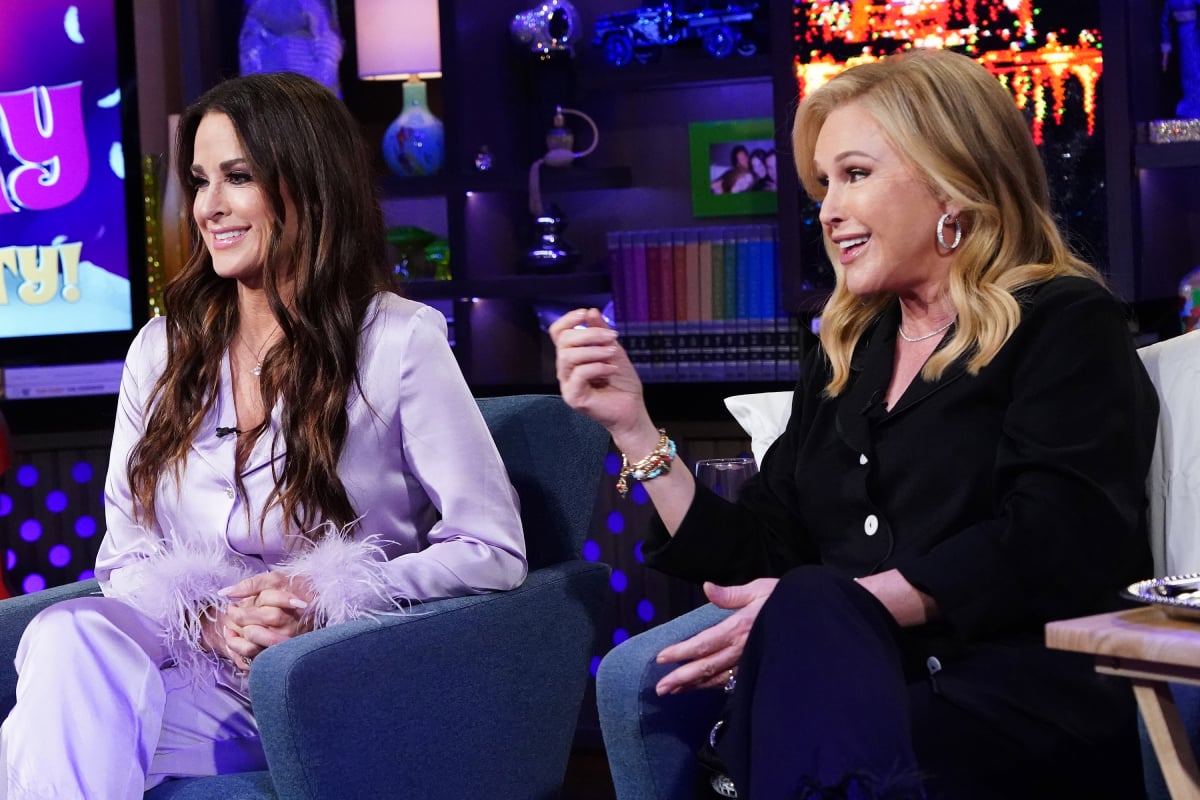 Kathy Hilton quickly became a fan favorite on Real Housewives of Beverly Hills in her first season as a "friend." Thanks to her blunt honesty and quirky sense of humor, fans think Kathy is a keeper. The mom of Paris and Nicky waited more than 10 years to join the RHOBH cast because of a falling out with her sister, OG cast member Kyle Richards.
Kathy and Kyle's mom — known as "Big Kathy" — was an outrageous personality who taught her daughters how to snag a wealthy husband. But what about dad? Do Kathy Hilton and Kyle Richards have the same father?
Kyle Richards and Kathy Hilton were estranged before season 11 of 'RHOBH'
Before Kathy agreed to join the cast of Real Housewives of Beverly Hills, she and Kyle were estranged for years. The sisters were able to get past their issues before filming began on the current season, but working things out definitely took some time.
Kyle says that she and Kathy have had "a lot of setbacks" in their relationship. And she claims her husband Mauricio caused the first one.
Back in 2011, Mauricio left the real estate firm Hilton & Hyland — which is owned by Kathy's husband Rick. He left to start his own luxury real estate company known as The Agency. Kyle says that when she and Mauricio started The Agency, that was "the first time Kathy and I ever had an issue."
Kathy Hilton tells a different story
While chatting with Bruce Bozzi during a recent appearance on Radio Andy, Kathy told a different story behind her estrangement from Kyle. She revealed that she stopped talking to her youngest sister after Kyle and Kim Richards' infamous limo incident in season 1 of Real Housewives of Beverly Hills. She also stopped watching the Bravo reality show.
"I didn't watch it because I was so hurt at what happened that first season and I didn't speak to my sister for a long time," Kathy admitted.
Fans may recall the infamous incident when Kim accused Kyle of stealing a house from her sisters. Kim screamed her accusation at Kyle from the back of a stretch limo, and Kyle responded by outing Kim as an alcoholic. Kathy says that she and Paris watched the episode, and it left them in tears.
Do the 'RHOBH' stars have the same father?
Kathy, Kyle, and Kim all have the same mother — Kathleen Dugan Avanzino Richards Catain Fenton, aka "Big Kathy." All of those last names came from her numerous marriages. She was married at least four times. And it's possible she married the same man twice.
Kathy Hilton was born Kathleen Elizabeth Avanzino in 1959 in Manhattan and is the daughter of Big Kathy and Larry Avanzino. After they divorced, Big Kathy married Kenneth Richards, and that's when they moved to Beverly Hills. Big Kathy and Kenneth welcomed Kim and Kyle to the family in 1964 and 1969, respectively.
Kenneth Richards adopted Kathy Hilton
Even though Big Kathy went through quite a few men in her life, Kyle says that her father "was a pro at being a Daddy." Big Kathy was Kenneth's second marriage. He had three children from his previous relationship, in addition to being Kyle and Kim's dad. He also adopted Kathy.
On Father's Day 2017, Kyle took to Instagram to remember her dad by posting a series of pics from her childhood.
"I was my Dad's 6th child. He was already a grandfather when I was born. He was a pro at being a Daddy," she wrote. "So handsome and smart. Loved to cook and taught us how to. He also loved cars, he was the kind of Dad that would ask what we wanted to do and if we said 'camping!' He would say 'ok, come on, let's go' no matter what we said he would drop everything and take us."
The sisters and 'RHOBH' co-stars are closer than ever
After years of feuding, Kyle and Kathy finally reconciled. And now they appear to be closer than ever. Kyle says that they've gone through so many different problems, and they've finally worked through them.
"My favorite thing about having Kathy back in my life is just the relief," Kyle said, per Bravo. "The anxiety and depression that I felt with not speaking to my sister for so long really affected me a lot."
The four-part Real Housewives of Beverly Hills season 11 reunion continues on Bravo on Wednesday, October 20.