'RHOBH': Does Lisa Rinna Have a Higher Net Worth Than Harry Hamlin?
'RHOBH' star Lisa Rinna loves to talk about her husband Harry Hamlin, but does she have a higher net worth?
Real Housewives of Beverly Hills star Lisa Rinna has a strong relationship with her husband, Harry Hamlin. The two have been married for over two decades and have kept their relationship healthy despite being on reality television. While Rinna has become the face of RHOBH over the years, does she have a higher net worth than Hamlin?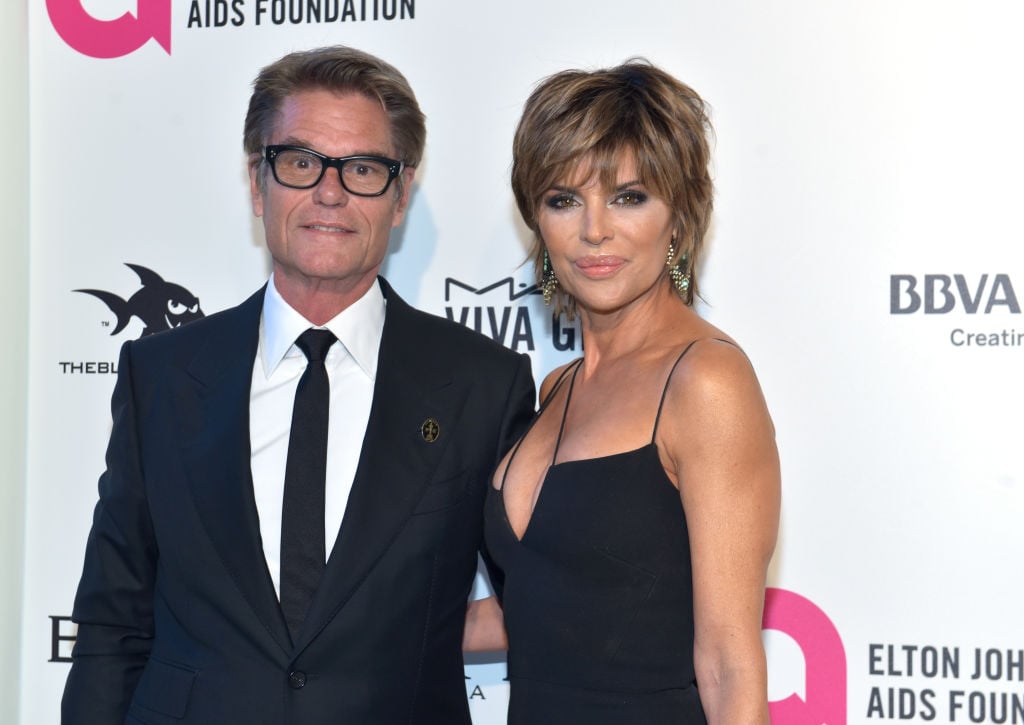 Inside Lisa Rinna and Harry Hamlin's romance
Hamlin already had an established career in Hollywood when he met Rinna, who was trying to land her first big gig. At the time, Rinna worked at an eyeglass store and met Hamlin when he was having dinner with her boss.
They did not start dating immediately, but Hamlin fell hard for Rinna. He was still finalizing his divorce from Nicollette Sheridan, however, so he waited until that was done to ask Rinna on a date.
Once Lisa Rinna and Hamlin started dating, her career suddenly took off. As RHOBH fans are well aware, Rinna's first big role was in Days of our Lives.
A few years into their relationship, Hamlin and Rinna got engaged. The pair tied the knot in a gorgeous ceremony in March of 1997 and have been going strong ever since.
Hamlin, who had one son, Dmitri Alexander, before he met Rinna, has three children with the RHOBH star: Amelia Gray and Delilah Belle.
How much is Harry Hamlin worth?
The majority of Hamlin's fortune comes from his various appearances in movies and TV shows. The actor is best known for his part in Clash of the Titans, a 1981 fantasy drama in which he played Perseus.
He has also appeared in a slew of television shows over the years, including a significant role in  L.A. Law as Michael Kuzak. Hamlin was nominated for three Golden Globes for his work on the show.
More recently, Hamlin has enjoyed cameos on Mad Men (which earned him a Primetime Emmy nod in the category of Outstanding Guest Actor in a Drama Series), Law & Order: Special Victims Unit, and Law & Order True Crime.
Hamlin's work over the years has enabled him to build an impressive fortune. According to The Richest, Hamlin is worth around $10 million.
Does Lisa Rinna have a higher net worth than Hamlin?
Rinna's first claim to fame was a cameo in John Parr's music video, "Naughty Naughty," in 1990. From there, she appeared in a few installments of The Hogan Family before landing a part as Billie Reed on Days of our Lives.
Rinna has appeared alongside Hamlin in several projects, including Veronica Mars and Sex, Lies & Obsession. In 2002, she co-hosted Soap Talk and took home a Daytime Emmy Award.
Her most recent claim to fame, of course, is her appearance in RHOBH. Rinna joined Bravo's popular reality series in season 5 and has been a full-time cast member ever since.
Although Lisa Rinna's career is just as impressive as her husband, she is not worth as much as Hamlin. According to Celebrity Net Worth, Rinna's fortune is estimated to be around the $8 million mark.
Harry Hamlin opens up about 'RHOBH'
When it comes to their involvement on RHOBH, Hamlin recently opened up about Rinna's time on the show. According to ET Online, Hamlin revealed that Bravo would not have cast Lisa Rinna if he had not agreed to appear in front of the camera as well.
"It's totally deliberate," he explained. "They were not going to hire Lisa if I didn't do it, and the husbands have the same obligations as the wives do. They want you to show up and be involved. I said I wasn't going to do that. So we concocted a way to get around it."
Hamlin added that he is not under any obligation to take part in filming. But he often agrees to work with Rinna because she gets "brownie points" for doing so.
The actor also revealed that he still has his divorce lawyer's number on speed dial. He has used his attorney three times over the years and still sends him Christmas cards.
Luckily, Hamlin has not had to use his divorce lawyer in his current marriage. He credits good communication and the ability to listen for keeping his relationship with Lisa Rinna healthy.
New episodes of the Real Housewives of Beverly Hills air Wednesday nights on Bravo.