'RHOBH': Erika Girardi Blasts Denise Richards' Husband For His Treatment of the Women in Season 10
'RHOBH' star Erika Girardi is calling out Denise Richards' husband Aaron Phypers for the way he treated all the women in season 10.
Real Housewives of Beverly Hills star Erika Girardi is not pulling any punches ahead of the season 10 premiere. The trailer for the new season revealed that Girardi got into a few heated arguments with Denise Richards' husband, Aaron Phypers. With the premiere almost here, Girardi revealed exactly why she stood up to Phypers and shared her thoughts on what surprised her the most this season.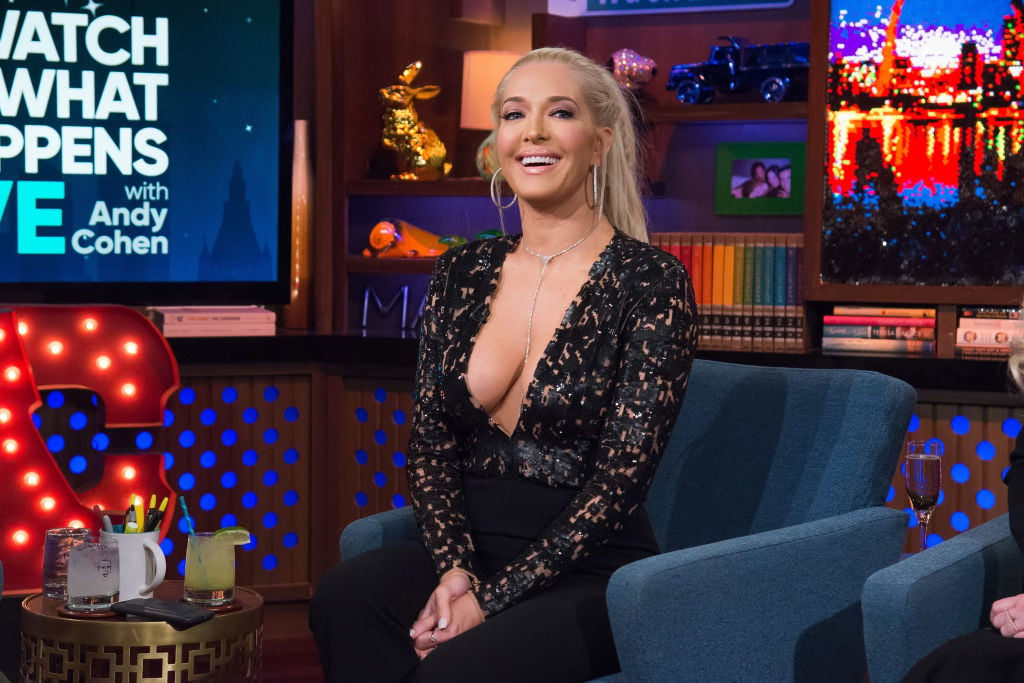 Girardi fights with Denise Richards' husband in season 10 of RHOBH
It is no secret that Richards' alleged affair with Brandi Glanville will take center stage. In the season 10 trailer, Richards' husband is shown addressing the entire group on her behalf, a move that did not sit well with Girardi.
The scene in question shows Phypers telling the women that as long as they can look back with no regrets then they can "own it." In response, Erika Girardi told the cameras that she has no qualms about facing herself in the mirror.
Later in the trailer, Phypers asked Girardi, "Do you really want to go there," to which she clapped back, "Come see about me, I don't give a f***."
The clip makes it clear that Girardi and Phypers majorly butted heads this season, and the RHOBH star recently revealed why she felt like standing up to Phypers in the first place.
Erika Girardi blasts Phypers for his treatment of the women in season 10
During an interview with People, Girardi opened up about her beef with Phypers and why they appeared to get in a heated argument this season. The RHOBH star revealed that she did not like the way Phypers addressed her co-stars and felt like he could have dealt with the situation a lot differently.
"You know, there's an instance where you see Aaron and I exchanged words then it's mostly about the way he was talking to us as a group of women," she explained.
Girardi went on to say that she was not completely shocked when she heard that Richards and Glanville had an affair. She did, however, admit that it forced her to take a step back and that the group has not dealt with anything like this in the past.
As far as Erika Girardi is concerned, the thing that shocked her the most this season was when Teddi Mellencamp Arroyave told her that she is pregnant. The reality star revealed that she was "totally blown away" by the announcement and that it was a "wow moment" for her.
What does Girardi think about Lisa Vanderpump's exit?
One of the big changes for season 10 of RHOBH is Lisa Vanderpump's absence. Vanderpump called it quits in the middle of last season and confirmed that she will no longer appear on the show last summer.
Although some fans were sad to see Vanderpump go, Girardi told Us Magazine that her exit has brought everyone else closer.
"There was a big shift last year. We lost a cast member …  in the middle of conflicts. But when that happens, the five of us, we became close," Erika Girardi shared. "I think that certain things bond you."
Girardi added that some of the cast members have been more open now that Vanderpump is no longer around. She also shared that they have all put "Puppy Gate" behind them and that the drama with Richards is nothing like what happened to Vanderpump last year.
Vanderpump has not commented on the upcoming premiere of RHOBH. In June, she revealed her plans to step away from the series after going through "a very difficult year."
What about those Erika Girardi pregnancy rumors?
While Girardi is ready for another season of RHOBH, a post on social media has left fans wondering if Girardi is expecting a child with her husband, Thomas Girardi.
The pregnancy rumors heated up after Girardi shared a photo of herself on social media with Jennifer Aydin. The pic was snapped following their interview on Watch What Happens Live with Andy Cohen and features Aydin with her hand on Girardi's stomach.
"Secret's out, I'm pregnant," Girardi wrote in the caption.
Fans quickly began to speculate on whether Girardi is sporting a baby bump in the pic. Girardi is known for her biting wit, so fans should probably just take a step back and realize she was just making fun of the pose in the picture.
Catch Erika Girardi and the rest of the cast when season 10 of the Real Housewives of Beverly Hills premieres April 15 on Bravo.