'RHOBH': Erika Girardi Teases That Brandi Glanville 'Has Some Information' This Season
Erika Girardi from The Real Housewives of Beverly Hills teased that returning cast member, Brandi Glanville is going to be spilling the tea this season.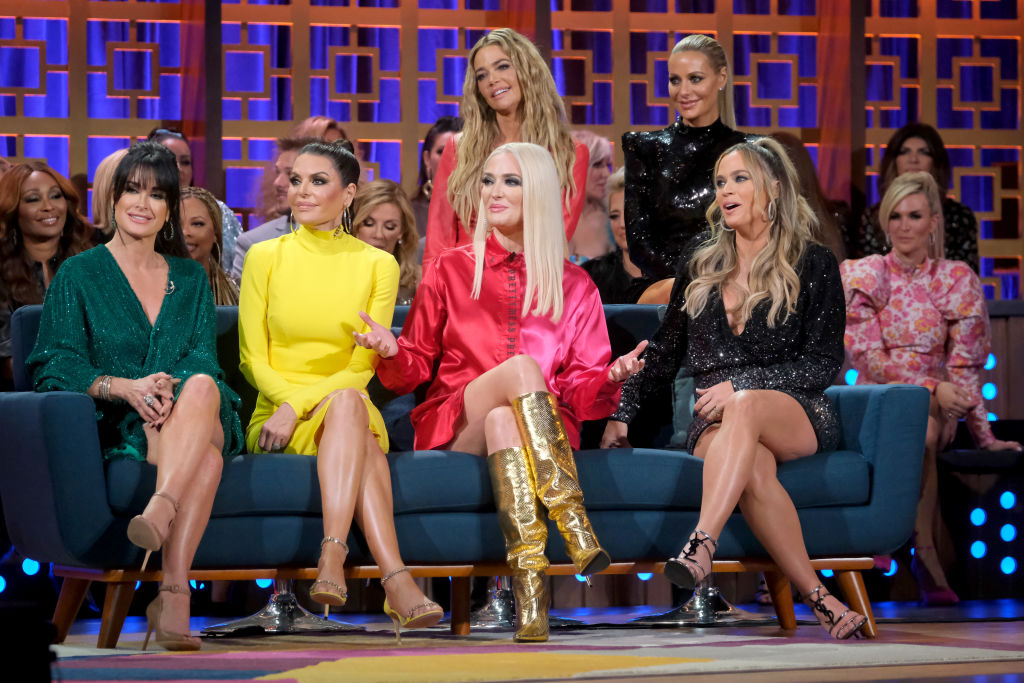 Girardi appeared on Watch What Happens Live with Andy Cohen and dished about Glanville's return after first making a shady comment about Lisa Vanderpump. An After Show caller asked about Vanderpump's possible return to the show, but host Andy Cohen reminded the caller that "unfortunately" Vanderpump is no longer on the show. "Is it unfortunate, I don't know," Girardi muttered under her breath.
Cohen added that the current cast begins the season getting along. "But then well, yeah," Girardi says. Another caller asked Girardi what she thought about Glanville re-joining the cast. "Brandi always brings it and she's got some information, baby," she laughed.
Glanville insists she's being truthful
Glanville's cryptic comments have generated a number of rumors about her alleged affair with Denise Richards. When Richards recently tweeted a request for tag line ideas, Glanville snarked, "For anyone wanting 'tagline' help this could work, 'I might be married to a man but I am still allowed to eat pu**y.'" Glanville later deleted her response.
She also danced around the rumors on her podcast Brandi Glanville Unfiltered. "I didn't realize all of this was going to be coming out so soon. I'm not saying whether it's true or not, but we're still shooting a little bit so I'm just feeling like wow," she said in January.
Glanville was angry with Camille Grammer who tweeted that the rumors about the affair were not true. "Spoiler alert. She didn't hook up with BG," Grammer tweeted in January. Adding, "It may come up… a desperate person looking to start drama to get back in the show full time. Some people will lie about anything SMH." Glanville then challenged Grammer. "I don't even mind Camille," she said on her podcast. "It's just she should shut the f**k up and if she comes for me it's not going to go well for her. Not at all. And 'at' me bitch, I dare you."
Richards went on the defense
Rumors of the Richards and Glanville affair continue to bubble as Richards recently confronted a fan on social media about her marriage. Richards shared a photo and remark on Instagram about her husband's new project. "Hubby shooting something really cool at his center @q360club so happy for him🙏🏻 he helps so many people and is the most selfless & giving person I've ever met. ❤️," she wrote.
When a fan asked if Richards' husband Aaron Phypers had a brother, another person responded that the couple has an open marriage. Richards then commented, "We actually don't have an open marriage." And added that she was "100% monogamous to my husband."
Additional rumors dogged Richards that she was no longer filming after Glanville insisted they had an affair. But Richards' publicist told People, "It isn't true." An unnamed source told people the storyline between the women "will play out on the season." Adding, "There is a lot of she said, she said going on. But it's going to be very dramatic."