'RHOBH': Erika Jayne Tries to Intimidate the Cast, Kathryn Edwards Believes – 'Talk About a Bully '
Kathryn Edwards believes that Erika Jayne pushes the cast around on The Real Housewives of Beverly Hills. She views Jayne as a "bully" and recounted a time when Jayne got in her face. She didn't back down but observed how Jayne can easily intimidate other cast members. And even though Jayne hasn't gotten into a confrontation with Kyle Richards, Edwards hopes that Richards eventually pushes back.
Erika Jayne and Kathryn Edwards had a heated moment on 'RHOBH'
"I remember when she was like in my face at one time and I was, I was laughing when we were doing the Habitat for Humanity and she was like, trying to tell me this," she recalled on the Behind the Velvet Rope with David Yontef podcast.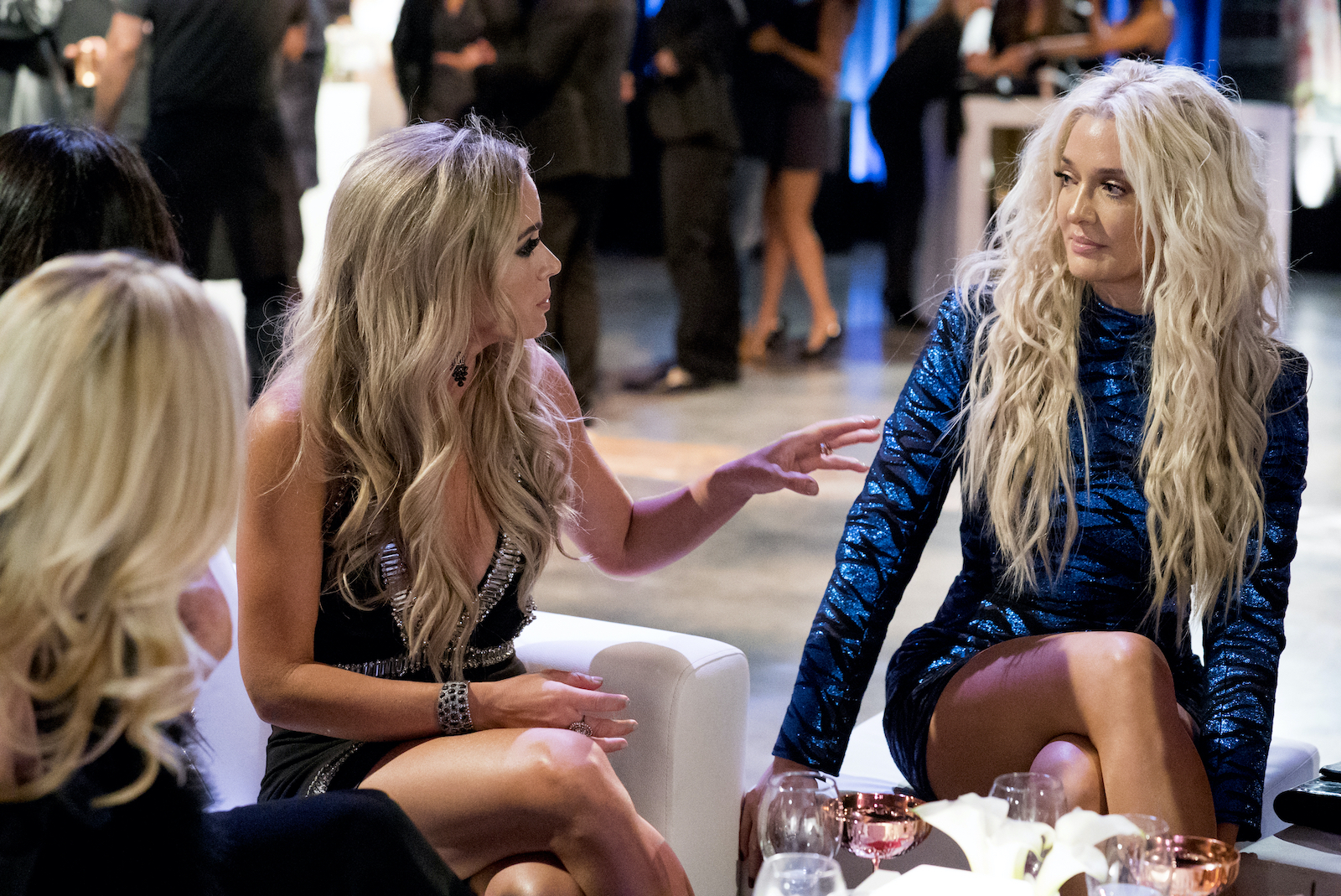 "I was like, get your finger out of my face," she laughed. "I'm kind of laughing because I thought, oh my God, if she like takes one step to me and then, and then I said, she goes, I think she said, or what? And then she said, are you going to hit me? And I thought, at least she knows me a little bit. I mean, I don't want to ever do that. I stopped that, you know, in grade school. But if you come too close … eh."
Is Erika Jayne a bully?
Edwards admitted if the women got into a physical altercation, she would have been fired. "I would have like been the Porsha [Williams], like frickin drag someone by the ponytail. Oh yeah. I could've, that could've been me." Adding, "She was kicked off for slapping." Williams physically attacked Kenya Moore on The Real Housewives of Atlanta.
Host David Yontef said he could tell, especially after he had Sutton Stracke on his podcast, that Jayne truly rattled her. "Like, she was scared," he recalled. "Like Sutton's not used to that. I would have been or what, like, I don't understand, like you lay one hand on me, sweetie, like you're going, you will go to jail. I'll be calm. I'll just go right to the police and we'll have charges here. You can hit me. I'm just going to go straight to the police."
Edwards recalled how Jayne also came for Teddi Mellencamp. "When she does the threatening and poor Teddi," Edwards said. "I remember when she told Teddi like, don't you ever do that again? And Teddi's little face was like, OK. Like she was so scared. And I thought, what? She, you want to talk about a bully for nothing. But I think again, I think she's got issues. I think she really needs some serious therapy. And I think maybe after all this, however, the cards fall, maybe she'll get it. I mean, my hope so."
Kathryn Edwards hopes Kyle Richards will have more 'bravado' in the future
Edwards hoped that perhaps Richards might stand up for herself more. "Maybe now that Kyle is seeing that Erika doesn't have the fan sentiments and she's not liked, maybe Kyle will have a little bit more, you know, bravado to buck her," she said.
"Because you know, someone said, oh, she hates confrontation, Kyle hates confrontation," she continued. "I think that that's, I think that's pretty true. But I think because Erika has always talked so tough and at which I don't get. I would've never fricking back down from her. Hell no."