'RHOBH': Erika Jayne Shades Lisa Vanderpump on 'Watch What Happens Live!'
Erika Jayne is returning to season 10 of The Real Housewives of Beverly Hills. The pop star is currently in New York City starring in the Broadway musical Chicago. With only a few weeks left playing Roxie on the stage, she stopped by Watch What Happens Live on Bravo. While sitting at the clubhouse, she teased the new season of RHOBH and took a swipe at Lisa Vanderpump.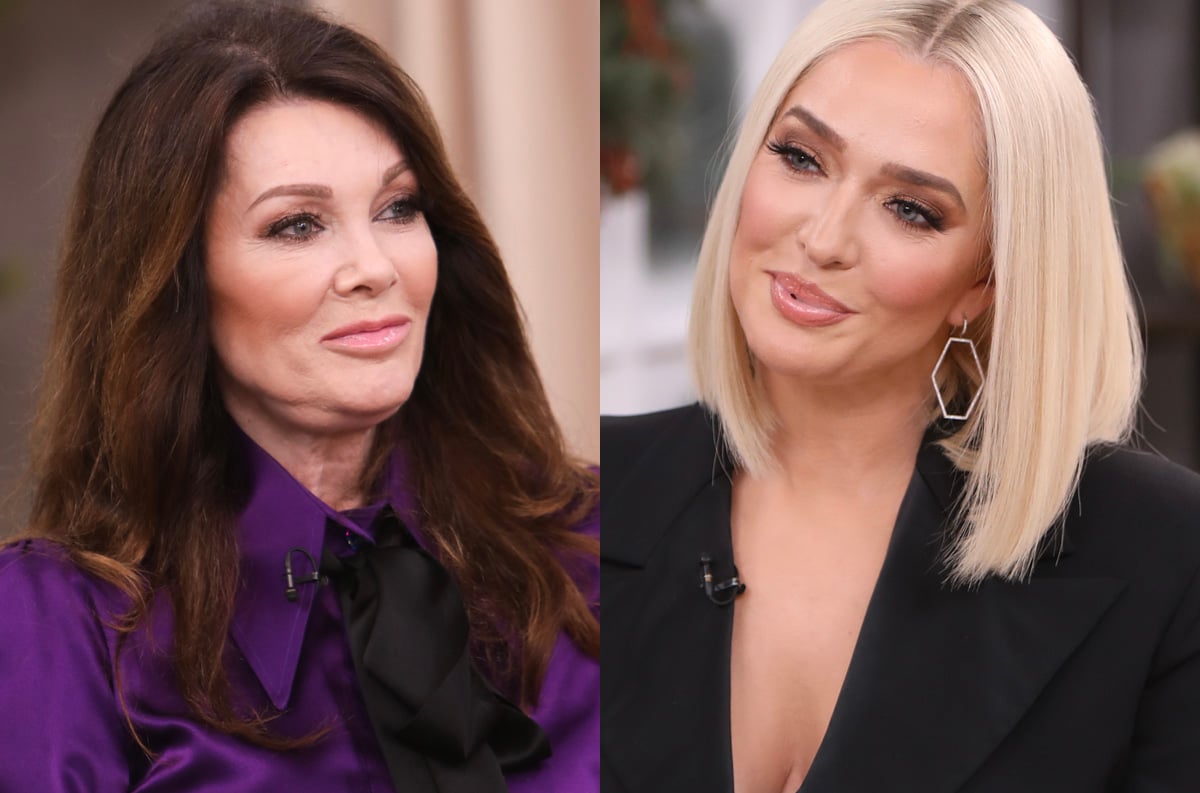 While playing a game, Andy Cohen read a statement and Jayne had to assign it to one of her reality show co-stars. When asked who was the biggest pot-stirrer the one name that came to mind was Lisa Rinna. The latter also got named as the funniest drunk. Jayne also said that Denise Richards would have "the most to answer for at the reunion" while she assigned herself the MVP of the girls' trips because she actually attends them.
What did Erika Jayne say about Lisa Vanderpump?
Things got extremely awkward when a viewer called in to ask if Jayne's relationship with Vanderpump would get better in the upcoming season. It's not entirely clear if the lady was trolling them or what because it's been widely reported the restaurant mogul quit the show following season 9.
"She just didn't seem like herself last year. I'm wondering if there's any chance that we're gonna get to see everybody at least sort of get along a little bit this year with Lisa," the caller asked.
"Well, she's not on the show this year," Cohen intervened.
Fans of RHOBH know that Jayne never got close to Vanderpump and at one point called her a "sniper from the side." Jayne even took a picture of a card she sent Vanderpump after the latter claimed no one reached out to her following her brother's passing.
"She's unfortunately, not on the show this season," Cohen said again.
That's when Jayne dropped a little nugget and said, "Is it unfortunate though?"
Erika Jayne doesn't miss Lisa Vanderpump
Jayne has made no secret that she is not particularly fond of Vanderpump. Every time she can throw in a little shade her way, she takes on the opportunity.
During an appearance on The Wendy Williams Show, Jayne said that Vanderpump is not missed on season 10 of RHOBH.
"I personally do not miss her. Here's the thing… Everyone is replaceable," Jayne told Williams. "We all know that. The show always goes on. It doesn't matter. And I think we have proof that the world keeps spinning. The Housewives will forever go on."
Why did Lisa Vanderpump quit?
Filming season 9 of RHOBH was a hard task for Vanderpump as she was grieving the loss of her brother. At the time it happened, allegations around her Vanderpump Dogs business was in the middle of controversy. One of the puppies adopted from her rescue ended up at a kill shelter.
Teddi Mellencamp suggested that Vanderpump was behind all the leaking of information to the media to benefit her foundation and not suffer a backlash. When her closest friend on the show, Kyle Richards, confronted her and asked if she was behind everything, she completely shut down.
At that point she wanted nothing to do with her co-stars or even defend herself from the allegations. Vanderpump stopped filming with the rest of the cast and eventually dropped out of the show and quit when the season wrapped.
"I've been in a position where the whole cast has been against me before," Vanderpump said in an interview with People. "But this time, our foundation was taking a bashing from the women, and it didn't deserve it. And suddenly, to start dealing with them all screaming and shouting at me on that first trip [to the Bahamas], I thought, 'What the hell am I doing?' And that was really it."
Vanderpump continued: "I just had more things going on in my life at that time. [Grief] encourages you to take stock. I'm a strong woman, but I don't have room in my life for nastiness."
Vanderpump continues appearing on Vanderpump Rules ever Tuesday at 9 p.m. ET on Bravo.