'RHOBH': Erika Jayne's Dubai Spending Spree Red Flag – 'This Girl Spends Money Like It's Coming out of the Tap,' Kathryn Edwards Recalled
Erika Jayne dropped serious cash during a Dubai shopping spree on The Real Housewives of Beverly Hills that had Kathryn Edwards' jaw on the floor.
Like other moments on the show, Jayne's past spending behavior may come back to haunt her. Her husband Tom Girardi is accused of embezzling money meant for plane crash clients to line his own, and Jayne's, pockets.
RHOBH's Erika Jayne traveled in high luxury with her glam team
Edwards dished about the trip because she shared a room with Jayne during the RHOBH Season 6 getaway. She recalled that the group traveled in luxury, but Jayne's luxury levels were kicked up a notch.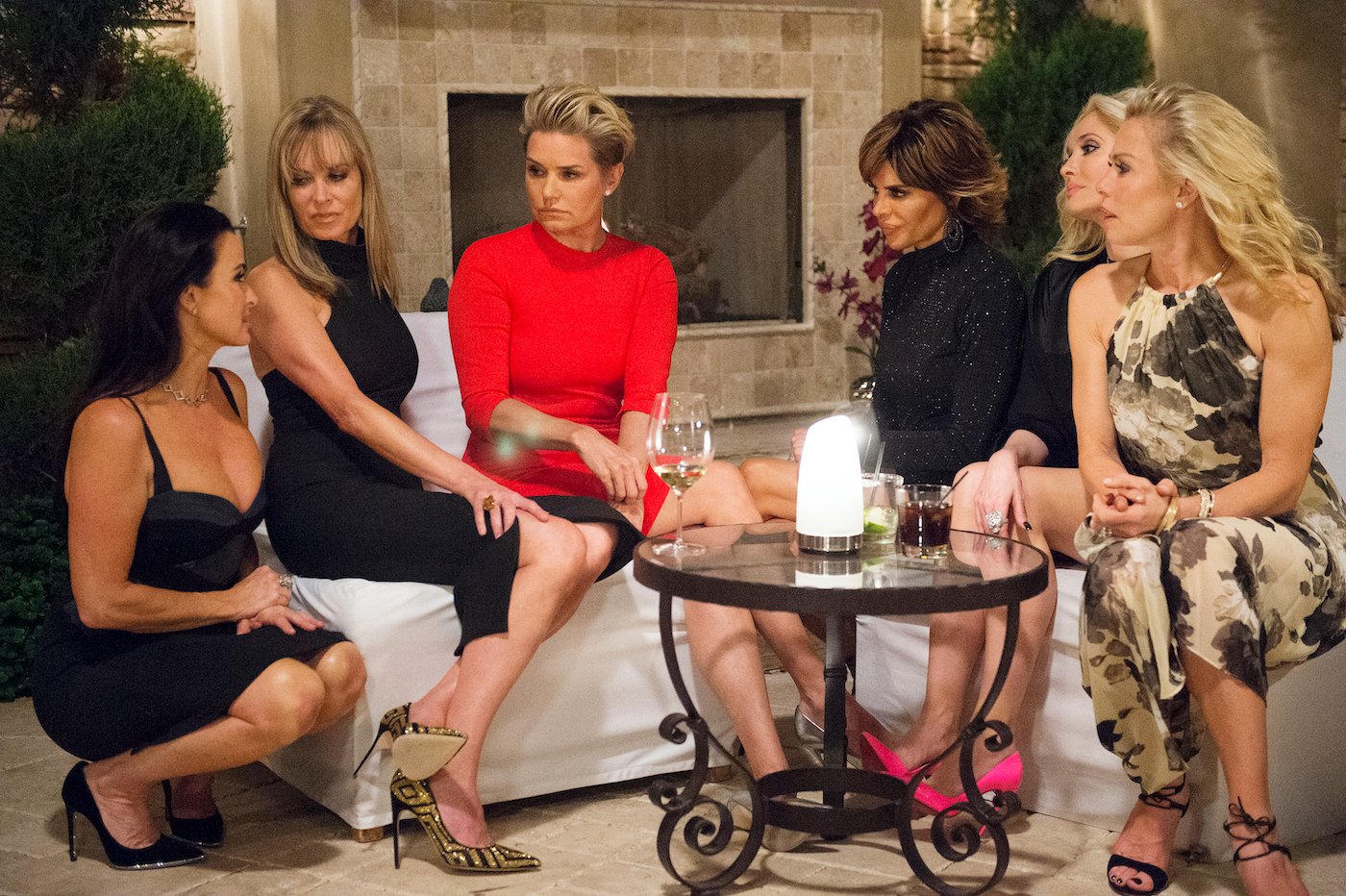 "I think it was just, I remember walking into her room," Edwards said on the Behind the Velvet Rope with David Yontef podcast. "I remember walking into, we shared a suite in Dubai. It was a two-bedroom suite and the suite was, I think, I don't know, 5,000 square feet. We had, you know, a butler and a cook and the whole thing."
"And she had her two glam guys and then the stylist guy," Edwards continued. "And these big trunks came. Then they were putting all of her stuff out. And getting it all ready [laughs]. I remember like I had my little, I had like two little Tumi bags. And I put myself … I had no hair, no makeup, no stylist. I was just, I don't know I was doing the show."
She spent money like it was 'coming out of the tap,' Kathryn Edwards recalls
Unpacking Jayne was even a production, Edwards recalls. "And it was so funny 'cause they laid out all the jewelry and the shoes and the makeup," Edwards said. "I mean, it was like a full freaking production. It was crazy. And I remember just looking at it all. All of the clothes, the shoes, and the sunglasses and how much that was there. And thinking how much is she even going to wear in the four days that we were there? But thinking it was so over the top and her telling me that she flew them all out business class and, and you know, the meals."
"And then we come back and sit at the table in the suite and you know, everyone would be ordering and she would just sign for everything because, you know, they were such a big part of whatever it was," Edwards added. "And I remember just thinking like, holy sh*t, this girl spends money like it's, you know, coming out of the tap and you know, I didn't know."
During the trip, Jayne casually pondered dropping $700,000 on a bracelet and bought an exclusive Chanel purse that was so exclusive, even the Beverly Hills cast didn't realize it was on the market.
Did Erika Jayne know where her money came from?
Edwards isn't sure what Jayne knew about her money's origins. "I'm not saying that I think she knew everything," she said.
"I do think that she was aware to the extent that he was spending or where the money was coming from?" she added. "I don't know. And I want to give her the benefit of the doubt to say that she didn't know everything. But if you're spending how much money a month on a card, and I think she knew that the business was paying the card. She's no dummy. I will say that because she has a survivor mentality."