'RHOBH' Fans Think Lisa Rinna Needs To 'Own It' When It Comes to Her Marriage to Harry Hamlin
Real Housewives of Beverly Hills fans are convinced that Lisa Rinna is hiding something about her marriage. In a recent episode of RHOBH, Lisa's husband, Harry Hamlin, seemingly let slip that he no longer lives with her. While Lisa has always been adamant about showing all aspects of her life in front of the cameras, fans believe she needs to come clean and "own it" when it comes to her marriage.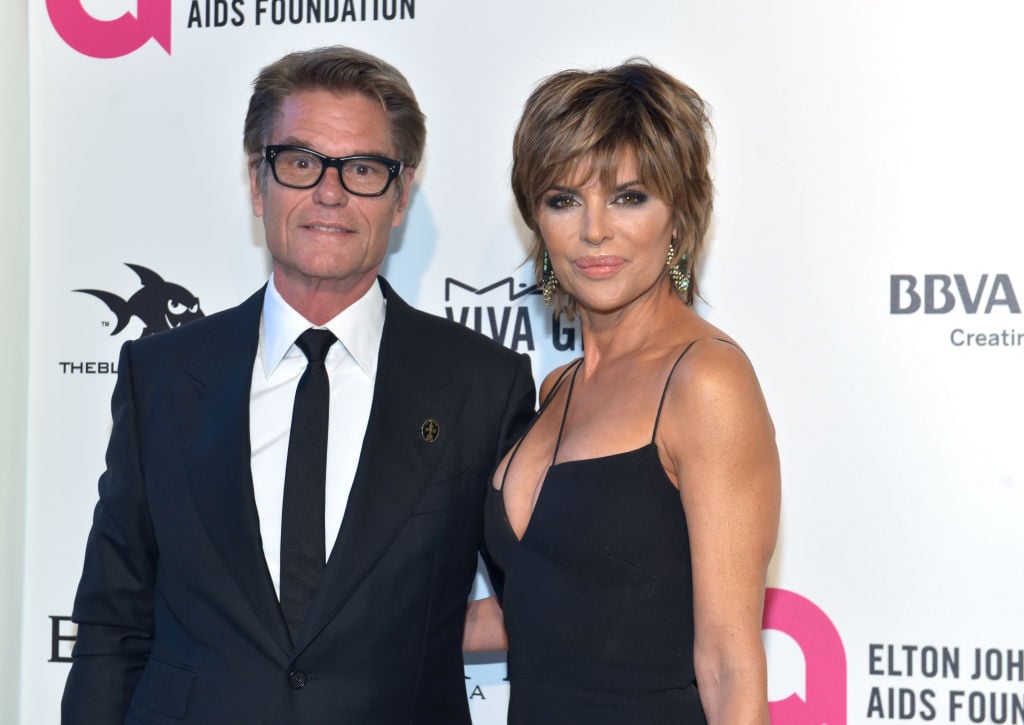 Are Lisa Rinna and Harry Hamlin living apart?
Lisa's marriage came under fire following the latest episode of RHOBH. During a conversation between Lisa and her husband, he mentioned something about their daughters, Delilah and Amelia, coming over to visit him.
"I was really glad that I said 'I just got back I've been gone for six weeks, can we have dinner,' and they [Delilah and Amelia] both said 'yeah let's do it,' I didn't expect that…" Harry shared. "They said 'no I want to come over and see you,' so that was so great, I was happy about that."
Harry was in Delaware working on a new play, which explains why he was gone for six weeks. But as RHOBH fans are well aware, his daughters live in the same house as he and Lisa, so the second part of their conversation doesn't make any sense.
After all, why would Delilah and Amelia say they "want to come over" if they all live in the same house? Unless, of course, Harry has moved out of their home and is now living by himself. That would explain why his daughters have to come over if they want to visit.
Fans also picked up on Lisa's surprise when she noted how much weight he had lost since their previous meeting. Lisa asked Harry if his play had anything to do with his fit physique, which also left fans wondering how much they actually see each other.
'RHOBH' fans think Lisa needs to 'own it' when it comes to her marriage
In light of their mysterious exchange on RHOBH, fans are convinced that Lisa is hiding something. To make things worse, Lisa has claimed multiple times that being a part of a reality show "isn't for everyone" and that they should all be willing to "own it."
Following Lisa and Harry's discussion, fans took to social media and blasted the RHOBH star for seemingly hiding her personal drama from the show. Needless to say, they are not buying the idea that Lisa's marriage is okay.
"No wonder Rinna is always in everyone's else business to deflect from her marriage," one fan noted.
As fans will recall, Kim Richards once teased that she had dirt about Harry during a trip to Amsterdam. Lisa was quick to put the kibosh on Kim's plan when she smashed a wine glass and went into a complete meltdown during a dinner.
Lisa has yet to respond to the rumors surrounding her marriage. She has, however, opened up about what it was like moving into Harry's house, which he built with a previous wife.
Lisa Rinna opens up about living with Harry Hamlin
While fans continue to speculate about what is really going on between Harry and Lisa, the RHOBH star was recently asked about her living situation. During an interview on Watch What Happens Live, host Andy Cohen asked Lisa if it was strange living in a house that one of Harry's ex-wives help build.
After confirming that Harry built the home with his first wife, Laura Johnson, Lisa revealed that his second wife refused to live in the home. Instead, she and Harry moved to another home and when they got a divorce he moved back in.
But as far as Lisa is concerned, she really did not mind living in the massive home. Once things between her and Harry got serious, Lisa said, 'F**k it. I don't care. I'll live in your house!'"
"I've been here 28 years," she added. "I'd never lived in a house, I lived in apartments. I moved into Harry's house and I never left."
Based on all of Lisa's posts on social media, it is easy to see why she has fallen in love with the home. The mansion features a stylish gym, a sauna, a large sitting area, a luxurious living room, and a bathroom to rival any spa.
Catch Lisa Rinna on new episodes of the Real Housewives of Beverly Hills Wednesday nights on Bravo.