'RHOBH': Former Publicist Witnessed Erika Jayne's Interview That Is 'Kicking Her in the A**' … 'A Little Bit of Karma'
Former Hollywood publicist Amir Yass recounted the now-infamous disastrous encounter he had with Erika Jayne from The Real Housewives of Beverly Hills, revealing he was present during the interview that has come back to haunt her.
At the time Jayne was promoting her book "Pretty Mess." She dished during a live interview about the amount of money she spent on glam. "Funny enough, I was in the room when she did that interview where she admitted to spending half a million dollars on glam," Yass said on Hannah Ferrier's Dear Diary You're Effed podcast.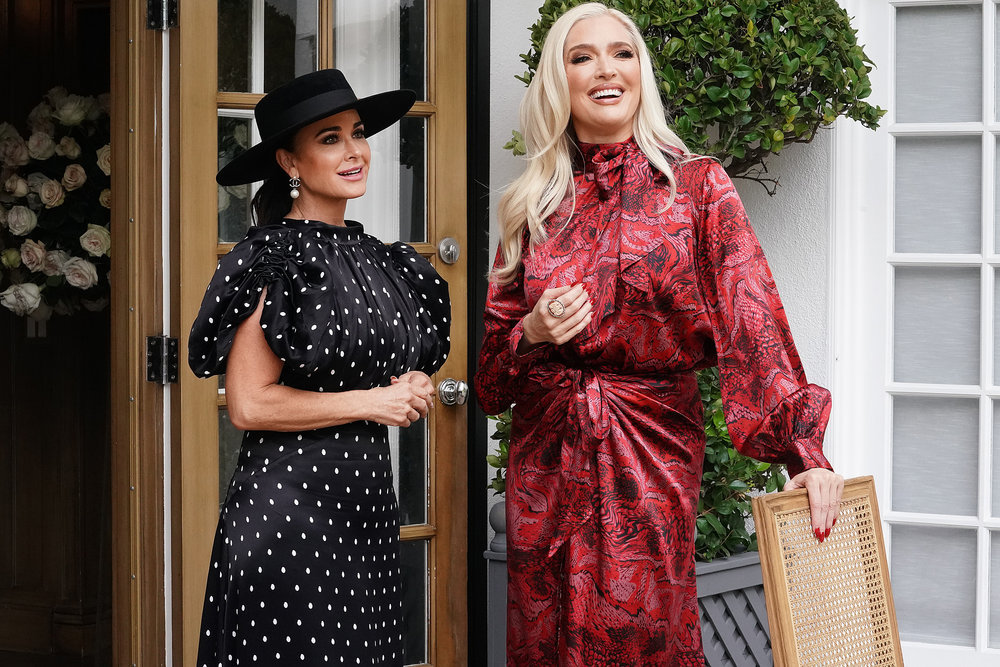 "The interview that is like kicking her in the a**," he added. "I was actually in the room when she did that interview. So a little bit of karma."
Jayne openly spoke about spending thousands of dollars on clothes and makeup alone, which now has become central to an investigation. Her husband Tom Girardi was accused of embezzling settlement funds from plane crash victims' families, funneling a good portion of his finances to support Jayne's lavish lifestyle. Girardi has since been disbarred and the couple has filed for divorce.
But Yass reflected on how she treated him during their short encounter. He told Ferrier he was only on set that day as a favor to a friend who was also a publicist. His role was to make sure Jayne got on stage for a live broadcast, but Jayne immediately had a negative reaction to his presence.
He recalled meeting Jayne in a 2020 interview with Showbiz Cheat Sheet, referring to it as a "nightmare." He said she had a cold reaction to him when he introduced himself. "When I got there Erika was sitting in the corner with her friends," he said. "I went over and I was like, 'On behalf of Diana Madison, my name is Amir. I work for the PR team.' And she didn't respond or even look at me."
Jayne then got annoyed when she thought Yass and his friend, who was an on-set makeup artist were dishing about the makeup he did on Meghan Trainor. "She literally stands up in between us and was like, 'Don't talk about your clients with this stranger!'" he recalled that Jayne snapped at him.
RELATED: Former Publicist Reveals How He Became Friends With Caroline Stanbury From Bravo's 'Ladies of London'
Stunned, Yass replied, "I'm like, 'Well we just met 30 minutes ago.' She's like, 'Doesn't matter!' I think she kind of got offended that we were talking about Meghan Trainor's makeup. I didn't say anything. But she got really upset."
"[Jayne] kept giving me dirty looks the whole day and I hadn't known what I had done," Yass added. "Like was I not supposed to approach her? But I work for you."
Eventually, he had to encourage Jayne to go on stage because she essentially refused. I'm like, 'Erika you have to go right now,'" he says. "She's like, 'Don't tell me what to do.' I've been a publicist for years so I'm like this is my job, 'Get up. You have to get up.' The producer and the assistants from Fox were yelling and sending me messages because it's also a five-minute walk to the studio from the green room."
RELATED: Former Hollywood Publicist Says The Pandemic Launched His New TikTok Career
Yass said that Jayne later went out of her way to call his boss to complain about him. "I was actually fired a couple of weeks later," he said. "I'm not going to say that Erika was the reason I got fired but it had a lot to do with it. Basically that day my boss was like, 'I no longer want you to fill in for me.' Which basically means she no longer trusts me to do the job when she's not there."
Yass also shared his encounter with Jayne on TikTok, which went viral. Jayne's publicist shot back at Yass, calling him a liar. "So today Erika's publicist emailed me, and said this," Yass shared in a video "Also as an FYI I've handled PR for Erika Jayne for 10 plus years and you spreading lies about her in your other videos is not very professional."
"Um, they're not lies," Yass responded. "Just because you don't like them, don't mean they're lies. Just want to make that very clear!"