'RHOBH': Garcelle Beauvais Says She's 'Team Denise' This Season
Garcelle Beauvais from 'RHOBH' says she's got her friend Denise Richards' back amid season 10 drama.
Newcomer Garcelle Beauvais from The Real Housewives of Beverly Hills says she doesn't know much about Brandi Glanville but is "Team Denise [Richards]" in this dispute.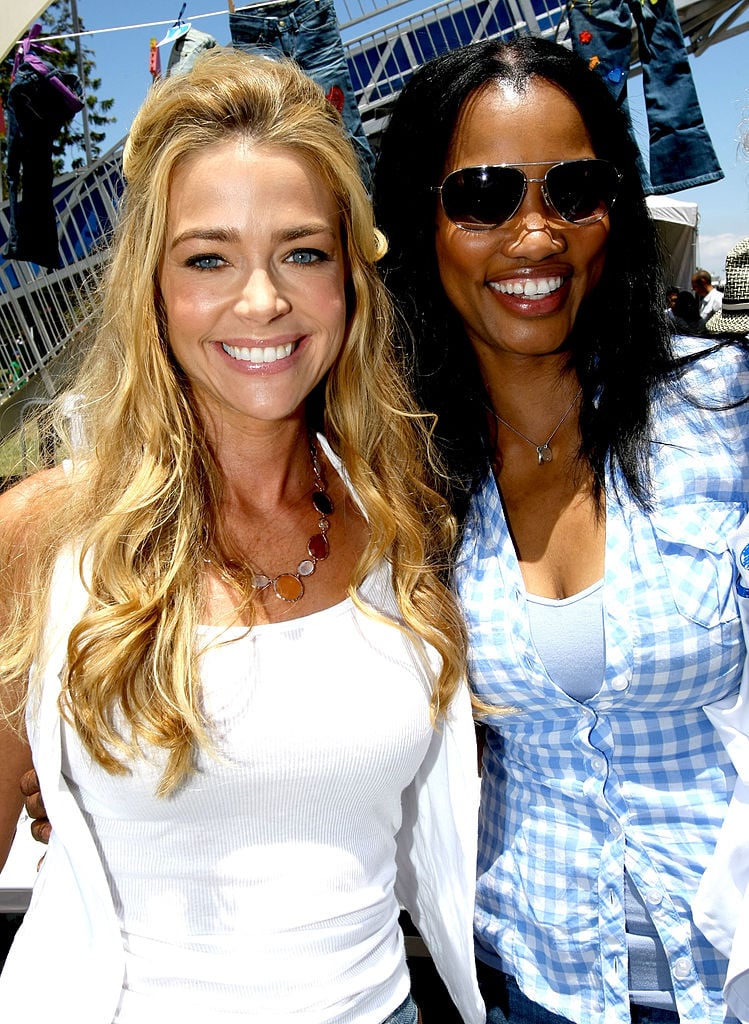 Beauvais appeared on Watch What Happens Live with Andy Cohen after the season 10 opener. A viewer wondered what Beauvais thought about Glanville and her answer was very telling. "I don't know Brandi very well," she said during the WWHL After Show. "I've seen her out at events and obviously I saw her at Kyle's [Richards] party."
Beauvais took a moment to carefully choose her words. "I think she's attention-grabbing," she continues. "And, I'm 'Team Denise.'" She said with a shrug.
She's been friends with Richards for more than 20 years
Beauvais and Richards have been friends for more than a few decades. Her allegiance is with Richards and she made it perfectly clear she's standing by her friend's side. The notion that Richards is lying about a romantic affair with Glanville swirled around production. And Beauvais says she still doesn't completely know what happened. But that doesn't matter and she knows Richards will discuss the events when she's ready.
"I mean, I still don't know the truth — we still don't know," she told ET. "I think we will know as time goes on and, hopefully, Denise will spill the beans, but I want to believe her." She adds, "I mean, she's been my friend for over 20 years. So, to me, taking Brandi's side over hers wouldn't be a friend. That's not what friends are for. She's my friend and I'm gonna stick by her and, you know, and see how it shakes out."
Adding, "Listen, that girl has been through a lot. She's been through a lot. She always takes the higher ground and I'm always like, 'Denise, speak up for yourself!' and she's like, 'No, it's OK…' and I'm like, 'Girl.' So, she has been through a lot and, you know, she'll be fine. She'll be good, but they're coming for her."
Beauvais is a little surprised with how reality television is produced
Beauvais is a well-known actress who understands Hollywood. But her tenure as an actor didn't exactly prepare her for the wild ride of reality television. "[The Housewives are] like rock stars, you know what I mean?" she told ET. "We come out of the hotel and people are, like, taking pictures and, you know, calling out for them, and that was really interesting to see that side of it."
She was surprised by how the women fluidly moved between love and hate too. "The thing that was shocking to me was that me and the women could be laughing and having a good time and then the next [day], they're throwing you under the bus," she observed.
Admitting, "So, that took a lot of getting used to, you know? Like, hey, you were just leaning on me cracking up and then they're like, 'Oh, remember you said that about Lisa Rinna?' And I'm like, oh…. oh, wow. OK. I did say that."
The Real Housewives of Beverly Hills airs Wednesday at 8/7c on Bravo.