This 'RHOBH' Housewife Will Make Things Awkward for Lisa Vanderpump at Stassi Schroeder's Wedding
Stassi Schroeder from Vanderpump Rules is engaged to Beau Clark and are expected to get married on the show later this year. The best-selling author is already prepping for her big day and making up the list of invites. One particular housewife from RHOBH would probably make things awkward for her boss Lisa Vanderpump.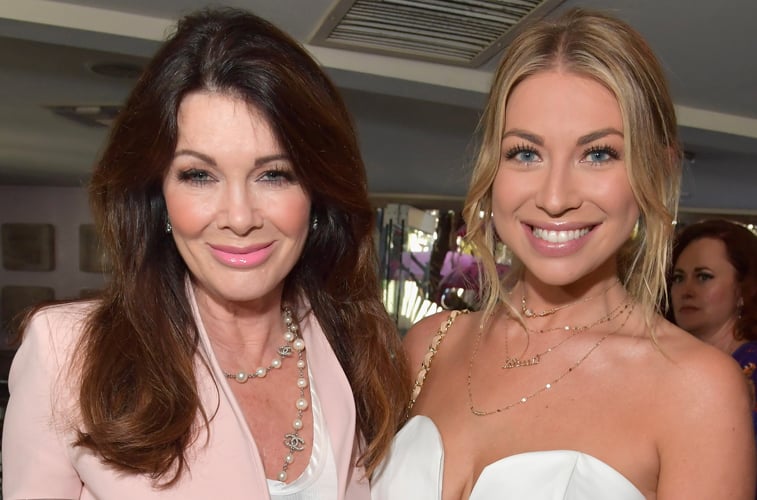 During her guest appearance on Watch What Happens Live, a fan asked Schroeder how she handles being friends with Vanderpump and Teddi Mellencamp.
"It's so separate," Schroeder said. "Beau has been friends with Edwin for a really long time and that's how I became friends with Teddi."
The Next Level Basic author also confirmed that Mellencamp and her husband are invited to her wedding. Vanderpump is also most likely invited and their encounter will be very awkward.
For those of you that need a refresher, Mellencamp accused Vanderpump of manipulating her to lie about the infamous "puppy gate." Vanderpump always denied any involvement in the issue and her friendship with Mellencamp ultimately broke.
Lisa Vanderpump quits 'RHOBH'
Vanderpump quit RHOBH during the production of season 9 after she was confronted by her co-stars for leaking stories to the press. Instead of trying to clear her name of any wrongdoing, the restauranteur took the high road and refused to film with the rest of the cast for the remainder of the season. Vanderpump completely shut out everyone from her life and also skipped the reunion special.
It came as no surprise when at the end of season 9 she made her exit official. At the time of filming RHOBH, the reality star was going through a difficult time personally. She was grieving the loss of her brother and that made her not want to be around any sort of negativity.
"It was a very sad year for me with losing my brother and everything. I was very honest about that and [I was] struggling with depression," Vanderpump explained on Access Daily.
"It was very difficult, the whole situation. [They] all started coming at me and it was all based around the whole dog fiasco. It got too b*tchy and I just suddenly thought, 'That's it, I'm done,'" Vanderpump explained.
The animal activist had so much going on in her life that she opted to remove herself from the situation and decided to move on from RHOBH.
"I had so much going on. I was opening TomTom, Vanderpump Rules is a big show, we have the dog rescue center, we were opening in Vegas. There was just so much and when it all kind of piled on top of me, and I was emotionally depleted anyway, I just said, 'You know what? I'm done,'" she added.
Lisa Vanderpump and the controversial 'Vanderpump Rules' cast members
Vanderpump is not only dealing with drama from RHOBH, but she is also experiencing it on Vanderpump Rules as well. The latter added new faces to the cast and fans uncovered a history of racist tweets from newbies Max Boyens and Brett Caprioni.
After the tweets went viral, Vanderpump had no other choice but to address the issue.
"I do not condone any of the heinous comments made in the past by Max and Brett and I am glad they understand the severity of their offenses and have shown utmost remorse and contrition," Vanderpump told People.
"I embrace a community of diversity and do not tolerate bigotry of any form within my workplace. Max and Brett are both appropriately ashamed of their past obnoxious teenage arrogance and casual use of unacceptable terms. While both have now matured as adults, they have shown remorse for their prior reckless defamatory statements."
Both employees were not fired from the show as many fans suggested. Vanderpump said she believed in giving both of them an opportunity to correct their actions.