'RHOBH': How Rich Is Sutton Stracke?
Lisa Rinna from 'RHOBH' says new cast member Sutton Stracke is very wealthy. She's so wealthy, she has a private fitting at Domenico Dolce's private home.
She may not be a main cast member but Sutton Stracke from The Real Housewives of Beverly Hills is making quite a splash on the show.
Stracke joined the show as Lisa Rinna's friend and she meets up with Rinna in New York City during fashion week. Rinna shares that she met Stracke about seven years ago. While Stracke lives in Los Angeles, she's a global traveler. "And she buys couture," Rinna points out. "And none of these other ho's do."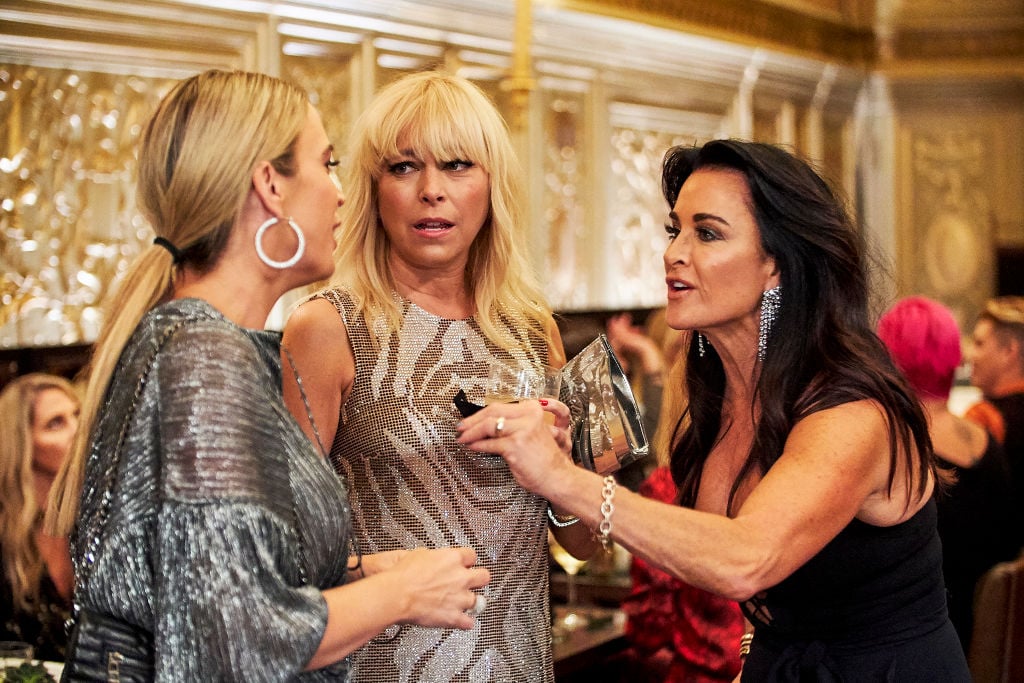 The women journey to an exclusive fitting at the private home of Domenico Dolce of the iconic brand Dolce & Gabbana. "Dolce & Gabbana's the best," Stracke gushes. "They give me tiaras for my birthday every year, it's so funny."
Rinna wants viewers to know Stracke is rich (very, very rich)
"What does it say about Sutton that Dolce & Gabbana make a one of a kind piece for her?" Rinna asks in a confessional. "It says that she's rich, honey! She's-a-rich!" The women explore Dolce's impression apartment/mansion. As Stracke tries on her custom couture, Rinna snoops around.
"Sutton's ex-husband's into hedge funds, who knows, like money stuff," Rinna explains in a confessional. "When they divorced Sutton had no idea she'd be set for life. Because there are homes, private jets and I think there's a baseball team. Or two. Or more. I don't know. She has a lot of f**king money."
During her time alone in the home, Rinna spies an ornate crown sitting on a table. She embraces the moment, channeling her inner-Lisa Vanderpump and sets the crown on her head. She jokes about the crown not being "so heavy" which is a dig at Vanderpump's former tag line.
Strake's net worth may be far more than reported
Strake's net worth is reported as being around $2 million, however that likely doesn't tell the true story. Her ex-husband Christian Stracke is the global head of credit research for PIMCO, a global fixed-income fund-management company. Salaries in this area are well within six figures with the senior research analyst for distressed credit annual salary sitting at a comfortable $212,000. A credit research analyst, who likely reports to Christian Stracke can make close to $200,000 a year.
Stracke also owns a sprawling mansion in Bel Aire. She gave Bravo's Style & Living a tour of the luxurious estate. She's also in the process of launching a boutique named Sutton. She dished about the West Hollywood venture with ET. "I think what I'm trying to do is reevaluate how we shop," she said. "I've kind of gotten a bit complacent going into normal boutiques, where you see the same thing over and over, and then they go on the sale rack and then you see the next thing over and over and over. So, I wanted to come up with something that is constantly moving. I wanted to combine all the things that I love, which is fashion, art, decor, all in one place."
Beyond world travel and new her business, Stracke is also a mother. She has three children, two boys, and a girl. "I have been a stay-at-home mom for a long time, and my daughter's a senior in high school and I have two other boys, and watching other mothers that stay at home and their children leave, I was feeling their stress and what do you do next?" Stracke told ET. "And I thought, 'I'm gonna do this next,' but I'm gonna go ahead and set it up so that I can actually, really be working when they go off to school. Because I had this great sense of anxiety about being left home alone by myself. Like, what am I gonna do? Well, now I have a new baby and here she is!"
The Real Housewives of Beverly Hills airs on Wednesday at 8/7c on Bravo.