'RHOBH': Is Denise Richards the New Lisa Vanderpump of Season 10?
Has Denise Richards from 'RHOBH' just taken Lisa Vanderpump's place?
Season 10 of The Real Housewives of Beverly Hills launched with a flavor of Groundhog Day as, once again, a single cast member was cast out as being a liar.
Like last season, the first episode began with rosy overtones and a whimsical theme. A fashion show during New York City's Fashion Week was the main storyline. Plus viewers met two new cast members. And while the majority of the episode was fun and light, last season's darkness fell over the episode during the last five minutes.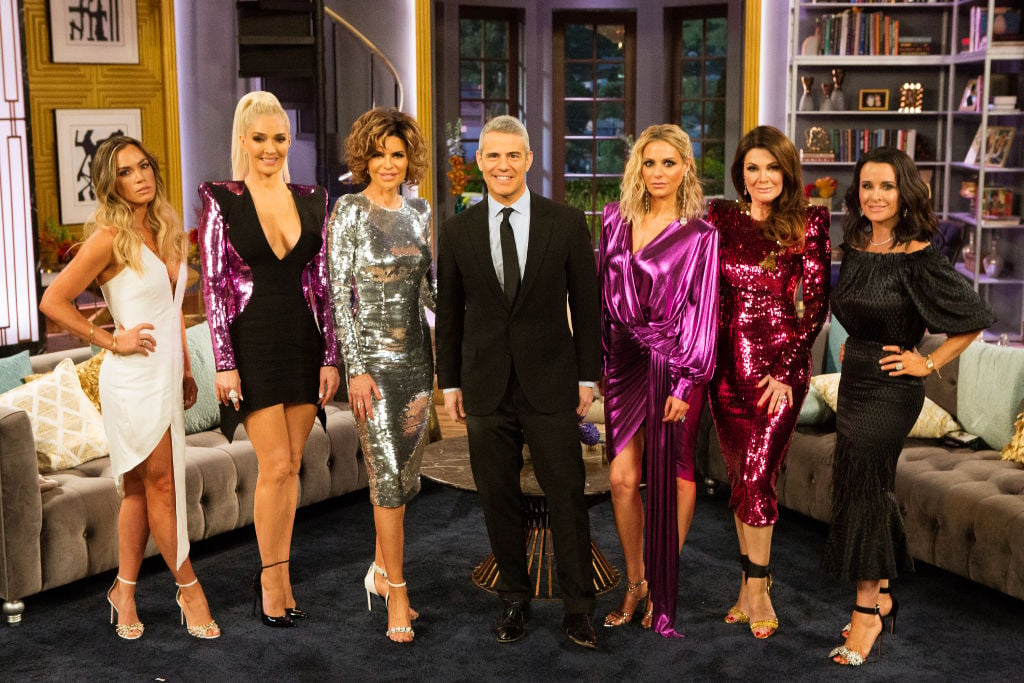 The cast surrounds Kyle Richards to hug her after a successful fashion show. That's when she narrates, "We were all so happy that day. It's actually hard to even imagine how terrible things would soon become." Cue the ominous music and black screen. "In December, Denise stopped shooting with the group." Sound familiar?
The season (once again) is all about the truth
Last season a good chunk of the storyline swirled around whether or not Lisa Vanderpump sold a story to Radar Online about Dorit Kemsley's dog adoption snafu. Vanderpump insisted she did not spread the gossip and even took a lie detector test. The women stood their ground that she was lying so she stopped filming with them. Vanderpump also refused to attend the reunion.
History repeats itself again. The final few minutes of the first episode concentrated on exposing Denise Richards' lies as she's seen sobbing in a few clips. Lisa Rinna insists, telling the truth isn't for everybody. Kyle Richards says, "If there's something you want to run from, that's the worst thing you can do." A preview clip captures Denise Richards instructing her husband to avoid talking as they storm out of a party.
Rinna says in a confessional. "We sign up to share our real lives. You can't hide anything. Do I think it's comfortable to talk about my daughter's eating disorder? No! But that's life. Denise has a secret. And no matter how hard you try, the truth always comes out." Like with Vanderpump, Rinna doesn't think the cast will interact with Richards again. "Oh, she's done," she tells Kyle Richards on a phone call. "If you ask me, we'll never see Denise Richards again."
Denise Richards says it was simply 'someone else's' turn to wear the target
Denise Richards made light of the situation when she discussed the show and quarantine life with the Los Angeles Times. "This is the 10th season and a lot of times it's someone's turn to maybe be the target a little bit, and I think this season I was a little bit and that's OK. It's part of the show. It's a reality show," she said about her drama. The big "secret" is a rumor that she and Brandi Glanville had a romantic affair.
Adding, "But I think people just watch it and have fun with it. It's entertainment. We're all home dealing with all this stuff. There's a lot of things going on in the world. And if we can bring any light, especially now with what's going on, then that's so amazing."
Richards told fans she planned to live-tweet during the show. She only tweeted a few times, claiming her notifications were somehow blocked and didn't think people were commenting. But she did share that she apologized for being rude to a waiter about her drink order. "I was all fired up before my tequila was delivered. I felt terrible and apologized to the waiter," she shared. "But I do know my tequila."
The Real Housewives of Beverly Hills airs Wednesday at 8/7c on Bravo.