'RHOBH': Kathryn Edwards Will Be Shocked if Erika Jayne Returns for Another Season
Kathryn Edwards from The Real Housewives of Beverly Hills said she will be shocked if Erika Jayne returns for another season if she's found guilty of embezzlement. Jayne and her husband Tom Girardi are accused of stealing millions in settlement money meant for the families of plane crash victims.
The fallout was documented and currently airing on RHOBH Season 11 as more details are revealed about the dissolution of Jayne and Girardi's marriage and the legal turmoil surrounding the couple. Edwards, who appeared on RHOBH Season 6 said she isn't shocked Jayne is currently on the show but would be surprised if Jayne returned to the series if found guilty.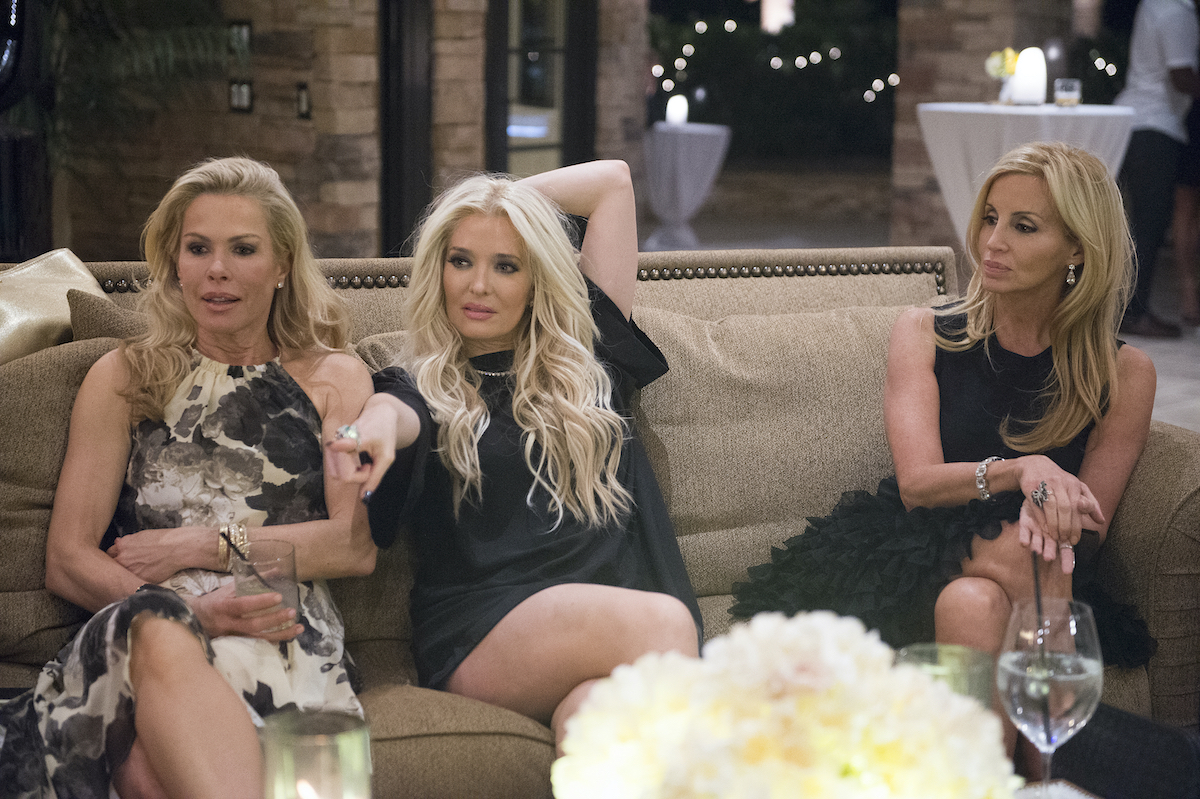 "Like I'm not shocked she's still on the show," Edwards said on the Behind the Velvet Rope with David Yontef podcast. "I'll be shocked when the lawsuits and everything shakes out and is found guilty of whatever. And ordered to pay back this and that, you know. And she's found guilty of what she's charged of."
"Then I will be shocked if she is still on the show," Edwards said. "Cause then I feel like you put that person, you know, in a position where you're not condemning really bad behavior. And whereas some people who will say, well, like, as far as like Teresa Giudice, I think she was not, you know, really aware of what was going on. Now that one, I don't think did know."
But Edwards went on to slam Jayne for having some awareness of her husband's business dealings. "I'm not saying that I think she knew everything," she remarked. "I do think that she was aware to the extent that he was spending or where the money was coming from? I don't know. And I want to give her the benefit of the doubt to say that she didn't know everything. But if you're spending how much money a month on a card, and I think she knew that the business was paying the card. She's no dummy. I will say that because she has a survivor mentality." 
RELATED: 'RHOBH': Bravo Won't Pay for a Huge Erika Jayne 'Housewives Expense'
She also thinks Jayne and Girardi didn't have an authentic marriage and said it was more of a business deal. "It's money, honey," she said. "That's it. That's all it was, it was a business deal for her. I don't think she has close friends. I don't think she's ever known love."
"Now she doesn't have a career. I don't think she has anything," she speculated. "And it's kind of, I always say that there's choices, decisions, and consequences. You make a choice. You made a choice to marry this guy who she probably saw things at the restaurant all the time of taking care of her and the way he talked to her, when he ordered a drink, she probably knew what she was getting into. "
"There's decisions that she had to make as far as what kind of wife she was going to be to him, what she was going to take out of the marriage, what she was going to get for it all," she continued. "The business dealing of the marriage of settling with a guy you're not really in love with." 
RELATED: 'RHOBH': John Blizzard Reveals Dorit Kemsley Never Paid the $5,000 'Puppy Gate' Fee
Edwards also thinks Jayne should make sure the families in the settlement receive their payment. "Seriously. I mean, if that money is owed and she's like, well, those were all gifts from what?" she asked. "From the money that he stole from the law firm? Give the sh*t back."
"Give it to the rightful owners," Edwards said about the settlement. "I would be so beyond embarrassed to ever talk about what I spent to get my damn hair done. To drive a Range Rover. To do any of that stuff when all of these victims are owed money. And these are, the Lions Air people, it's different. That was a wrongful death. Those people are gone, but the people that are living are the victims. Those burn victims from that fire. I cannot in any way, shape or form be OK with any of that. That to me is sick."