'RHOBH': Kathy Hilton Kept the Show a Secret From Daughters Paris and Nicky: 'I Just Wouldn't Answer My Phone'
Kathy Hilton is already earning her own fan base as the latest addition on The Real Housewives of Beverly Hills. Twitter lit up during the June 2 episode as she sat in Kyle Richards' bed eating late-night snacks and drinking Red Bull. And then she slept in.
Viewers are slowly getting to know Hilton (and her prankster side) outside of her professional persona, and her arrival is something that many eagerly awaited. But Hilton kept her casting a secret from daughters Nicky Hilton Rothschild and Paris Hilton.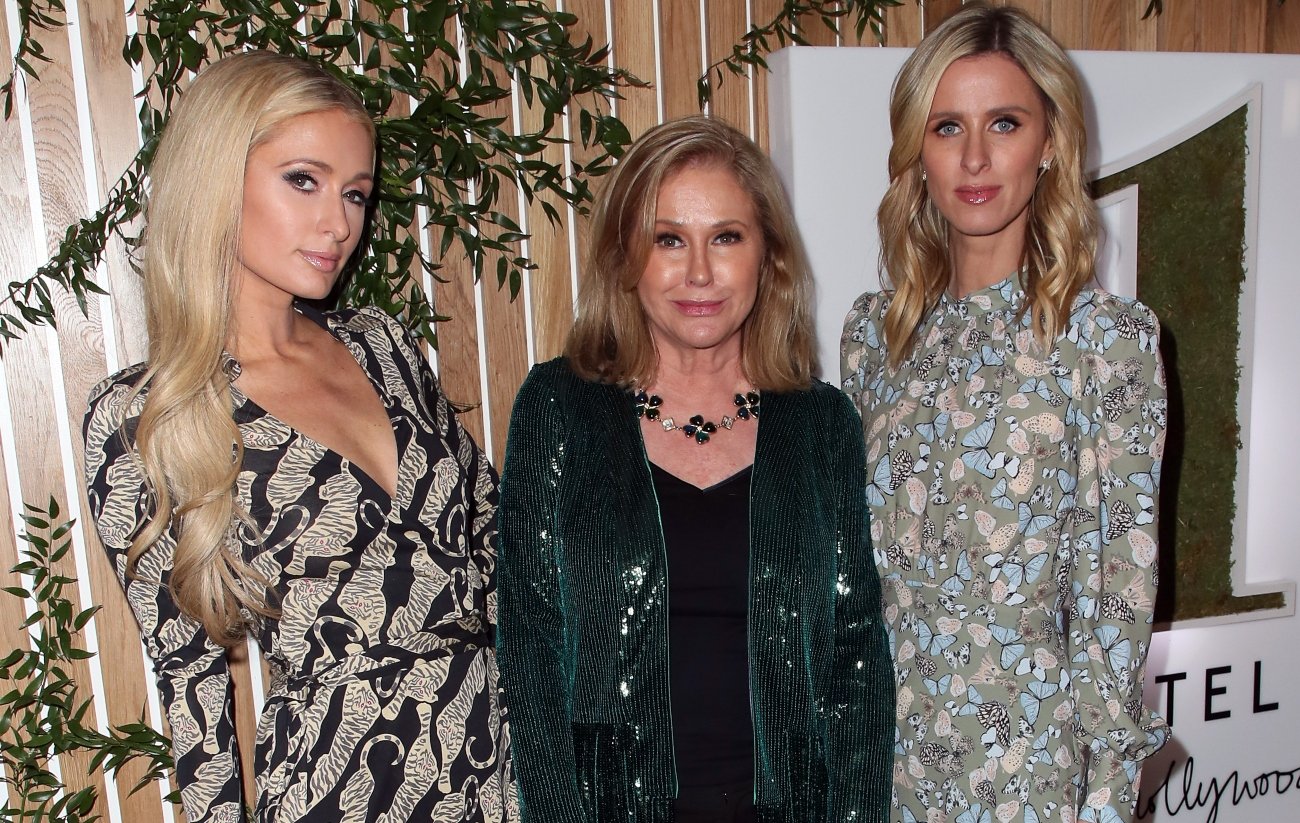 Kathy Hilton joined 'RHOBH' as a friend
RHOBH fans welcomed a new dash of spice with the arrival of Kathy Hilton and Crystal Kung Minkoff. But Hilton's made it clear she's only a friend of the show versus a full-time cast member. She recently joked with Extra TV that though she's not an official housewife, she still does the laundry, vacuums, and sweeps. No doubt Hilton is alluding to cleaning up after the drama.
But she explained what her role really means on season 11. "Going in as a friend, I guess it's not as much of a commitment. Yet, I'm there a lot," said Hilton. "Literally, once I started filming, I had not even signed anything." And she's becoming a breakout star without engaging in any feuds or shady business.
Kathy Hilton didn't tell Paris and Nicky about 'RHOBH' casting
Rumors first swirled about Hilton joining the show in fall 2020, and she stayed mum about whether they were true. But she kept things under wraps when it came to her children too.
Hilton and castmates Lisa Rinna, Dorit Kemsley, Minkoff, and Kyle Richards appeared on a recent episode of Paris Hilton's podcast, This Is Paris. When Paris asked her mom why she kept RHOBH a secret from her and Nicky, Hilton gave a straight answer.
"The truth of the matter is I was not sure if I was gonna do it. It was back and forth, back and forth, back and forth. And I thought, why get you all worked up?" Hilton said. "And if it hadn't been for Kyle really, and Lisa and Dorit, and all the girls calling and having dinner with me — I was just like, 'You know what? Why not?'"
She also confirmed that when the ladies went to Lake Tahoe, she still hadn't told her daughters she joined the show. Hilton admitted she was scared to tell them. "I just wouldn't answer my phone."
Paris shared that she was afraid for her mom when she learned the truth. "I just don't want anything weird to happen," she said about the reality show. But now that she knows more about her mother's experience, she's not worried anymore.
How Kathy Hilton feels about returning for a second season
Hilton and her castmates chatted about their friendships and season 11, and they discussed the possibility of Hilton coming back on RHOBH next season. She's on the fence.
"I have to see how I am edited," she said. "So far, with the doctor and the dentist thing — I was a little girl. I'm not really taking the walnut pick and jabbing it in their teeth. I'm playing!" Hilton said, referencing her childhood story about practicing dental work on other neighborhood kids. She's tuning in to see how she's portrayed in the series, and her fellow RHOBH friends advised her to stay level-headed about social media chatter too.
Watch The Real Housewives of Beverly Hills on Bravo on Wednesdays at 8 p.m. EST.