'RHOBH': Kyle Richards Confirms Camille Grammer Is Not Returning for Season 11
Kyle Richards is the last standing OG star of The Real Housewives of Beverly Hills. The reality TV personality has been with the show since it premiered back in 2019. Richards has endured 10 seasons of the series and is expected to come back for season 11, although Bravo has not confirmed which Housewives will be returning. One housewife that won't be getting an invite though, is Camille Grammer.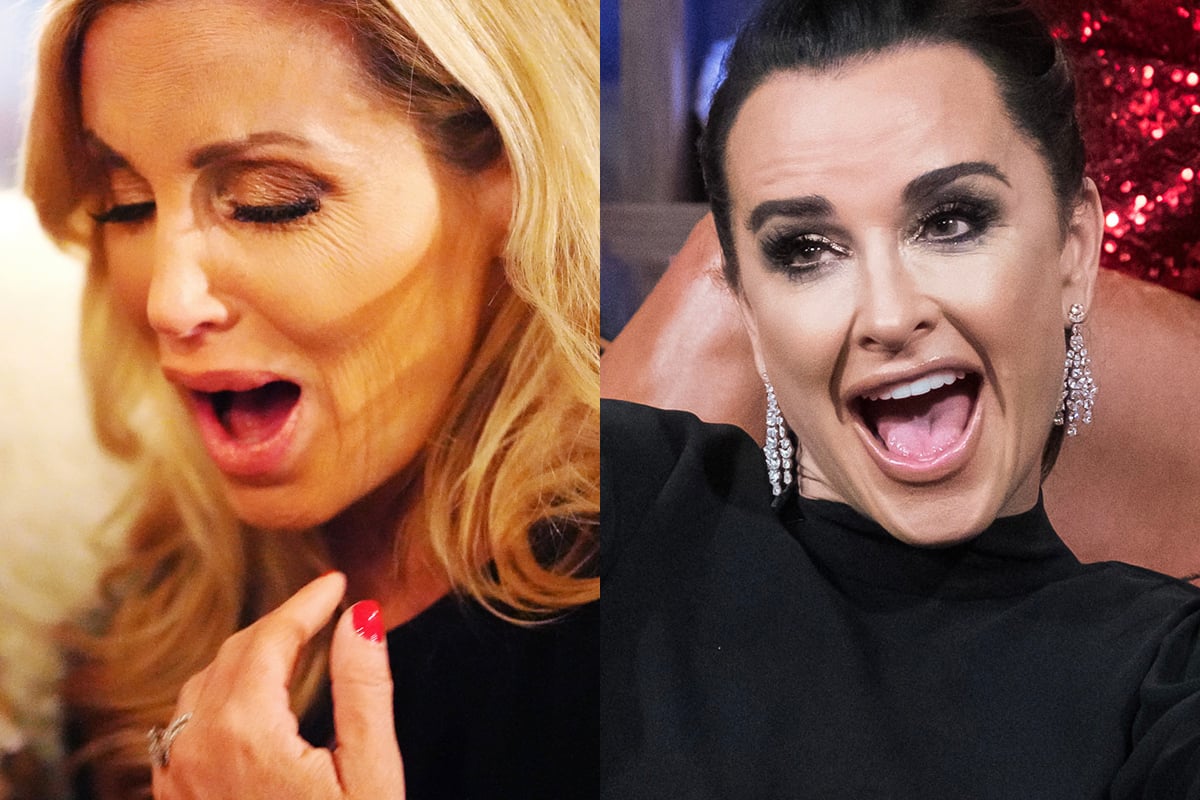 Camille Grammer feuds with Kyle Richards
Grammer and Richards have a contentious relationship that has been documented throughout the years on RHOBH. The former model was also an OG cast member but was demoted for season 3 to a "friend of" role. However, Grammer then returned for season 5 as a guest and has made appearances every season since then.
The ladies have been taking jabs at each other on Twitter and it all stemmed from Grammer calling out Teddi Mellencamp's business. A fan tweeted at Andy Cohen to take a look at Mellencamp's controversy.
"Your girl Teddi is getting exposed on Instagram for her scam starvation company," the fan tweeted. "Having women starve themselves by eating 500 calories a day is unethical. If she needs a storyline next season, holding her accountable for this is a good option."
Grammer quoted the tweet and added, "It's suspect."
Richards saw Grammer's response and jumped in to defend her close friend.
"Camille, you really need to move on and get a life," Richards tweeted. "Teddi has helped so many people and changed their lives. What are you doing everyday? Tweeting about RHOBH? You befriend whoever you think will get you a [diamond]. Talk about a mean girl."
Camille Grammer fires back with receipts
Richards threw shade at Grammer implying that she was only siding with Denise Richards to get back on the show full-time. However, Grammer brought out the receipts from 2019 where she tells a producer she no longer wishes to be part of the show.
"No hard feelings but I really had enough for now with the show," Grammer's text reads. "It was brutal for me last season combined with the loss of Scott and my home."
From Grammer's message, a producer was seemingly trying to convince the aforementioned to film a scene with Richards, which she ultimately declined in that conversation.
Fans that watched season 10 already know that Grammer ultimately did film a scene with Richards to clear out the air. When a follower brought the latter subject up, Grammer clarified the situation.
"Like I said, they kept calling, texting to get me to film with Kyle, not the other way around," Grammer explained.
By Grammer's explanation, she is saying that producers were the ones insisting she return to RHOBH and it wasn't her that was asking to come back.
Is Camille Grammer not returning for Season 11?
Grammer continues to be a fan favorite and many wish she would return to RHOBH Season 11. Despite the wishes viewers may have, Richards confirmed Grammer "was not asked to be" part of the new season's cast.
"I don't make those decisions but she has burned every bridge so…," Richards replied to another fan asking she try to help Grammer get back on the show.
Denise Richards is the only housewife confirmed not to be returning for RHOBH Season 11. All the other Housewives have not expressed what will be their future on the show.