'RHOBH': Kyle Richards Does Not Want Her Daughters to Follow in Her Footsteps
Kyle Richards started out in Hollywood as a child actress, but these days she is most known for being on The Real Housewives of Beverly Hills. Richards has been on the show since the very first season, and she has since become one of the most well-known faces of the Real Housewives franchise.
However, despite the fact that Richards found a lot of success on reality TV, she actually does not want her daughters to follow in her footsteps.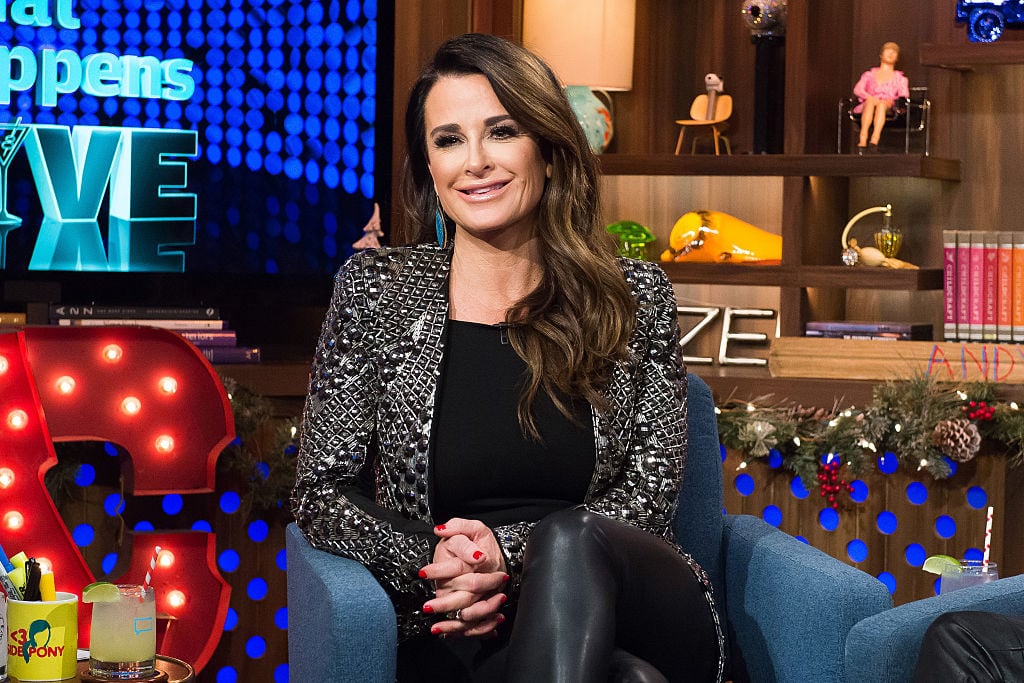 Who are Kyle Richards' daughters?
Richards has been married twice and has four daughters.
Her oldest daughter, Farrah, was born in 1988 when Richards was 18 years old. Farrah's father is Richard's ex-husband, Indonesian businessman Guraish Aldjufrie. Richards and Aldjufrie divorced in the early 1990s.
Richards, then, married her current husband, Mauricio Umansky, in 1996. They have three daughters together: Alexia (b. 1996), Sophia (b. 2000), and Portia (b. 2008).
Why does Richards not want her daughters to follow in her footsteps?
RELATED: 'RHOBH': Why Kyle Richards' Parenting Skills Were Recently Brought Into Question
Since Richards is a regular on RHOBH, her daughters have all made appearances on the show. However, she does not have plans for them to live out their lives on TV anytime soon. In fact, Richards highly discourages her daughters from pursuing this career path.
She recently spoke to Australia's TV Week and revealed she "would strongly advise against" her daughters being reality TV stars.
"I wouldn't let them," she said, as reported by Wonderwall. "Two of my girls are in real estate. They're businesswomen, and I like that they're on that path."
Although Richards did not elaborate on why, she has occasionally talked about the challenges of living out one's life on TV. For example, in 2012, she told AllAboutTRH reality shows have the potential to wreck marriages if couples are not "really, really solid."
Richard's youngest daughter Portia is pursuing acting
RELATED: 'RHOBH': Kyle Richards Reveals Housewife Who Has Brought The Least To The Show
Despite reality TV not being a career path Richards would recommend to her daughters, she seems okay with them pursuing acting. In fact, her youngest daughter, Portia, has been going on auditions around Tinseltown.
In 2018, Richards told Page Six that Portia is "the only one who wants to act" among her children, and Richards has been experiencing flashbacks of when her own mom took her to auditions.
"It takes me back in time, all [of] the sudden, I'm my mom and she's me," Richards said. "I'll take her to auditions and I'm sitting with all these moms and it's really awkward too because [they'll recognize me from] 'Housewives,' so I'm like, 'hello,' I get so nervous … I'm embarrassed at how I act," she said. "I'll be like 'How did you do?' and Portia's like 'I'll tell you in the car' then I'm like, 'Did they laugh?' and she's like, 'Mom, I will tell you in the car.'"
While the process of auditioning and booking a gig can be nerve-wracking for many people, Portia seems to have a "good attitude" about showbiz, according to Richards.
"She's screen tested [and] she gets callbacks all the time but she hasn't booked it yet so now I start getting like, 'is she going to start [getting] sad or nervous?' But she just goes and doesn't even ask about it again so I think she thinks this is the job," Richards said.