'RHOBH': Kyle Richards Finds the Perfect Way to Get Over Her Fear of Flying
Maybe it was the champagne or perhaps the music, but Kyle Richards from The Real Housewives of Beverly Hills may have found nirvana in the friendly skies.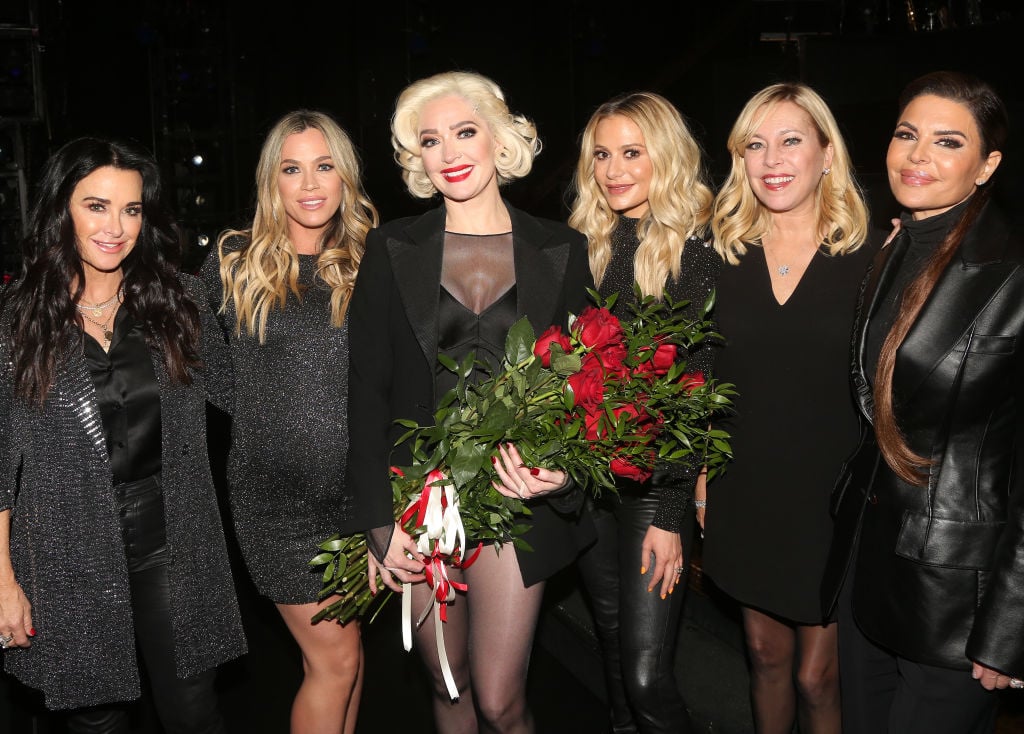 Richards recently shared that she was flying home from seeing Erika Girardi star in the Broadway musical Chicago. Three other RHOBH cast members accompanied Richards as they traveled via private plane. Although she looked calm and happy in the photos, Richards has shared on a number of occasions that she has a serious fear of flying.
However, when she returned, she was coming home feeling sick. Moments later, she posted a hilarious video where she's certainly feeling fine, laying on her back and enjoying Britney Spears' "Toxic."
She's certainly feeling better
Fans were here for Richards' impromptu dance party from her airplane bed as she smiles while kicking her limber legs into the air. "Well, I am clearly feeling better," she wrote along with a video of her rocking out to "Toxic." New cast member Sutton Stracke sits next to Richards, enjoying the music and giggling.
RHOBH alum Eileen Davidson couldn't help but comment on the video. "Some things never change 💋," she remarked. Richards responded, "@eileendavidsonofficial haha! We were talking about you on the plane saying we wish you were with us." Davidson wishes she went on the trip too. "@kylerichards18 that's so sweet. I wish I had been there to see Erika KILL!!!!!!," she added.
Seeing Richards relaxed and being silly isn't lost on fans. One person recalled how much Richards would panic when she'd fly in the past. "Can we please roll the footage of when Kyle would have a panick attack when it came to flying. Now she's over here rolling in sheets on a bed frolicking lol," the fan wrote. Richards responded with a laughing/crying emoji.
She's come a long way
Richards admits that she has anxiety about more than just flying. She shared on E!'s Just the Sip her fears often stem from not being there for her children. "What if something happens to me and I can't take care of them? So that meant, what if I got sick? I don't want to get on a plane," she told host Justin Sylvester. "What If get in a car and someone drives too fast? So all of that stuff that put me at risk to not be there for my children is what scared me. And I couldn't talk myself out of it."
In 2016, she revealed that she'd been working on her fear of flying. She even sat in the cockpit of a plane and shared a photo. "I've come a long way with my fear of flying," she wrote along with a picture. Former friend Lisa Vanderpump took some credit for helping Richards find more comfort with flying too. Richards tweeted her Instagram post and Vanderpump replied, "yep thanks to me!"
Richards told Sylvester she makes jokes when she gets anxious. "I joke about it," she said. "The thing for me is, joking about my anxiety and talking about it with people, makes me feel better. A lot of people I know don't talk about it and keep it to themselves. And they'll go to a therapist and all that. And I personally find to talk about it just makes me feel better. It's like, no offense, but everybody's my therapist now, so thank you! And it makes me feel better."