'RHOBH': Why Kyle Richards Likes to Pretend Season 4 Never Happened
Kyle Richards is the last original cast member of The Real Housewives of Beverly Hills still standing. The reality show was developed around her and her sister Kim Richards. She has lived through some dramatic moments throughout the history of the Bravo series. However, there's a season that she likes to pretend that never existed.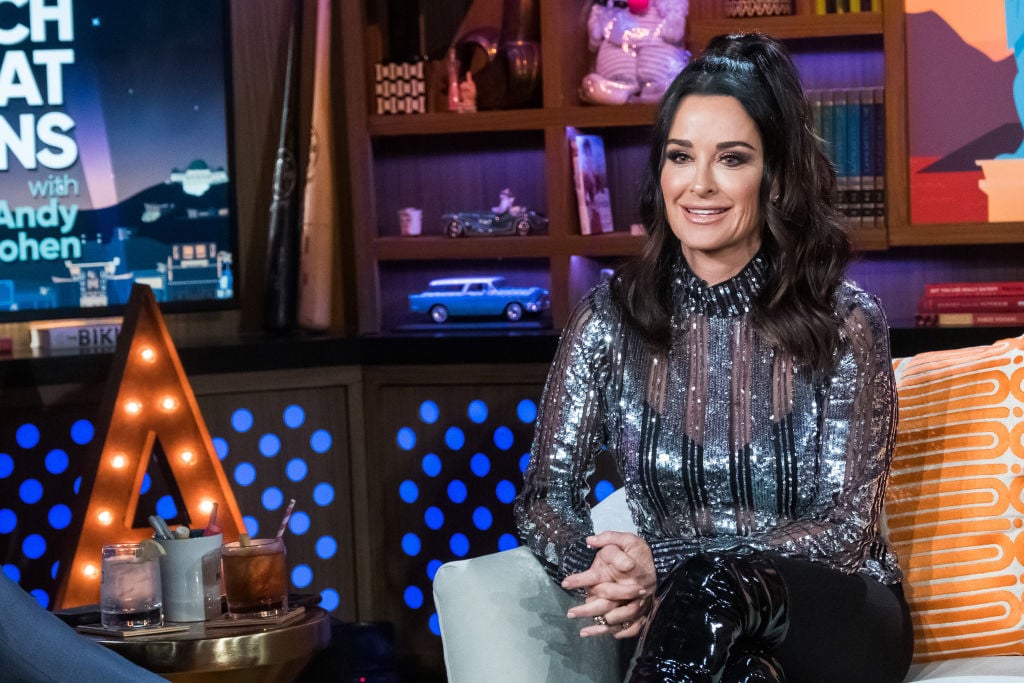 What is the season Kyle Richards is talking about?
Richards has shared a lot of intimate moments of her life with the RHOBH cameras over the years. The star has been featured feuding with her sister Kim and talked about her fallout with her other sister Kathy Hilton. Although things are much better with both of her siblings, there was a season she wished never happened.
The fashion designer opened up to Andy Cohen on Watch What Happens Live to say that season 4 is not one of her favorite seasons due to Carlton Gebbia.
"That would be season 4… umm… Carlton [Gebbia]," she said after a fan asked who was the housewife that brought the least to the show. "That's the season I like to pretend never happened."
Gebbia, who is a Wiccan, was never able to connect with Richards. The latter even believed that Gebbia put a spell on her.
"That was just weird. Everything she did was just so friggin freaky," Richards replied. "I'm still convinced that she put a spell on me because bees always torture me and come in the most random places."
What did Andy Cohen say?
Season 4 of RHOBH was a little shakeup as two original Housewives left the show and Gebbia was introduced along with Joyce Giraud. Both didn't make it past their freshman seasons and Cohen explained why.
"I think Carlton and Joyce would've been great on their own but the problem is that they didn't have existing connections to the group," Cohen revealed. "I think that was part of the reason we all kind of realized that it was a great time to bring in Lisa Rinna because not only she's such a great character, but she was really connected to all of you."
It's apparent that Bravo executives didn't see there was any chemistry between the new ladies with the rest of the cast. The following season, Lisa Rinna was introduced who had connections with the ladies from being a vet of the entertainment industry.
Kyle Richard is 'frustrated' with Denise Richards
As we previously mentioned, Richards has let cameras film some deep moments of her life during her 10 years on the show. This season Denise Richards tried to have Bravo stop shooting a scene when the conversation got uncomfortable to her, something Richards doesn't approve of.
"I feel like when it got hot in the kitchen, she left," Kyle told Entertainment Tonight. "Her kind of walking off and not wanting to participate didn't really sit well with the rest of us who show up every day."
Denise running away from filming tough situations left Richards frustrated.
"I get frustrated when people don't show up, because that's what we signed up for," she adds. "There were so many times where I would have loved to not show up, and so many people I would have loved to not be around at the time, but I never once have done that in 10 years. It was a little frustrating to me."
The Real Housewives of Beverly Hills airs Wednesdays at 8 p.m. ET/PT on Bravo.