'RHOBH': Kyle Richards Reportedly on the Chopping Block for Season 11
The rumors surrounding Kyle Richards' future on The Real Housewives of Beverly Hills have started to heat up. Since the cast wrapped season 10, some reports have claimed that Kyle's sister Kathy Hilton will be joining the cast full-time. But a new post from Real Housewives of Orange County alum Vicki Gunvalson indicates that Richards' is actually on the Bravo chopping block.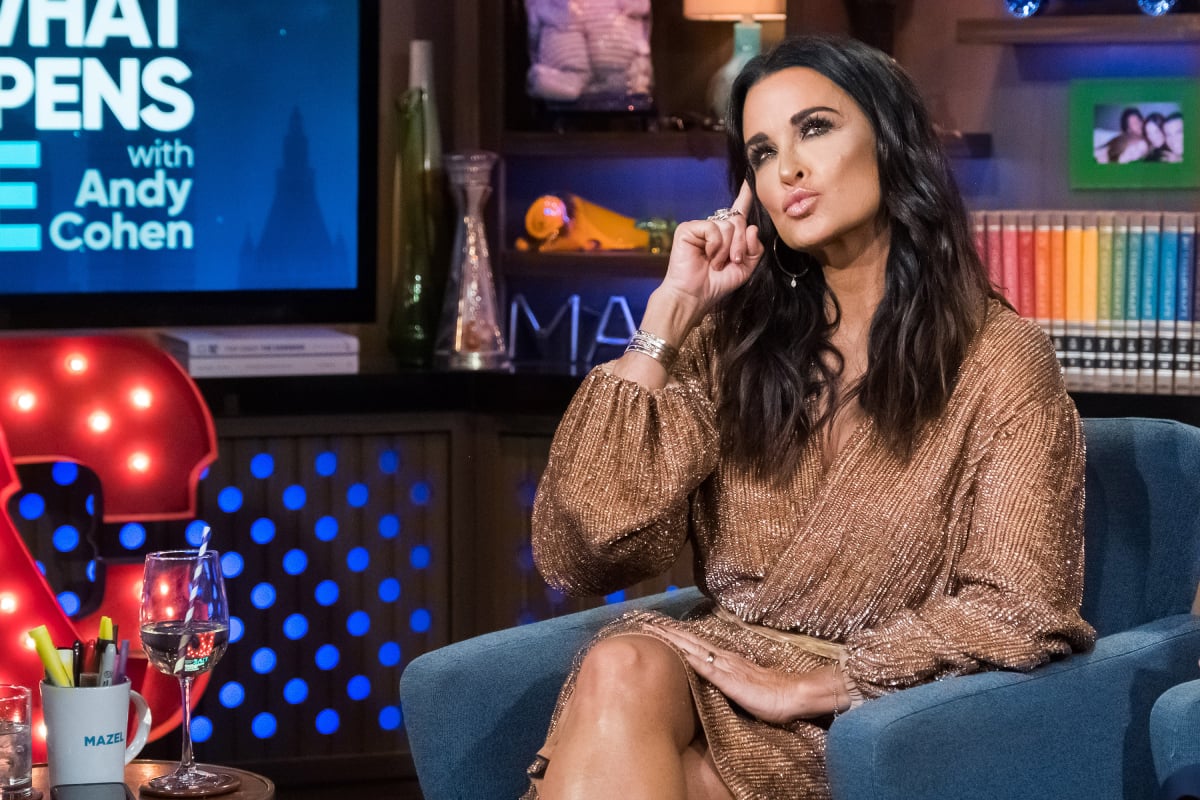 'RHOBH' fans have been asking Kyle Richards for years about Kathy Hilton joining the cast
According to All About the Tea, Kathy Hilton is currently in talks with Bravo to join the cast of Real Housewives of Beverly Hills. However, TMZ says she's only going to appear as a friend of the show.
It's not clear yet what Kathy's future role on RHOBH will be, if she has any at all. This isn't even the first time she's been the subject of rumors. However, some reports claim she is more serious this time than ever before. And, she has apparently told Bravo producers that she's interested.
Kyle has said that she would love for her sister to join RHOBH. During a 2019 appearance on Watch What Happens Live with Andy Cohen, Kyle said that fans have asked her for "many, many years" if Kathy would join the cast.
"I think she'd be really funny," Kyle said. "I don't know if she would do it and it's actually just a rumor, so we'll just have to fantasize about it until then."
Vicki Gunvalson says that Bravo is phasing out the OGs — Is Kyle Richards Next?
There have been some major cast changes in the Housewives franchise in recent months. Bravo announced earlier this month that they fired Dorinda Medley from Real Housewives of New York.
NeNe Leakes has just announced her second exit from Real Housewives of Atlanta. Denise Richards has just called it quits on Real Housewives of Beverly Hills after two seasons. Back in January, Bravo parted ways with two big Real Housewives of Orange County stars. The OG of the OC, Vicki Gunvalson, as well as 12-year vet, Tamra Judge.
RELATED: 'RHOBH': Kyle Richards Will Be 'Frozen Out' and 'Forced' Off the Show' Like Lisa Vanderpump Claims Insider
With the exception of Denise, all of the ladies that have exited the franchise this year have pretty much been OGs. All About the Tea first reported that Vicki pointed this out recently on social media. She posted a pic of senior housewives from across the franchise, and over the pic she wrote, "The OG's are slowly being phased out."
Everyone in Vicki's pic is gone, with the exception of Kyle. This has fans thinking that Kyle will be the next one to go.
It should be noted that OGs Ramona Singer and Countess Luann de Lesseps are still part of the Real Housewives of New York. Teresa Giudice is also still a part of the Real Housewives of New Jersey cast…at least for now.
'RHOBH' fans are asking for Teddi Mellencamp to go too
While Kyle's future on the Bravo series remains up in the air, Reality Blurb is reporting that another cast member could be on her way out. Real Housewives of Beverly Hills fans have started a petition calling for Bravo to fire Teddi Mellencamp.
Teddi confronted Denise during season 10 about her alleged affair with Brandi Glanville. Ever since, fans have been calling her out over her bullying behavior. A man named Tommy wrote the petition, and in the description, he called Teddi a "mean girl" who is "dangerous."
RELATED: 'RHOBH': Kyle Richards Reveals Who She Wants to Add to the Cast for Season 11 — So Who's Getting Fired?
"Teddi Boring Mellencamp has become a dangerous human being!" Tommy wrote. "Her self-entitlement and wardrobe and style is horrible! Teddi possesses the trait of trying to be a mean girl and, sadly be the lopsided doll minded version of Kyle Richards that Kyle keeps in her back pocket."
The fan blamed Teddi for Denise's exit after she "stuck her nose, not her original one" into Denise's business. So far, more than 300 people have signed the petition to get Teddi off the show.
The Real Housewives of Beverly Hills season 10 concludes on Wednesday, September 23, with the special "Secrets Revealed" episode on Bravo.