'RHOBH': Kyle Richards Reveals Why She Cut Her Bangs
Kyle Richards from 'RHOBH' is rocking some bangs in order to reprise her role as Lindsey Wallace in 'Halloween Kills.'
Amid her stressed-out fashion show during New York's Fashion Week, Kyle Richards from The Real Housewives of Beverly Hills shared that she had to fly to North Carolina to shoot a new film.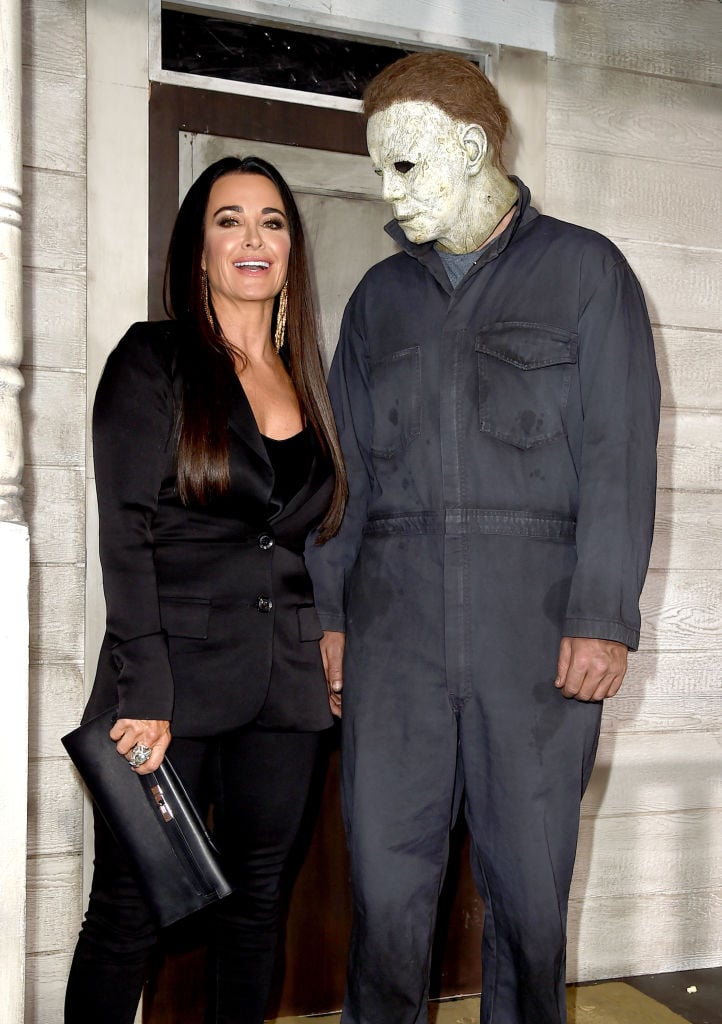 Richards appears this season rocking a new look, her long dark locks included bangs, which she said wasn't actually her choice. "When I was eight-years-old, I played Lindsey Wallace in the original Halloween," Richards shared in a confessional. "So it was really exciting when they asked me to reprise my role in the new Halloween."
"But cutting my hair was the director's idea," she continues. "Because these bangs are not a good look for me!" However, Richards makes them work when she's off-set and is often seen pushing them to one side. Richards did not appear in the 2018 Halloween reboot but will be in the newest installment, Halloween Kills.
She really wanted to be in 2018 reboot
Richards actually reached out to producers to see if they could weave her into the 2018 Halloween installment. Apparently, she's never done this before but truly wanted to be part of the film.
"I really wanted to be so badly. And I've never done this in my life … I literally reached out and said, 'Can I be in it in any capacity? I'll be an extra. I'll do anything.' But they didn't think that it was going to fit in with the story or something," she told US Weekly.
Richards didn't contact producers but instead asked her agent to do her bidding. "I had my agent reach out to them because, you know, I've done so many movies and TV shows since I'm a baby. And that's probably the no. 1 thing next to Little House on the Prairie, or now the Real Housewives of Beverly Hills, that people ask me about. So it's just something that I feel really proud to have been a part of. It's such an iconic film. And I have a lot of memories from that, which I don't have from all the things I've done," she said. "For some reason, it really sticks out in my mind."
Richards got her wish (and some bangs)
Unfortunately, Richards didn't make the 2018 film. However, she will now appear in Halloween Kills, which is scheduled to be released in October 2020. The film has two parts, with part two slated for 2021. Actress and Halloween star Jamie Lee Curtis had nothing but praise for Richards' performance.
"She is so great that it's going to be so fun for her audience — who is now used to knowing her for her TV show," Curtis shared, US Weekly reports. "They are going to be so happy to see her be an actress again, and she is absolutely fantastic."
Curtis added, "[She's] so beautiful that, you know, she gets very decomposed. Not … you know what I mean," she teased. "Like, distressed in this movie, in every way. Emotionally, physically, environmentally, and she just completely left that other life and just came and shot for three, four weeks and was amazing. People are going to be bonkers about her."