'RHOBH': After Kyle Richards Fired Back at Tamra Judge, 'RHOC' Star Settles Feud
Kyle Richards from The Real Housewives of Beverly Hills and Tamra Judge, formerly from The Real Housewives of Orange County, were involved in a little feud. Fans of the Housewives franchise soaked up the drama that crossover both shows set in Southern California. Following their social media squabble, Judge reached out to Richards to clear things up.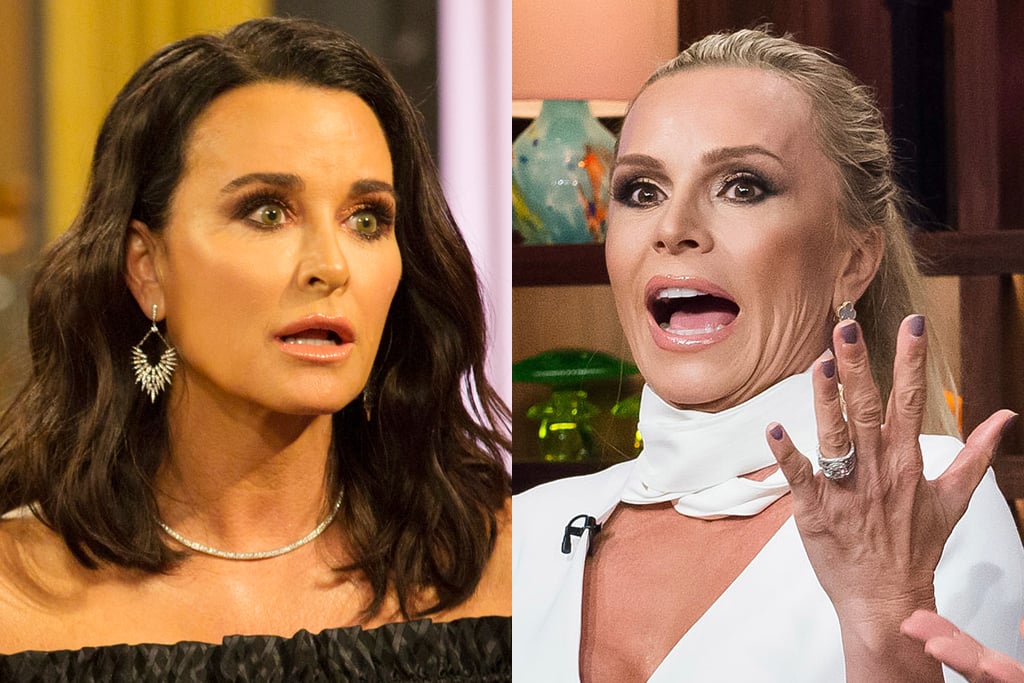 Why was Kyle Richards upset?
Richards from RHOBH was offended by what Judge and Vicki Gunvalson from RHOC said about her. During an Instagram Live session, the former Bravolebrities were taking questions from fans. When a followed tried to find out what the Orange County ladies thought of Richards, Gunvalson did not hold back.
"Kind of vanilla," Gunvalson said about Richards. "I don't see any conflict. I just see her like, playing the safe lane always."
Although Judge didn't say anything, she didn't denounce Gunvalson's opinion on Richards and seemingly agreed with it.
"Well, she's still got her million-dollar paycheck," Judge added, reminding everyone they are not Housewives anymore unlike Richards who still is.
Kyle Richards fired back
The fashion designer was asked about Gunvalson's opinion about her and Richards was not too pleased.
"Well, A) they don't know how much money I make. B) Like I say, I don't play it safe," Richards told Us Weekly. "I've had a lot of issues over these years, 10 years, a lot of them."
Richards has been a RHOBH star for 10 seasons and says that she's always been authentic for the viewers. She also said that she didn't need to do crazy stuff to be relevant on the show.
"That does not include getting drunk and putting my tongue in another married woman's mouth," Richards said referencing what Judge has done on the show.
Tamra Judge calls Kyle Richards
Following the drama between the Housewives playing out very publicly, Judge reached out to Richards to clear the air.
"I talked to Kyle and things are fine," Judge told The Daily Mail. "It was a misunderstanding. I didn't say she was vanilla – those were not my words! I've always loved and adored Kyle and I think she is the staple that holds RHOBH together. I have nothing but love and respect for her."
As far as Richards calling out Judge for making out with other women, Judge said, "Next time I see Kyle I'll put my tongue down HER throat!"
Kyle Richards has more drama with fellow 'RHOBH' star
Richards is not only feuding with Housewives from other franchises, but she also has one on her own show. The last RHOBH OG has been quarreling with Garcelle Beauvais.
It all started when the newbie appeared on Watch What Happens Live and played a game with host Andy Cohen. When the Bravo host asked Beauvais who was the housewife that was least welcoming, she named Richards.
"I was really surprised," Richards said on WWHL that aired on April 29. "My husband and I were watching and he said, 'Why is she talking like that?' and I said 'I have no idea.' If she felt like that I wish she would say it to my face instead of saving it for Watch What Happens Live."
Richards said she felt there were no issues with Beauvais throughout RHOBH Season 10 and her answer came out of nowhere. Beauvais later explained to another news outlet that she was playing a game and had to pick someone, it wasn't her intention to hurt her.
"I'm sorry that she felt hurt, but it's not really about her being unwelcoming. It was more of the fact that she never took the time to get to know me," Beauvais told Page Six.
The Real Housewives of Beverly Hills airs on Wednesday nights at 8 p.m. on Bravo.