'RHOBH': Kyle Richards Will Be 'Frozen Out' and 'Forced' Off the Show' Like Lisa Vanderpump Claims Insider
Kyle Richards might soon find herself on the outs on the Real Housewives of Beverly Hills. A season after Lisa Vanderpump left the show after being iced by her fellow co-stars, an insider claims that Kyle is about to suffer the same fate. And with Kyle butting heads with just about all of her co-stars, there might be some truth to her exit rumors. Here's a look at why Kyle might be forced to leave the series she has been a part of since the very beginning.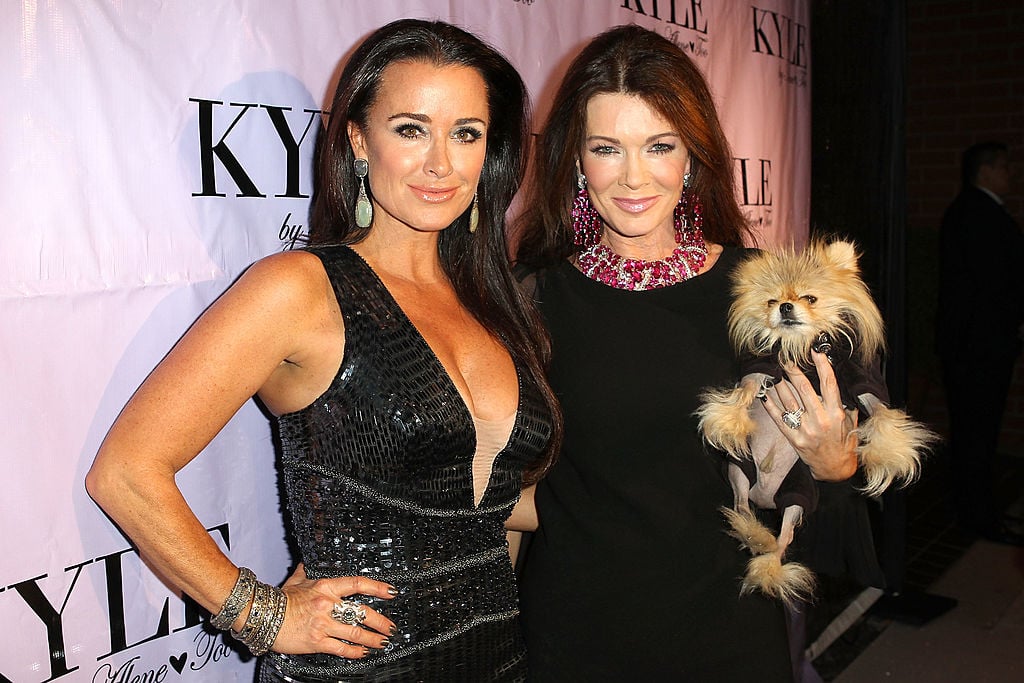 The cast of 'RHOBH' turns on Kyle Richards
In season 10 of RHOBH, Kyle has clashed with a handful of the women on the show, including Erika Girardi, Dorit Kemsley, Garcelle Beauvais, and Denise Richards. With the drama heating up, an insider revealed that most of the ladies view her as being "toxic" to the show.
At the beginning of the season, Kyle sparked a fight with Dorit because she was obsessing over glamour. She then referred to Denise as a "ragamuffin" and teased that Erika doesn't have any real friends.
She also slammed the entire cast as being "fake ass bitches" while rubbing newcomer Garcelle the wrong way. According to All About The Tea, if Kyle does not change her ways, there is a good chance season 10 will be her last.
"Kyle's becoming the toxic housewife," the insider dished. "The ladies are turning on her."
We are less than half-way through the season and many of the cast members have accused Kyle of ignoring everyone's feelings. Some of the women also think that she is being way too faithful to Teddi Mellencamp, who is quickly becoming her only ally.
Although the drama is about to shift to Denise's controversial affair with Brandi Glanville, it sounds like things aren't going to get any easier for Kyle.
Kyle finds herself in a similar situation as Lisa
The interesting part about Kyle's predicament is that she was the one who led the charge against Lisa last season. As fans will recall, Kyle is the one who said that Lisa was spreading rumors about Dorit, a move that led to the Puppygate scandal and Lisa's abrupt exit.
As fans will recall, Dorit was accused of trying to ditch a dog she had adopted at one of Lisa's shelters.
Amid the drama, Lisa stopped filming altogether and refused to attend the reunion. She announced her exit from the hit reality series last summer and recently called her former co-stars a "pack of wolves.
When she was filming season 9 of RHOBH, Lisa was dealing with some major personal issues. In particular, the reality star was still coping with the unexpected death of her sibling, Mark Vanderpump, who passed away right before production kicked off.
Will Kyle Richards be 'frozen out' and 'forced off' the 'RHOBH' after season 10?
With Kyle feuding with so many of her co-stars, the insider revealed that she should be worried about suffering a similar fate as Lisa. The source claims that many of Kyle's co-stars want to see her "frozen out" and "forced off the show," just like what happened to Lisa in season 9.
"Kyle should be worried. Bravo doesn't claim loyalty to any of the original cast. The bottom line is, some of the ladies want to see her gone," the source added.
Considering how Kyle is one of the original cast members, it seems unlikely that she will get forced off the show. That said, Lisa was in a similar situation last year but her clout with producers didn't keep her on the show.
RELATED: 'RHOBH' Fans Are Begging Bravo To Fire Kyle Richards And Teddi Mellencamp Before Season 10
At this point, anything is possible on RHOBH. The good news is that it is still early in the season and Kyle could easily turn things around. There is also plenty of drama to come — looking at you Denise Richards — some of which might take her off the hot seat.
Kyle has not commented on the rumors surrounding her future on RHOBH. Bravo also hasn't said anything about Kyle wanting off the show, so fans will have to stay tuned to see what happens.
New episodes of the Real Housewives of Beverly Hills air Wednesday nights on Bravo.