'RHOBH': Lisa Rinna Kissed Denise Richards in Reality Show Before 'Housewives'
Before they caused a stir on The Real Housewives of Beverly Hills, Lisa Rinna and Denise Richards steamed up the small screen in the short-lived reality series, Harry Loves Lisa. The two are filmed in a liplock during an episode when Rinna ponders if she should have her iconic pout reduced.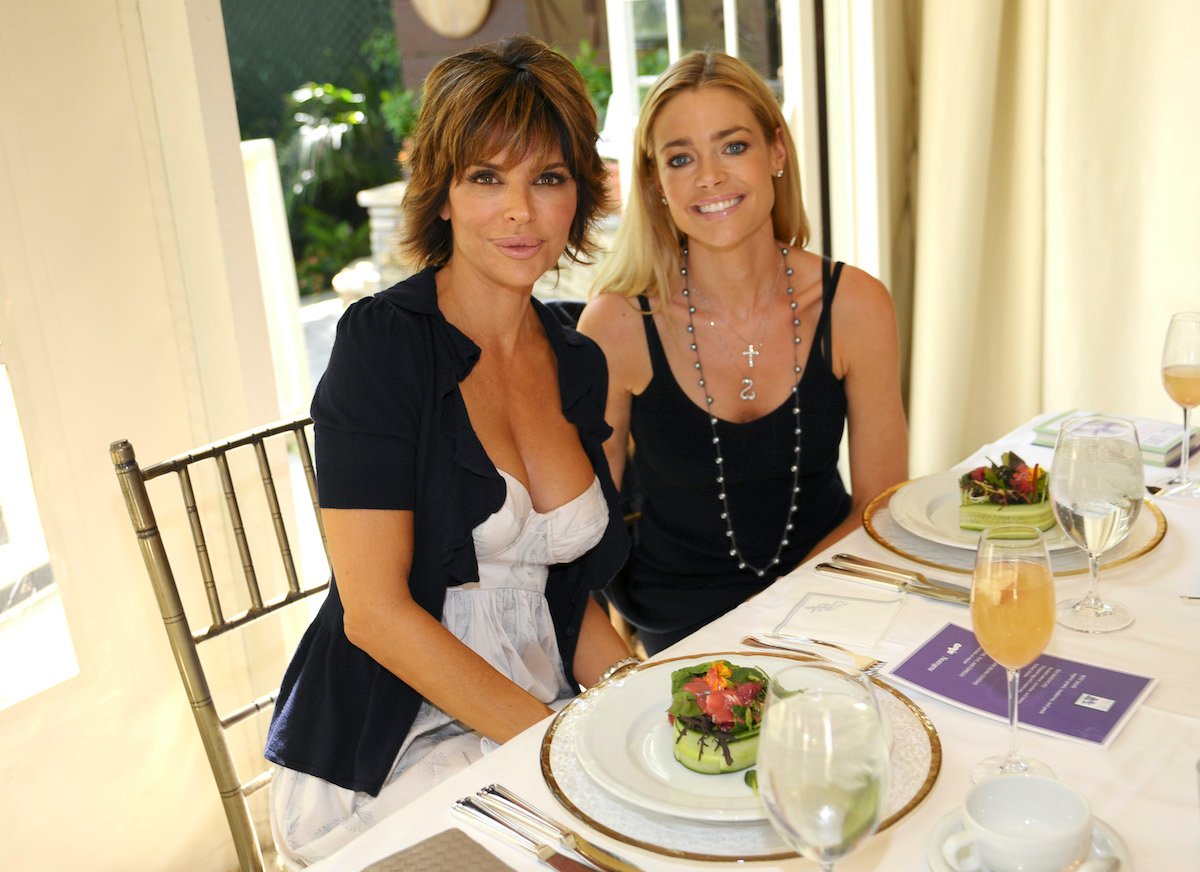 The single-season series followed Rinna's husband Harry Hamlin's acting comeback and her antics. Richards appeared as Rinna's friend and wanted to "test out" her lips before she went under the knife.
Richards and other friends join Rinna for lunch in the episode. "Do you think of me as just a pair of lips?" Rinna questions her friends. Richards samples Rinna's pout as the two engage in a full liplock.
Lisa Rinna's lip reduction surgery became a central storyline
Rinna admitted she should have never had surgery to plump her lips in the first place. "I was crazy to even touch them in the first place," she told People in 2010. Scar tissue formed lumps and bumps on her lips, which Rinna tried to fix with cortisone shots.
Harry Loves Lisa producers suggested that the couple discuss Rinna's lips on the series.  "The producers really wanted me to speak about 'the pink elephant in the room,'" she said. "Harry and I were against it. But they convinced us it was important to address and asked if I would go see a plastic surgeon."
Rinna was always told the damage to her lips was unrepairable until she met Beverly Hills plastic surgeon Garth Fisher. The surgeon reduced Rinna's lips by about 30% and Rinna was happy with the result. "I feel fantastic," she told People. "It looks good – it's a huge difference."
"My lip is healing, so we've had to be pretty ginger about it," she added. "No crazy makeout sessions – yet!"
Harry Hamlin didn't want Lisa Rinna to have the surgery
The surgery worked out for the best, but Hamlin was concerned about his wife going under the knife. "What got me about Lisa was her eyes, not her lips," he told People. "So I spent most of my time looking at those." Adding, "Whatever change took place was so gradual, it never registered for me."
"I understand it from a woman's point of view," he shared. "But plastic surgery is just an extension of that whole 'let's stay fresh and young' vibe. Me, I'm just gonna get old and haggard. But I love Lisa no matter what – whether she has plastic surgery or not, or she's gray or saggy. It's the long haul here."
Rinna knew her husband would want her to leave her lips alone. "I knew Harry would say, 'Don't touch it, don't mess with it.' He was like, 'Maybe you should just leave it alone.' He loves me the way I am," she said.
Lisa Rinna waited another 4 years to join 'RHOBH'
Healing from the lip surgery took about six months and the series ended after the initial season. Rinna didn't join RHOBH until 2014. "I was looking for an adventure in life," Rinna said about why she joined the cast. "I'm not afraid to try different things in my career, and it had presented itself, and I thought, 'Really, why not?'"
"I'm just never one to say no," she added. "I probably should say no more, but I don't because I just think so many things are so much fun. If you look back at all the different things I've been able to do, I think it's been a blast."