'RHOBH': Lisa Vanderpump Goes Full-on 'Mean Girl' Reacting To Teddi Mellencamp Exit
Lisa Vanderpump had some heavy words for her former 'RHOBH' co-star Teddi Mellencamp. As news of Mellencamp departing the show made the rounds, Vanderpump didn't miss the opportunity to throw some shade.
Teddi Mellencamp confirmed she was leaving The Real Housewives of Beverly Hills. News of her departure came as no surprise to many fans as there had been rumblings she would not return for season 11. One former housewife that seemed extra giddy at the mother of three losing out on her job was Lisa Vanderpump. The latter went full-on "mean girl" on her podcast reacting to Mellencamp's exit from the show.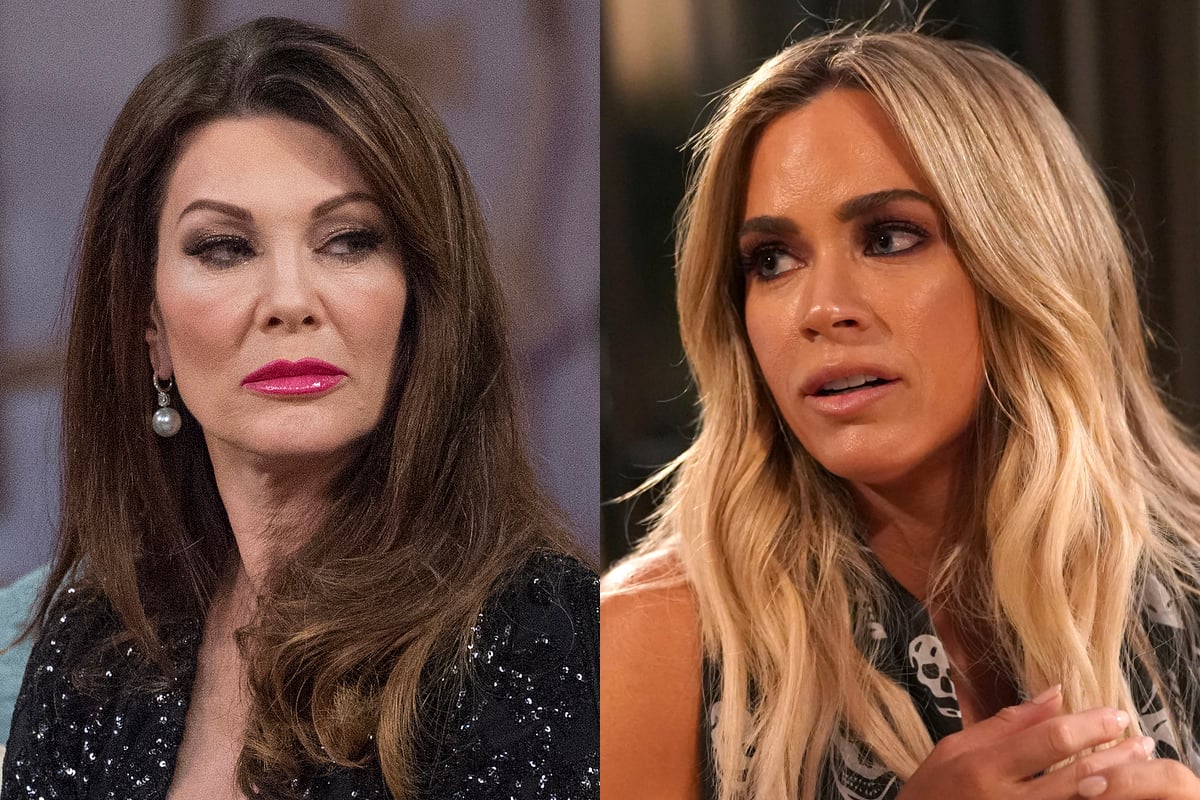 Why is Teddi Mellencamp leaving?
Mellencamp held a diamond for three seasons and she announced on Tuesday, September 22 that she was not returning to RHOBH. The accountability coach shared the news with her fans on Instagram.
"I don't want to bore you but I'd figure I could give you a little update on what's going on," Mellencamp posted on her Instagram Stories. "Recently found out that my contract as a housewife is not being renewed."
The All In with Teddi founder had been facing backlash in recent days for her controversial diet plan. There was a group of people raising their voices against the regime that allegedly put their lives at risk. Mellencamp didn't cite this as the reason she was not offered to return and only shared good words following her departure.
"You heard it here last," she posted. "Yes, it's true, I am not coming back to RHOBH. Thank you Bravo, Evolution, Andy Cohen, and all of the amazing women for the support (and the shade) for the past three years. Back to the shadows I go."
Mellencamp expressed she was sad with the news and said it felt "like a breakup because you develop such strong relationships with the cast, the crew and you get to do things that you'd probably never get to experience without the show." She ended the video saying she was excited about what was next in her life.
Remembering the Teddi Mellencamp and Lisa Vanderpump feud
Mellencamp is credited as the person that exposed Vanderpump with the shenanigans she tried to orchestrate in the "puppy gate" incident. The former alleges that the Vanderpump Rules producer tried to make Mellencamp go against Dorit Kemsley as they didn't have a good relationship.
Kemsley adopted a pet from Vanderpump Dogs and it somehow ended at a kill shelter. Vanderpump was accused of leaking stories to the press in order to save the reputation of her foundation. The restauranteur denied everything and was so upset at them thinking she would do that, that she ended up quitting RHOBH.
Lisa Vanderpump shades Teddi Mellencamp
It wasn't long before other Housewives reacted to Mellencamp leaving the show. One that was not a particular fan of John Mellencamp's daughter was Vanderpump. The restauranteur didn't have a good relationship with Mellencamp during season 10 of the show.
"Today we have the news that Teddi Mellencamp got the hoof from Housewives," Vanderpump said on her All Things Vanderpump podcast. "I don't know, people said because she was boring, I certainly didn't have a good experience with her. Boring would be one of the nicer things I could say."
Vanderpump, who is facing allegations and a lawsuit for not paying her employees properly, then goes on to bash Mellencamp and her business.
"Also, I think there was something up for contention about her business, something about 500 calories a day," Vanderpump continued. "I don't know how anybody could survive on 500 calories a day, I think I eat 500 calories between 2:30 and 4:30 AM when I'm up in the night. So, I don't think I could get out of bed with 500 calories a day, but I guess whatever works for you, but, apparently, it didn't for everybody so."
She ends the bit with the British humor that has landed her in trouble in the past.
"Anyway, I wish Teddi Mellencamp all the best… said no one ever," she quipped.
The Real Housewives of Beverly Hills is set to start filming in the coming weeks and air on Bravo at the beginning of 2021.