'RHOBH': Sarah Paulson Mocks Lisa Vanderpump Fans After the 'Not-So-Nice' Incident
Sarah Paulson is a die-hard fan of The Real Housewives franchises on Bravo. There's not one edition that she doesn't know about and that's why she's always a treat of a guest on Watch What Happens Live. During the episode tonight she was reminded of the "not-so-nice" incident she talked about after a run-in with Lisa Vanderpump. Paulson didn't have a positive interaction with the former The Real Housewives of Beverly Hills and received major backlash for revealing it.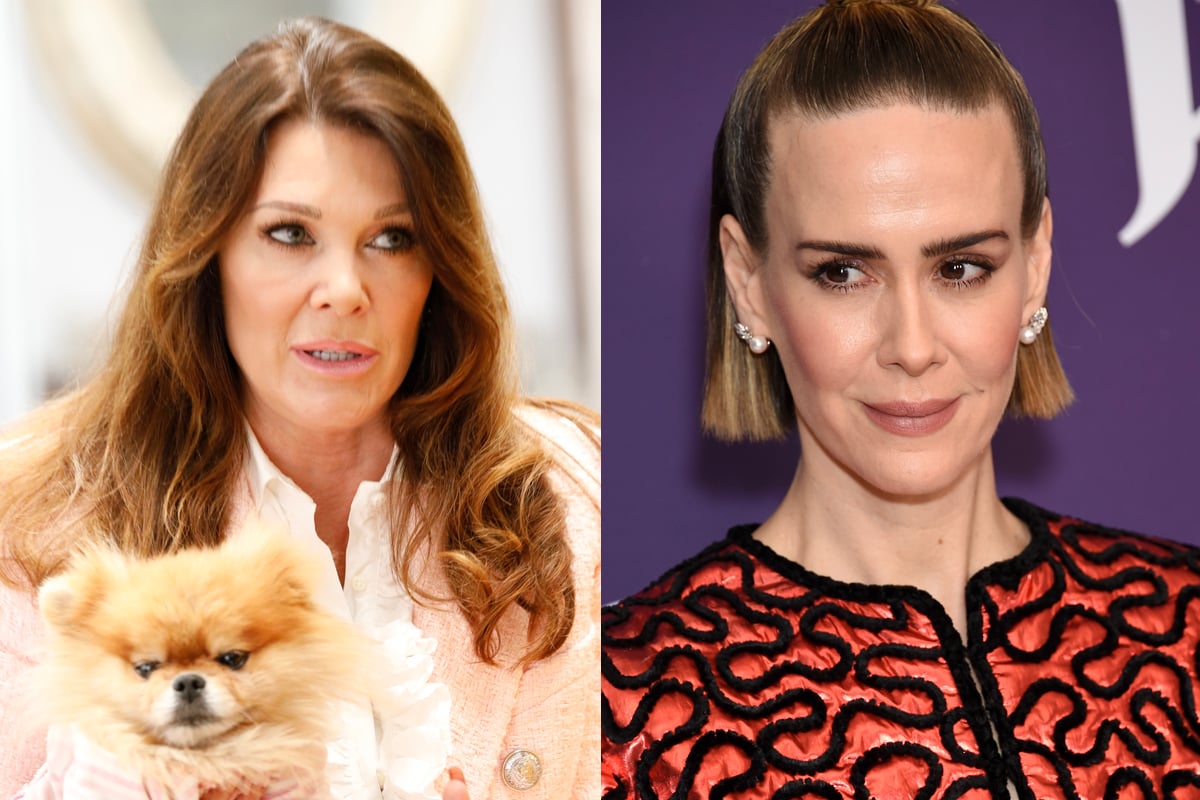 What happened between Sarah Paulson and Lisa Vanderpump?
In October 2019, Vanity Fair posted a video interview online with Paulson. The latter took a lie detector test while she answered important pop culture questions. One of the questions was about the New York-based Housewives survival chances after Bethenny Frankel's exit.
"I think the star of the Real Housewives is the franchise itself. So I think it will survive without her, yes. Although I, personally, will miss her. I'd like them to bring back Jill Zarin, though, personally," the award-winning actress said in the interview.
As the questions shifted to Beverly Hills she was asked about Vanderpump leaving the franchise. Paulson was already hesitant talking about the restauranteur as she knows her fandom is intense.
"You know, I don't want her coming after me on Twitter, but I won't miss her," she bravely said. "I miss the dynamic she brings to the group, which is, you know, the fear of God she instills in everyone."
Paulson then added, "I met her once at a party and she wasn't that nice to me. Am I going to get in trouble for that? She wasn't that nice."
A Vanderpump fan later replied on Twitter asking who Paulson was to which the Vanderpump Rules star said she wasn't sure.
In a separate shady response, Vanderpump added: "I am sorry, not sure I know her, and I don't believe or remember meeting her… I try to be nice to everybody lol."
Sarah Paulson doesn't back down
Paulson was a guest on WWHL and host Andy Cohen asked her about the incident with Vanderpump. As an avid Housewives viewer, Paulson is fully invested in this world just like the rest of us.
"It's that thing where I'm a bit of an idiot in the sense that when I was having that lie detector test they truly strap everything around me. The guy was sitting there and I felt somehow that if I didn't answer the question properly that they were going to call me out anyway," she explained.
"Bless the fans, bless the people who have their back, that's great," she continued. "But there's a kind of vitriol that was like… wow. I didn't say she was a terrible person, I simply said she wasn't that nice to me. She wasn't and that's ok, it wasn't a character assassination. She wasn't that friendly."
Paulson acknowledged that Vanderpump allowed her to hold her precious dog Jiggy, which is something LVP fans kept reminding her. The American Horror Story actress then proceeded to mock Vanderpump's fans whining on social media.
"But… you… she… the dog…," Paulson said mockingly. "She doesn't anybody touch Jiggy… la la la…"
Paulson then adds, "Yeah, I probably grabbed the dog out of her hand anyway. I was with other people that I think she liked, she didn't know who I was. I didn't expect her to know who I was but, she wasn't that nice."
Watch the hilarious reenactment below!
Watch What Happens Live airs weeknights on Bravo.