'RHOBH' Season 10, Episode 1 Title Throws Shade at Lisa Vanderpump
A new season of The Real Housewives of Beverly Hills is around the corner. Fans have been waiting anxiously for season 10 of the reality series as there's been a lot of gossip around the ladies. There's also expectation as this will be the first season without the self-proclaimed queen, Lisa Vanderpump. Although the Vanderpump Rules star will not be on the Bravo show, producers found a way to shade her.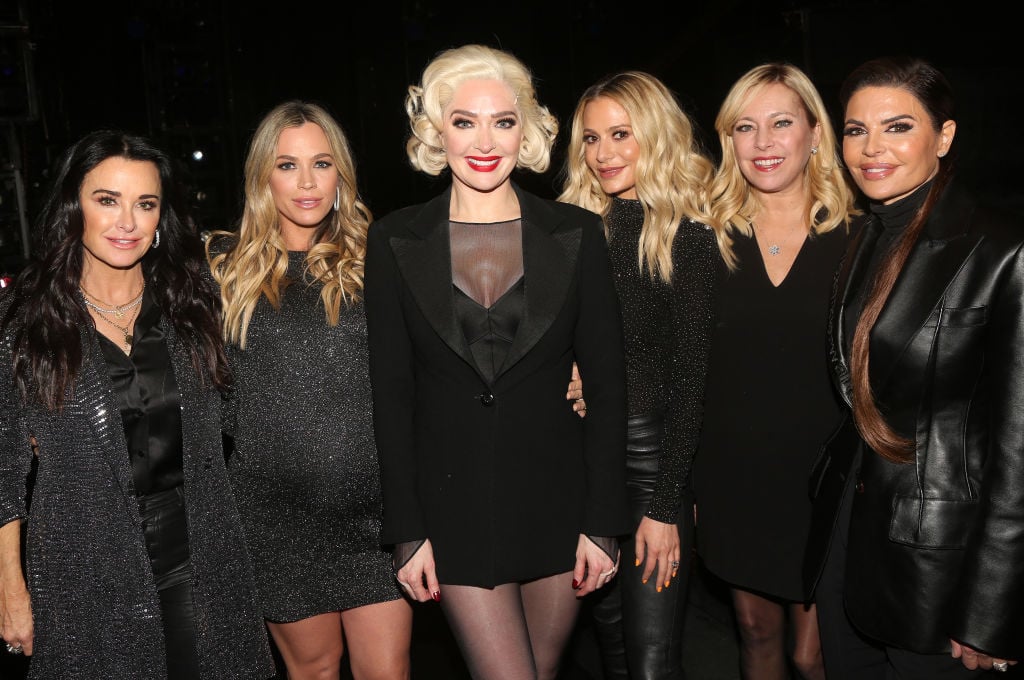 With season 10 of RHOBH premiering on April 15, Bravo made the titles and descriptions of the first two episodes available. Episode 1 is titled "The Crown Isn't So Heavy." Die-hard fans will recall Vanderpump had a tagline that made reference to the weight of her crown.
"The crown is heavy darling, so just leave it where it belongs," was Vanderpump's tagline in season 7.
Vanderpump has always believed she was the queen of RHOBH and made a point of wearing crows to showcase she felt like the boss.
"Kyle's new clothing line brings the women together for New York Fashion Week," the episode description for Episode 1 reads. "Erika takes Lisa Rinna, Teddi, and Denise on a trip down memory lane. Denise introduces the group to her friend, Garcelle Beauvais."
Episode 2, which is scheduled to air on April 22, is titled "To Live and Text in Beverly Hills." "While Kyle tries to attract buyers for her new fashion line in New York City, Erika gets big news that has her moving there," the description reads. "Dorit's move into a new house is marred by negative press about her finances."
Season 10 taglines revealed!
It was a big day for RHOBH fans as Bravo also released the taglines for the new season. Reactions for the opening sequence have been mixed but this aspect of the show is something viewers always look forward to.
Richards opens up the intro referencing the ritzy lifestyle of Beverly Hills, but this time she doesn't name the city. "Around here, there's more than just dresses in everyone's closet," she says.
Rinna follows up calling out her dancing routines saying, "The secret to life? Dance like everyone is watching."
Kemsley loves abundance and continued with her line from last year. This year she said, "I won't settle for anything less than everything."
Beauvais, the new housewife, teases her acting career saying, "Life is an audition and honey, I'm getting that part."
Mellencamp, who is pregnant this year, shows up with her baby bump and says, "You never know what to expect when I'm expecting."
Jayne references her Broadway stint on the Chicago musical by saying, "Break a leg? Not in these heels honey."
Lastly, Denise touches upon a sexual innuendo saying, "My life may not be a fairy tale, but I'll always get a happy ending."
Kyle Richards reacts to brand-new housewives
Season 10 of RHOBH will see the introduction of Beauvais who is a full-time housewife. Sutton Stracke is the other lady that will join the girls this season but she is seemingly only appearing part-time in a "friend" role.
Richards made an appearance on Watch What Happens Live where she gave her opinion on the new ladies.
"I think they were great! They're great additions to the show," Richards said on the After Show. "I'm really excited for you to see them all and I've gotten really close to Sutton more so than Garcelle. She was doing, you know, another show at the same time, too, but they're both great additions, so I'm excited to have them on the show with us." 
The Real Housewives of Beverly Hills premieres on April 15 at 8 p.m. ET on Bravo.