'RHOBH' Season 12: What Did Kathy Hilton Say About Her Sister Kyle Richards and Why Is Lisa Rinna Involved?
'Real Housewives of Beverly Hills' recently dropped the season 12 trailer and fans want to know what went down between Kyle Richards and Kathy Hilton.
Real Housewives of Beverly Hills recently dropped the season 12 trailer, which included a scene that has fans asking questions. The brief clip teased an intense conversation between sisters Kyle Richards and Kathy Hilton, with Lisa Rinna in the middle of the drama. Fans want to know — what did Kathy say about Kyle? And, why was Lisa involved?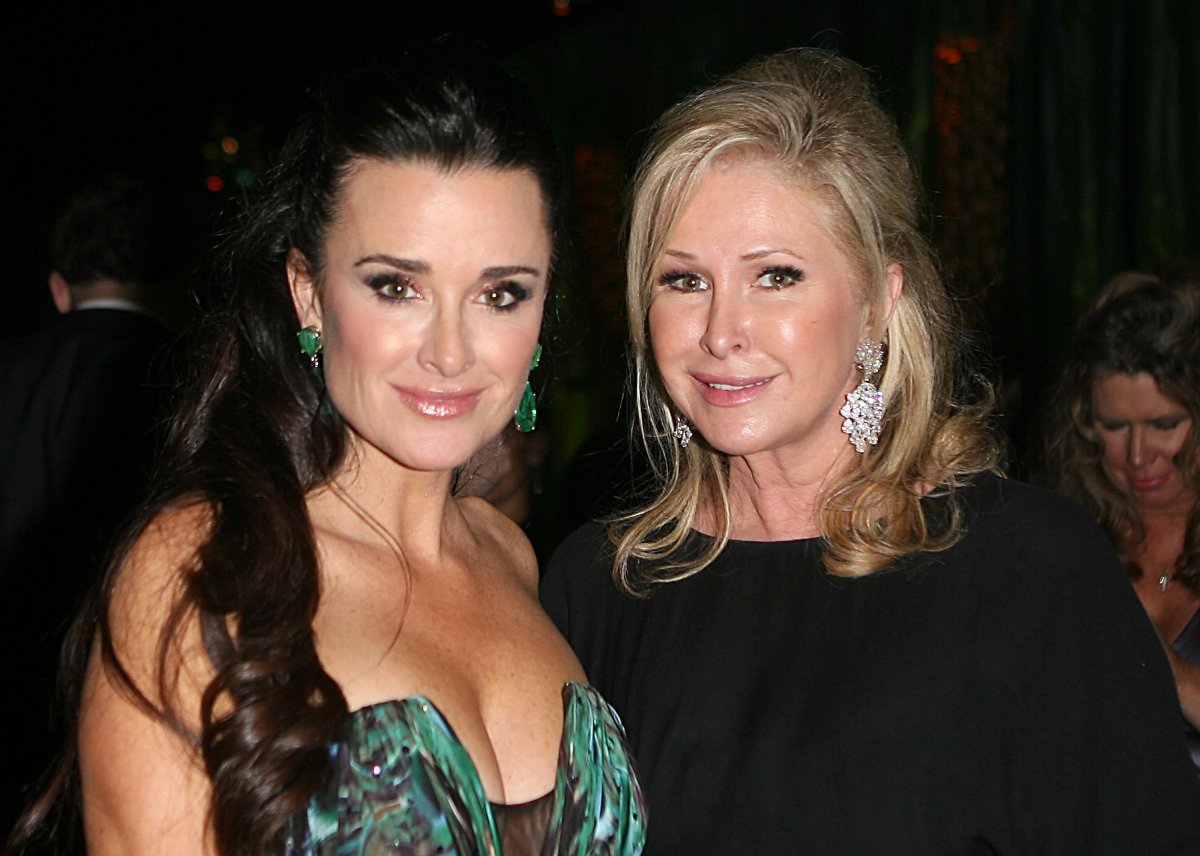 What did Kathy Hilton say to Kyle Richards in the 'RHOBH' season 12 trailer?
The dramatic RHOBH trailer gave fans their first look at what's coming in season 12. Including an armed robbery at Dorit Kemsley's home, and Erika Jayne screaming that she "doesn't give a f**k about anybody else" besides herself.
The tensions appear to be high. Especially in the clip that featured Lisa confronting Kathy, while Kyle was in tears. As the three women sit together, Lisa tells Kathy: "You said some things about this beautiful sister of yours. I'm sorry, Kathy, you're not going to get away with it."
Then, Kyle tells her sister, "I feel like you hate me or something. How could you say those things?"
Fans never got to hear what it was that Kathy said to Kyle, which led to a lot of talk on social media. "I want to know what Kathy said about Kyle that is soo bad #RHOBH," one fan wrote after seeing the trailer.
"Rinna's cheshire grin at stirring up Kyle and Kathy's always-dormant but never-really-gone conflict is CHILLING #RHOBH," added another.
Kathy Hilton and Kyle Richards have a rocky relationship
Most RHOBH fans know that Kathy and Kyle had a falling out that turned into a decade-long feud. The half-sisters seemingly worked their issues out before Kathy joined the show in season 11. But, that feud still lingers in the background.
Kathy told Entertainment Tonight that she did bring "a little bit" of drama in season 12, and confessed that she currently isn't on speaking terms with one cast member.
"We have a great time together, and when you're spending so much time together, you're bound to have a little… a little drama," Kathy said.
As for the one person she's not on speaking terms with, all of the signs are pointing to Kyle. In March, Page Six reported that Kyle didn't attend Kathy's birthday celebration. A week later, Kathy was missing from a family get-together that Kyle's daughter Farrah shared on Instagram.
Why is Lisa Rinna involved?
After the season 12 trailer dropped, Bravo and Cocktails published a blind claim that Kathy and Kyle were on the outs once again. It read in part, "The elder sister is not talking to her youngest sister. She blames her for the ladies piling on her."
But that rumor is based on something else that happened in the trailer — a group dinner where Erika Jayne calls Kathy out.
"If we're gonna talk about Erika's behavior, are we gonna talk about everybody in this group?" Erika asks. "So that's why you want Kathy to be called out?" Kyle says. To which Erika replies, "Yes, actually."
No matter what's caused the latest rift between Kathy and Kyle, fans want to know why Lisa is in the middle of it.
One fan tweeted: "Why is Rinna always inserting herself in Kyle & her sisters drama? First with Kim, now with Kathy, and why is no one calling her out about it?" Another wrote: "How does Rinna think it's her place to call out Kathy about Kyle and Kathy's issues? Stay the hell out of other people's family matters. It's not something anyone else needs to be involved in."
Season 12 of Real Housewives of Beverly Hills premieres May 11 on Bravo.