'RHOBH' Star Kim Richards Once Walked Out on a Dr. Phil Interview Because of 'Anxiety'
Kim Richards has handled her addiction publicly, which is no easy task — and the ordeal gave her anxiety that led her to walk out on an interview with Dr. Phil.
It may be easy to assume that celebrities are always cool and composed, however, this is not always the case. Sometimes, the pressure gets to them just like it does everyone else, and then there are the times when this actually happens on camera. Real Housewives of Beverly Hills star Kim Richards once had quite the experience, and fans were left in a state of shock when they saw what happened.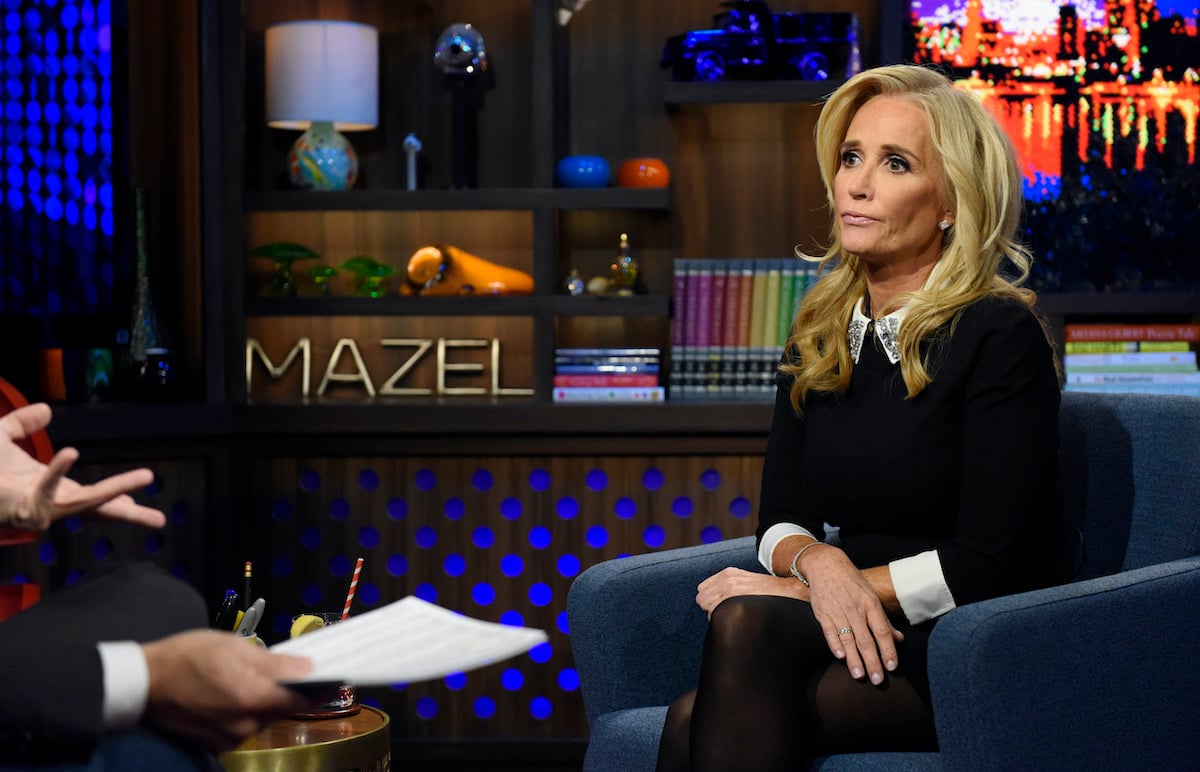 It was in an interview that things got to be a little too much for Richards, and she felt that the best choice was to remove herself from the situation. Let's talk about how Real Housewives of Beverly Hills star Kim Richards once walked out on an interview with Dr. Phil because of "anxiety". 
Kim Richards walked out of an interview with Dr. Phil
It was a few years ago that Richards was arrested at the Beverly Hills Hotel, and when she appeared on an episode of Dr. Phil to talk about the ordeal, it didn't go so well. HuffPost reports that the reason for the arrest was trespassing and public intoxication; she also reportedly resisted arrest and kicked at a police officer at the station.
Fans know all too well that the former child star has a history of alcohol abuse, something that was highlighted on RHOBH, and certainly addressed during the interview. Dr. Phil was quite sympathetic as he offered her treatment and told Richards that "I'm interested in one thing and that's your long-term health and well-being."
Despite his attempt to help, it got to be too overwhelming, and she replied, "Is this an intervention? Because it's feeling like one right now." Richards continued, saying, "I have a lot of anxiety right now. I'm sorry, I can't," before walking out of the interview. 
Richards didn't like Dr. Phil's treatment plan
Only Richards knows what was going on in her head at the time, but Reality Tea reports that she had some emotional things to say. After storming out, Richards was overheard saying "You can forget this whole thing, here's your microphone I'm done, I'm leaving, I wanna talk to my family."
She went on to add that the treatment offered by Dr. Phil "didn't fit her needs" and that she "wanted to do a 30-day, not 60-day program". Seems like it was a difficult time for Richards, although US Weekly now reports that she is working hard on her sobriety after a few setbacks. Looks like she is determined to get the most out of what life has to offer, and for the past few years, Richards has been taking giant steps in the right direction.
Kim Richards was an actor before she was a 'Real Housewife'
Richards has been in the spotlight for many years, and hard-core fans have followed her career from the start. She starred in her first television commercial at just 5 months old. Born in New York, she went on to become a famous child star, appearing in the television series Nanny and the Professor, as well as several Disney films.
Richards' acting career was on fire, and fans will recognize her from her performances in popular shows such as Fantasy Island, The Love Boat, and The Dukes of Hazzard, to name a few. As most people are aware, the pretty blonde is the sister of fellow television personality Kyle Richards, the half-sister of Kathy Hilton, and the aunt of socialite Paris Hilton.
So, what has Richards been known for most recently? Well, it turns out that she jumped on the reality show bandwagon as the star of Real Housewives of Beverly Hills, appearing as a regular cast member for the first five seasons, before appearing as a guest star in seasons six, seven, nine, and 10.
How to get help: In the U.S., contact the Substance Abuse and Mental Health Services Administration helpline at 1-800-662-4357.