'RHOBH:' Still Confused About 'Puppy Gate?' This Cartoon Explains Everything
Admit it. You are just as confused as the rest of us about the flurry of gossip surrounding the dog adoption debacle on The Real Housewives of Beverly Hills.
The season started pretty straight forward. Dorit Kemsley adopted a dog from Lisa Vanderpump's rescue Vanderpump Dogs. She asserts the dog bit her husband and nipped at her children. So she found what she thought was another loving home for the pup. Unfortunately, that arrangement didn't work out and the dog, named Lucy Lucy Apple Juice ended up in a shelter.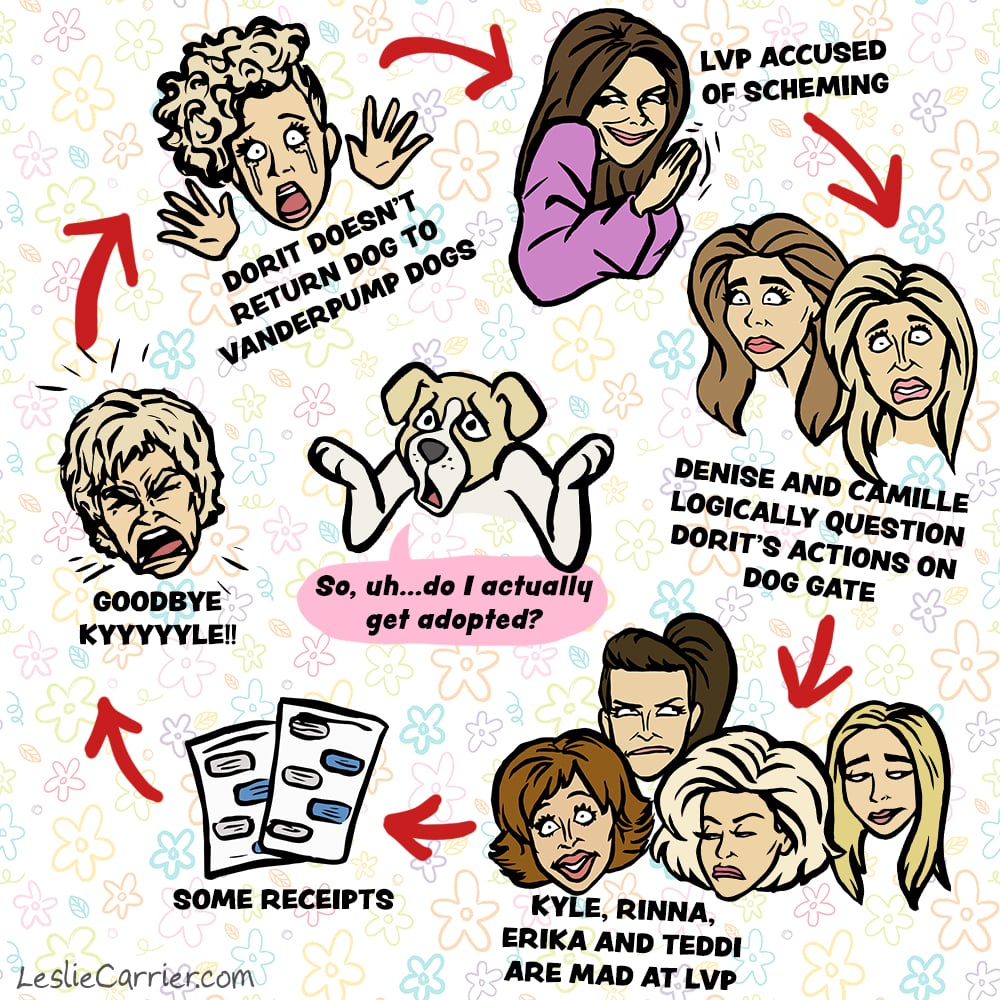 While Lucy was recovered by Vanderpump Dogs (and ultimately was successfully adopted), the story (and plot) got wonky from there. Apparently, Kemsley was supposed to have returned the dog to Vanderpump Dogs when the arrangement didn't work out. And while all's well that ends well for Lucy, the dog adoption, now known as "puppy gate" resulted in one of the worst games of telephone in Bravo history.
Why is it so confusing?
Weird secrets emerged during the first episode. Teddi Mellencamp and Kyle Richards visit Vanderpump Dogs where Vanderpump's partner, John Sessa holds a dog (we now know is Lucy) and he and Mellencamp do a verbal dance. Mellencamp asks Sessa, if this is "the dog." Sessa tries to talk but Vanderpump shuts him down…a few times.
Then Richards and Vanderpump get into a fight about an opening at her new gastropub, Tom Tom. Viewers can sense the tension and complete weirdness but it gets even worse when the women journey to the Bahamas. That's when the infamous "receipts" come into play.
Mellencamp starts spilling one text message after another with Vanderpump Dogs employee, John Blizzard. Blizzard works on events with the rescue and had a connection with Mellencamp.
Are the 'receipts' making it more confusing?
According to Lisa Rinna, Vanderpump had her employees set up Mellencamp to get her to gossip about Kemsley. The theory is that Vanderpump is still stewing about the dog being dumped in a shelter and was trying to think of a way to punish Kemsley without getting her hands dirty.
Once Mellencamp is free to share her text exchange with viewers, she launches into a full-scale Twitter cross-examination. She produces the receipts, along with her explanation. Of course, since she can only share bits and pieces of the receipts fans and viewers are still confused. Maybe even more so than ever.
Then, Vanderpump's husband Ken Todd printed out a text exchange with Blizzard too. His text messages are presented to exonerate his wife and her involvement. Vanderpump presents them to Kemsley and Richards who look even more confused despite being directly involved. Lots and lots of receipts.
Fans are getting exhausted
At this point fans (and even some cast members) are over this whole caper. One person wrote, "BravoTV, people are tired of the puppy gate mess on RHOBH. At this point, we don't care who said what. We are tired of the ladies banning together to take down Lisa Vanderpump. Enough is enough. We will not be watching the show if this bullying, headed by Lisa Rinna continues."
Thankfully, artist Leslie Carrier used her talents to break it all down for everyone. Of course, she applied her typical tongue in cheek humor to create this cartoon, but it really explains everything in one impressive image.
The cartoon reminds everyone too that the one in the middle of all this is Lucy. Lucy seems to be doing much better than the ladies as friendships appear to erode and sides are taken. However, Carrier's "cheat sheet" cartoon does offer the quickest explanation to "puppy gate," which viewers are hoping winds down sooner than later.
Check out The Cheat Sheet on Facebook!