'RHOBH': Sutton Stracke Shades Lisa Rinna's Defense of Erika Jayne After She Abandoned Denise Richards – 'I Think It's Confusing'
Sutton Stracke thought Lisa Rinna's support of Erika Jayne this season of The Real Housewives of Beverly Hills was "confusing."
Rinna has fully supported Jayne. But allowed a total takedown to happen to Denise Richards last season, even after their decades-long friendship.
Lisa Rinna's support of Erika Jayne is 'confusing'
Stracke got a little spicy toward Rinna during her appearance on Watch What Happens Live with Andy Cohen. A viewer emailed a question to host Andy Cohen, which he read during the After Show. "What do you think about the flak Rinna's getting for defending Erika but previously turning her back on Denise?" Stracke had only one reply: "I think it's confusing," she said with a shrug.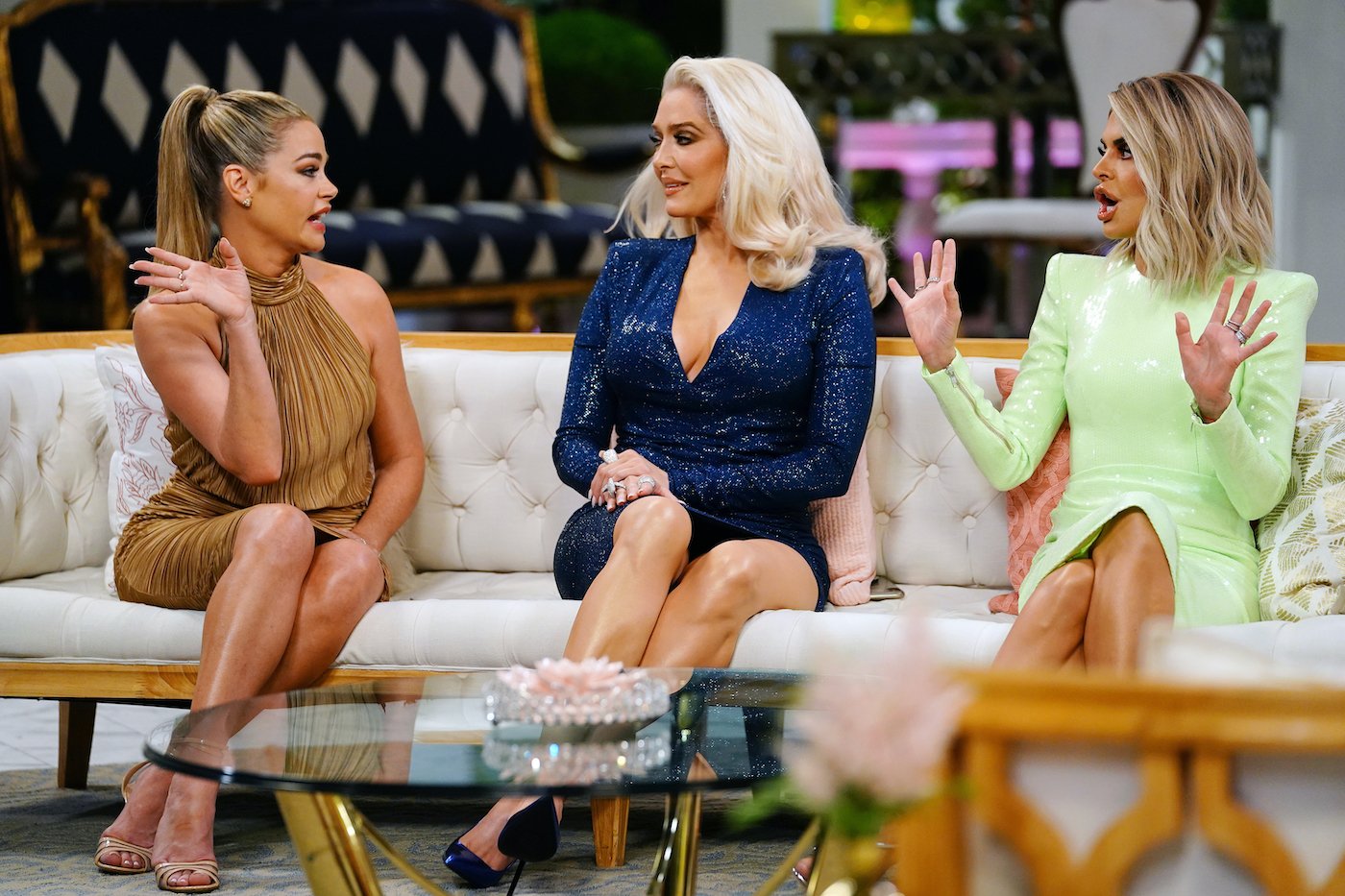 A big reason for Stracke's answer is that Rinna has always emphasized: "owning" your "truth" on the show. She came for Richards last season when she didn't think Richards was being honest about her rumored romantic encounter with Brandi Glanville. But when Rinna came down on Glanville's side, instead of her friend of 20 years, fans, including Richards, were shocked. Rinna sealed the end of her friendship with Richards when she went in hard during the reunion. She claimed Richards was lying and gaslighting the cast.
Why is Lisa Rinna supporting Erika Jayne?
Rinna directly defended her support of Jayne and the fallout with Richards. "I am somebody who does take a look at my behavior, and what I've done and I have grown since last year," she shared on a previous episode of Watch What Happens Live With Andy Cohen. "And I'm not going to behave the same way that I did last year with Denise, with Erika. It's different, it's like apples and oranges. We're dealing with a totally different set of circumstances."
She then added that she's known Jayne "a long time" and she's confident that Jayne knew nothing of her husband's shady business dealings. "I've known Erika a long time, I don't think she knew anything," she asserted. "Why would Tom Girardi tell Erika anything The lawyers didn't even know. That is how I feel, I'm going to stand by it. If I'm wrong, I'll f*cking deal with it."
But she then made a controversial statement where she compared her friendship to Jayne versus Richards.  "I'm way closer to Erika than I ever was to Denise Richards," she remarked. "That's the truth. I know everyone thinks that Denise and I were close. We were acquaintances much like I am with Garcelle [Beauvais]. I've known them for 20 years, but they're like party friends."
Lisa Rinna admits she was 'cruel' to Denise Richards on 'RHOBH'
But Rinna admitted on WWHL she was "cruel" to Richards. Rinna was asked if there was anything she wanted to atone for when it came to Richards. "Oh yeah," Rinna replied after a moment of reflection. "I don't like my behavior. And how I treated her. I was mean, I was cruel. I was cruel. Too cruel, absolutely was. And I'd like to atone for that."
Cohen seemed pleased with Rinna's response. "This is good," he said almost in a whisper. Rinna blurted out, "It's true!"