'RHOBH': Teddi Mellencamp Pushes Back on Body Shamers – Dishes Lisa Rinna and Kathy Hilton at MTV Awards [Exclusive]
Teddi Mellencamp from 'RHOBH' talked about body shamers who made comments about her dress and hints of cellulite on her legs.
Teddi Mellencamp from The Real Housewives of Beverly Hills hesitated before leaving the house for the MTV Movie and TV Awards. The RHOBH alum chose a short, shimmery hot pink dress that accentuated her toned legs. But a quick peek in the mirror, Mellencamp saw hints of cellulite.
"It was actually something that I was aware of before I went," she shared with Showbiz Cheat Sheet. Mellencamp considered changing into something else but husband Edwin Arroyave assured her she looked beautiful.
Reading social media messages prompted Teddi to speak out
But the next day, Mellencamp did something she never did when she was on RHOBH. She read social media comments. "So I really have made a bigger effort since being off the show on going in and really reading the people that follow me on Instagram, because I want to keep giving them information that they want and need," she said.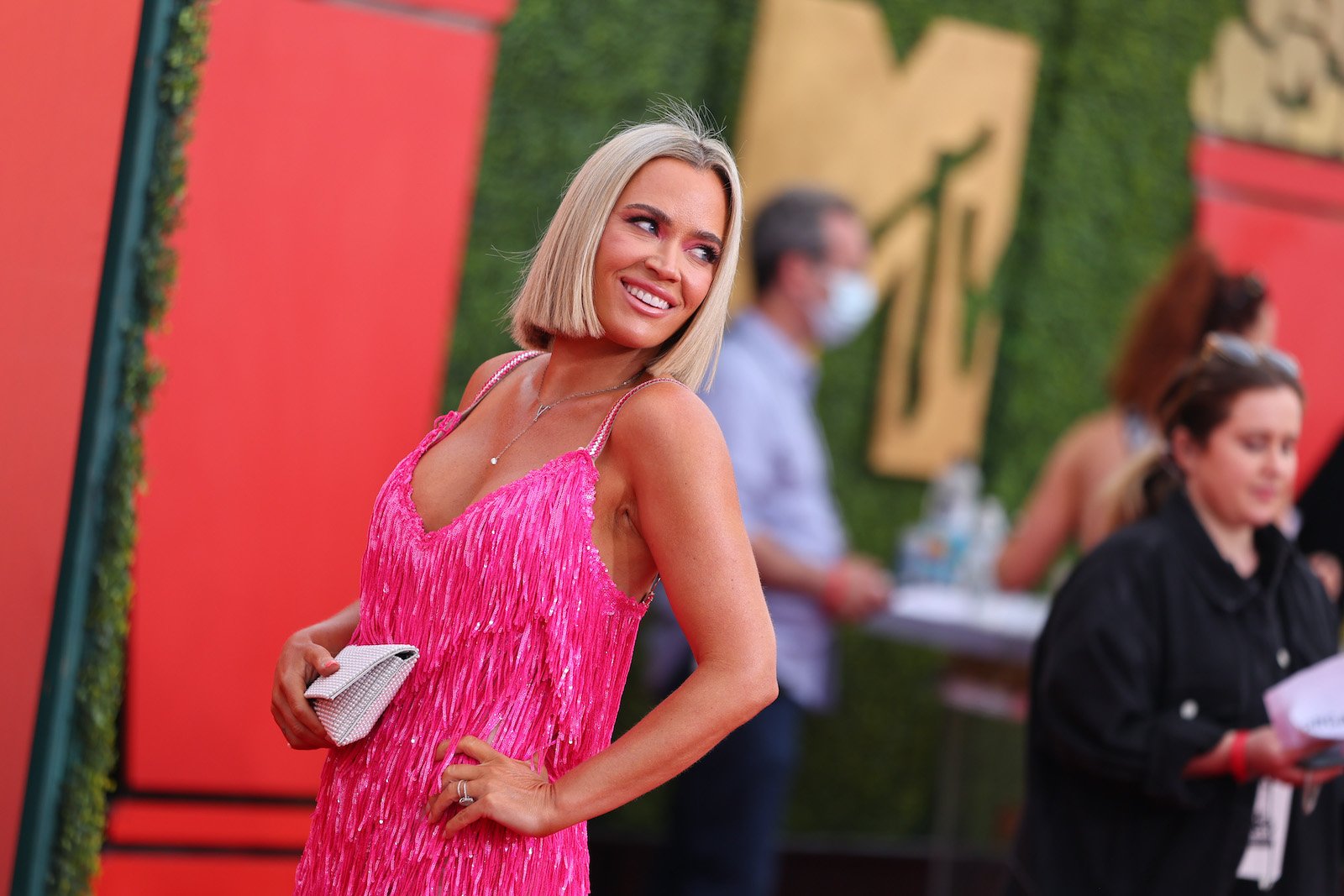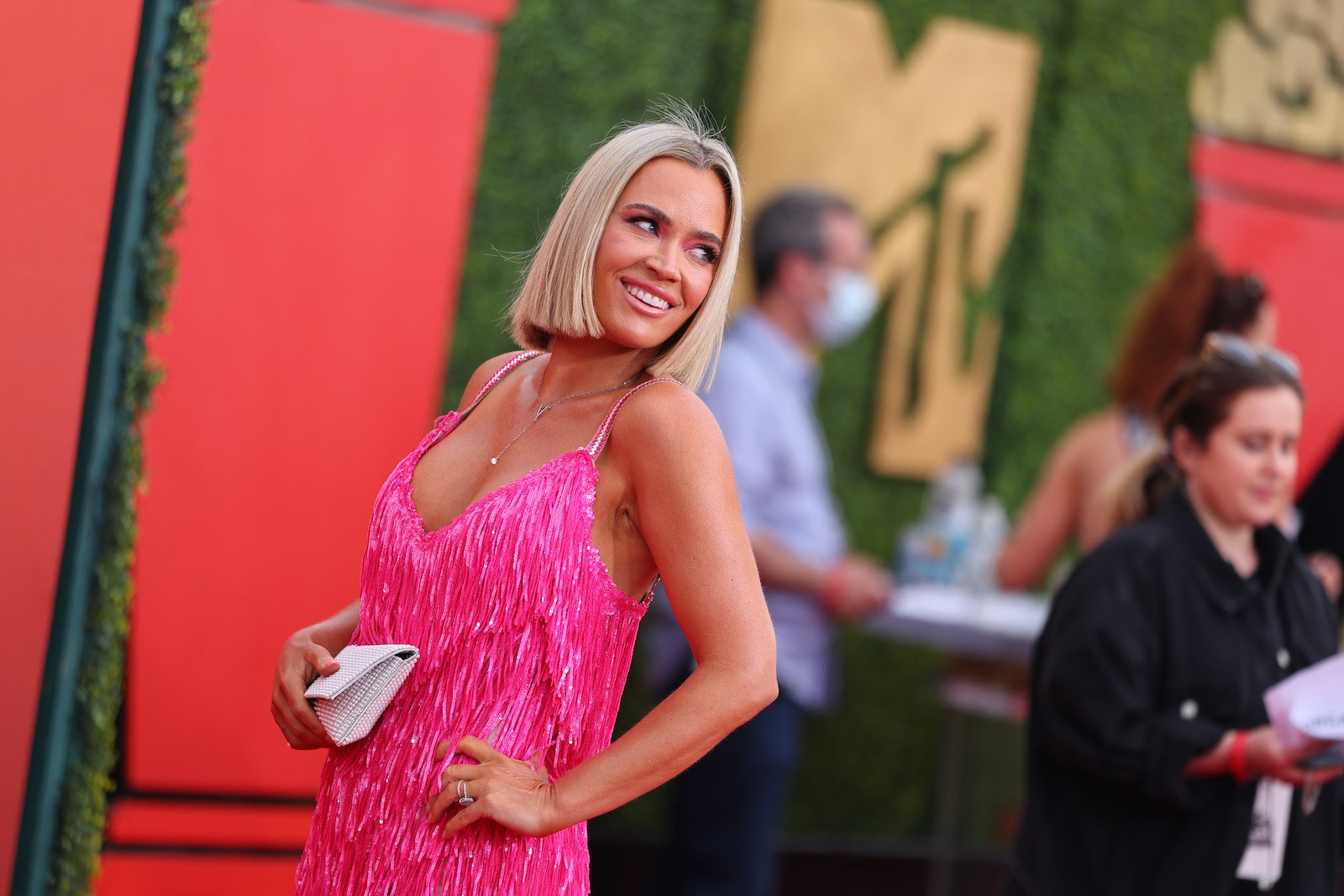 "Plus, it helps me learn and grow," she said about reflecting on social media messages. "But I just kept seeing messages that just really were coming for me on that topic. And I just felt like, you know what, this isn't right because what do you guys prefer? A filtered face-tuned over Photoshopped photo of somebody that you can't relate to. Or one that's the reality? Because you can't really have it both ways."
RHOBH's Teddi Mellencamp was also criticized for the dress itself
She also received negative remarks about the dress itself because she's a mother. "A comment that I got once I posted it was, the cellulite isn't necessarily as big of an issue as the fact that you're a mother," she remarked. "And that's also a comment that I think is kind of unnecessary."
"Because, yes, if I were to be wearing that to my daughter's piano recital, I think there's reason to say, OK, maybe you should think about your choice," she laughed. "This is an event that I'm attending to have fun and play on the red carpet. And going and doing these red carpets, you want to have fun and not always dress exactly the same."
She was also criticized for getting a neck lift but still having a hint of cellulite on her legs. "I wanted to go and have fun and then this was kind of the payback. Ultimately you grow a thick skin about it," she said. "I just wanted to say like guys it's OK and it's normal."
RHOBH's Lisa Rinna and Kathy Hilton didn't speak during the MTV Awards
Mellencamp, who is an accountability coach, said the MTV Awards were a blast, and she loved being with her former RHOBH co-stars. Meanwhile, drama between Lisa Rinna and Kathy Hilton exploded on social media, involving a wild story about how Rinna claimed Hilton hired a marketing assistant to create a buzz for a storyline. The assistant in question is now saying Rinna was behind the whole scheme.
For the most part, Mellencamp steered clear of the mess. But observed, "I never did see them together," about Hilton and Rinna. "We were all in the same floor pattern. But I never saw them talking or anything."
Rinna posted on her Instagram story that she wishes RHOBH producers would hire Mellencamp back because "she was a great f***ing Housewife." Mellencamp laughed and said she does know how to stir the pot. But she and Tamra Judge keep the pot overflowing with tea on their Two Ts in a Pod podcast. Mellencamp dished a juicy new interview.
"Pretty juicy is Larsa Pippen [from The Real Housewives of Miami]," she teased. "I said something on the pod, I can't remember what I said but she ultimately kind of clapped back. But she's coming on with us this week."
On the podcast, Mellencamp said Pippen took the scene where Adriana de Moura discussed Kanye West's penis way too personally. Pippen wasn't thrilled and made sure Mellencamp knew. Mellencamp added that she wants listeners to post their questions for upcoming guests or for Mellencamp or Judge on Instagram. "And when we say ask those questions, really ask them because our motto is nothing is off limits on the pod," she shared.