'RHOBH': This Finally Explains How Sutton Stracke Makes Her Money
Flashy cars and lavish mansions are a regular feature on The Real Housewives of Beverly Hills, but there's a new cast member that appears richer than all the others.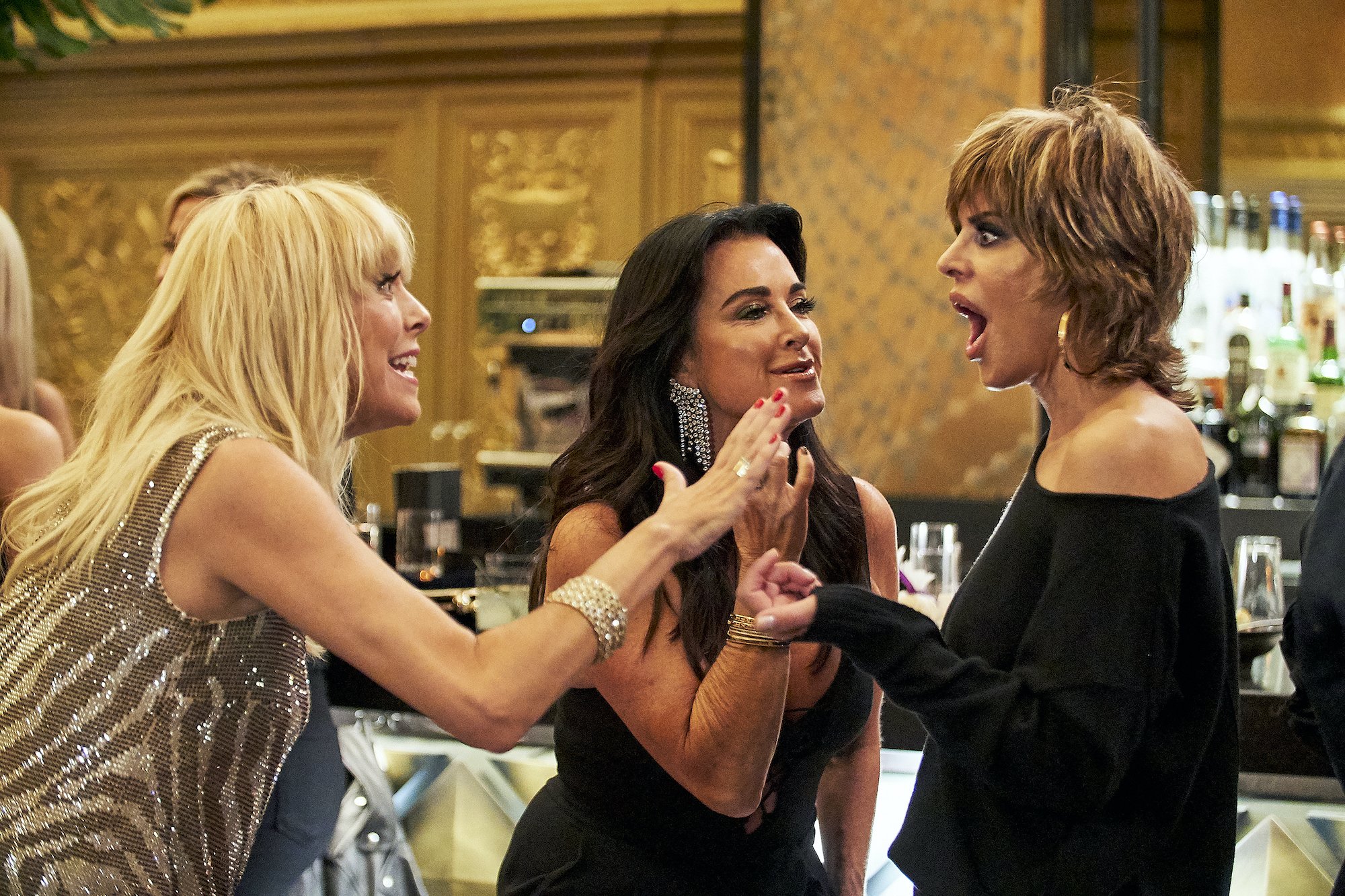 Sutton Stracke obviously has a lot of money. Her Southern charm means that she's hesitant to share her income with fans. So, she's only given out small details. However, reports of Sutton Stracke's net worth are pretty impressive and they explain how she can afford to have such expensive taste.
Curious minds want to know where Sutton Stracke gets her money
It seems that everyone wants to know how Stracke has so much money. Even Sutton's Real Housewives co-star Garcelle Beauvais was curious. In one episode of the show, the women were dining together when Beauvais questioned Stracke about her finances. The issue was brought up when Beauvais admitted that she isn't able to "get glam" every day.
On the other hand, Stracke said she can afford to be glam. This prompted Beauvais to ask where all the money comes from. 
"What do you mean?" Stracke answered. She later admitted during a confessional that she hates talking about money because she's Southern. 
But Beauvais didn't let her off the hook that easy. "Like, where did all this money come from?" She asks again. "Did you inherit money? Did you marry money? Were you born with money? Like, I'm curious."
"I got married, and my ex-husband, he did well," Stracke tells her castmate. 
Sutton Stracke's net worth is impressive — where does it come from?
In 2010, Stracke married Thibeault "Christian" Stracke, the Executive Vice President and Co-Head of Credit Research at PIMCO, a fund-management company. They share three children together but divorced in 2017. Considering this, Stracke probably does receive quite a bit of money from her ex. 
Rinna explained her friend's situation during a RHOBH confessional. "Sutton's ex-husband's into hedge funds, who knows, like money stuff," Rinna said. "When they divorced Sutton had no idea she'd be set for life. Because there are homes, private jets and I think there's a baseball team. Or two. Or more. I don't know. She has a lot of f—— money."
But a rich ex doesn't explain all of Stracke's fortune. She's also brought in a pretty penny through her own work. A well-known party planner and host, Stracke was included on a prestigious list of the Top Party Hosts in America by The Salonniere, according to HuffPost. 
In recent years, she's taken her love of fashion and turned it into a business. In 2019, Stracke opened a fashion boutique in West Hollywood called The Sutton Concept. 
She explained the concept on the store's website, "SUTTON is all the things I love and know into a retail concept that will be CONSTANTLY EVOLVING. I promise neither the client nor the shop owner will ever be bored," she writes. 
Sutton Stracke's net worth is reported to be around $50 million and considering her huge closet full of couture, that's not hard to believe. Unfortunately, she already admitted that she doesn't like to talk about money. Viewers received a partly true answer on RHOBH, but she left out all her personal income. We may never know the actual number, but at least now we have a better idea about how she earns her fortune. 
Sutton Stracke is personal friends with Dolce & Gabbana
Stracke was first introduced on The Real Housewives of Beverly Hills as Lisa Rinna's rich friend. So rich, in fact, that she has personal fittings with Dolce & Gabbana in the designer's private home. 
Her collection of custom couture certainly impressed Rinna, but it's no big deal for Stracke. She's been personal friends with Domenico Dolce and Stefano Gabbana for years. They met at a fashion show in Italy and bonded over their mutual love of dance. 
"I was never a Dolce girl before. I don't have that kind of body," Stracke explained on Behind the Velvet Rope podcast. But after getting to know the designers and the pieces, she quickly changed her mind. "They're the nicest, most giving people," she said. 
So giving, that Stracke receives a tiara every year for her birthday from the famous designers. 
"My tiaras… I'm sort of obsessed with. Thank you, Mr. Dolce and Mr. Gabbana for starting this fetish of mine," Stracke told Bravo TV during a tour of her closet. "The great thing about tiaras is if you're having a bad hair day, or you're feeling sad, it totally fixes everything right here. Just put a tiara on and you're good to go."