'RHOBH': What Are the Cast Members' Astrology Signs?
Do zodiac signs a personality predictor? What are the cast members' of 'RHOBH' signs?
Some astrologists believe they can tell quite a bit about someone's personality, how they interact and mesh with others through someone's zodiac sign. But, how realistic are astrology signs though?
Comparing the season nine cast of The Real Housewives of Beverly Hills, how well do the main cast members stack up to their zodiac signs?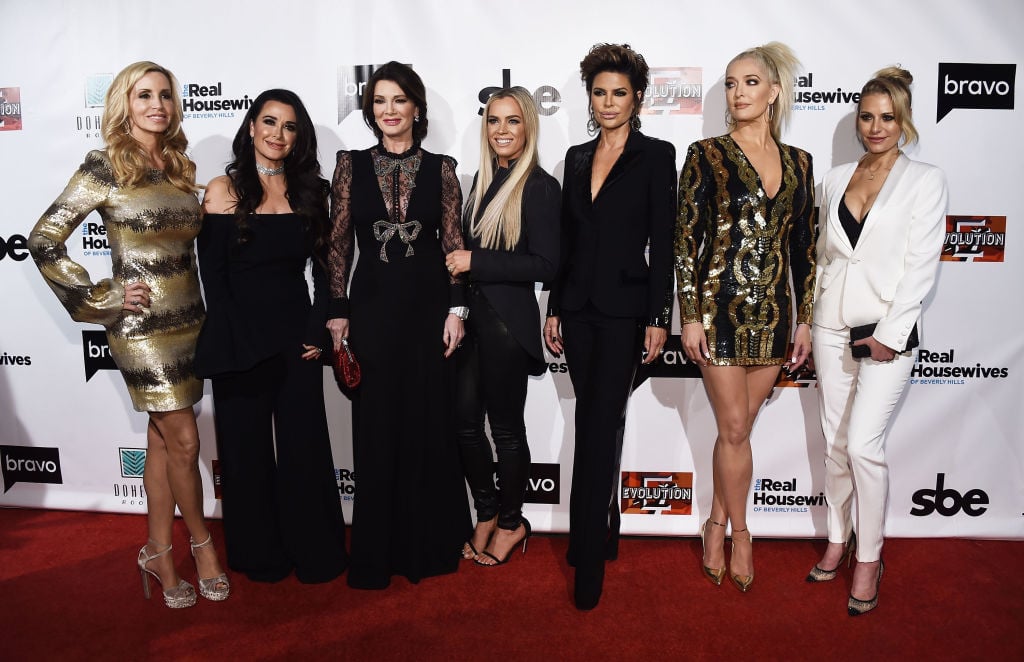 Is Lisa Rinna a true Cancer? And are Lisa Vanderpump's Virgo tendencies the reason she is a champion of animals? Plus, based on zodiac signs, which RHOBH should play together or stay away from each other?
Kyle Richards
Birthday: January 11
Sign: Capricorn
General personality traits include being ambitious, persistent and realistic. They tend to be down to earth, but also a little sensitive. Capricorns typically don't like to be mocked and usually prefer being a homebody.
Capricorns get along well with Taurus, Virgo, Scorpio, and Pisces. When it comes to romance, a Capricorn typically finds excitement with a Cancer sign. Ironically, Richards' husband Mauricio Umansky is a Cancer with a birthday of June 25.
Lisa Vanderpump
Birthday: September 15
Sign: Virgo
Virgos tend to be loyal, analytical, kind, hardworking, practical. But they are also very shy, all business and overly critical. They love animals and prefer an orderly environment. Virgos also hate self-centeredness and rudeness.
When it comes to compatibility, Virgos get along with Taurus, Cancer, Scorpio, and Capricorn. This may explain why Vanderpump and Richards clicked once upon a time. Those who don't get along well with Virgo are Gemini and Sagittarius.
Lisa Rinna
Birthday: July 11
Sign: Cancer
Cancer individuals are often creative and loyal, while at the same time being manipulative and moody. People with this sign may be difficult to get to know and are very sensitive especially about their family. Remember when Kim Richards brought up Rinna's husband Harry Hamlin?
Although Cancer and Taurus are considered to be a match, Harry Hamlin is a Scorpio with a birthday of October 30. However, Cancer signs do mesh well with a Scorpio. Just don't come near Rinna if you are an Aries or a Libra.
Erika Girardi
Birthday: July 10
Sign: Cancer
The Cancer description certainly matches Girardi. She's reserved and, as the women pointed out this season, a little tough to get to know. She's highly imaginative and cares deeply about her family. When a dinnertime discussion drifted toward Girardi's son, who is a police officer, Girardi became fiercely guarded and upset.
One sign a Cancer individual gets along well with is a Virgo. While Girardi and Vanderpump seemed to be in a good space earlier on the series, she seemed to be ready to walk away from the relationship and never look back.
Dorit Kemsley
Birthday: July 16
Sign: Cancer
Another Cancer sign graces the group as Kemsley celebrates her birthday around the same time as Rinna and Girardi. Thankfully, Cancer women get along well and trust each other.
Even though people with this sign may be a little tougher to get to know, same sign women may find connectivity and have compassion for each other. During "Puppy Gate" Girardi and Rinna both seemed to quickly have Kemsley's back. But what about Mellencamp? She is also a Cancer but was ready to throw Kemsley under the bus.
Teddi Mellencamp
Birthday: July 1
Sign: Cancer
The cast seems seriously rooted in the water sign. Mellencamp too celebrates a birthday in line with Rinna, Girardi, and Kemsley. Even though she was going to be part of the plot to expose Kemsley over "Puppy Gate" thankfully Mellencamp's conscience got the better of her. But her new friendship bond is with Richards, who is a Capricorn. Do Cancer and Capricorn typically gel?
Cancer and Capricorn signs are actually opposite but it doesn't mean you can't have a positive pairing. In fact, they may have a very tight bond and have shared passions. At this point, Mellencamp and Richards seem to be tighter than ever. Interestingly, Mellancamp's husband Edwin Arroyave's birthday is April 19, which makes him an Aries. Cancer and Aries tend to clash.
Denise Richards
Birthday: February 17
Sign: Aquarius
Richards certainly fits her sign as Aquarius people are independent and progressive. Aquarius people love to have fun, help others and are good listeners. Richards proved time and time again on the show she has a good listening ear.
Aquarius people tend to get along well with  Aries, Gemini, Libra, and Sagittarius. Their least favorite people tend to be Taurus and Scorpio. They don't seem to be overly compatible with Cancer people and are meh with Capricorn and Virgo. So, pretty much all the ladies' signs are not tops with compatibility. So far Richards seems to be gelling with the cast but who knows? Maybe next season she'll be bringing the drama.