'RHOC' Fans Fire Back After Andy Cohen Axes Vicki Gunvalson and Tamra Judge
Andy Cohen is in the mix of drama from fans of The Real Housewives of Orange County. After Vicki Gunvalson and Tamra Judge were confirmed to not be returning to the franchise, viewers from the show have not been kind to the Bravo producer. Many feel that it was his decision that ultimately ousted the RHOC veterans and many find his messages to the reality stars hypocritical.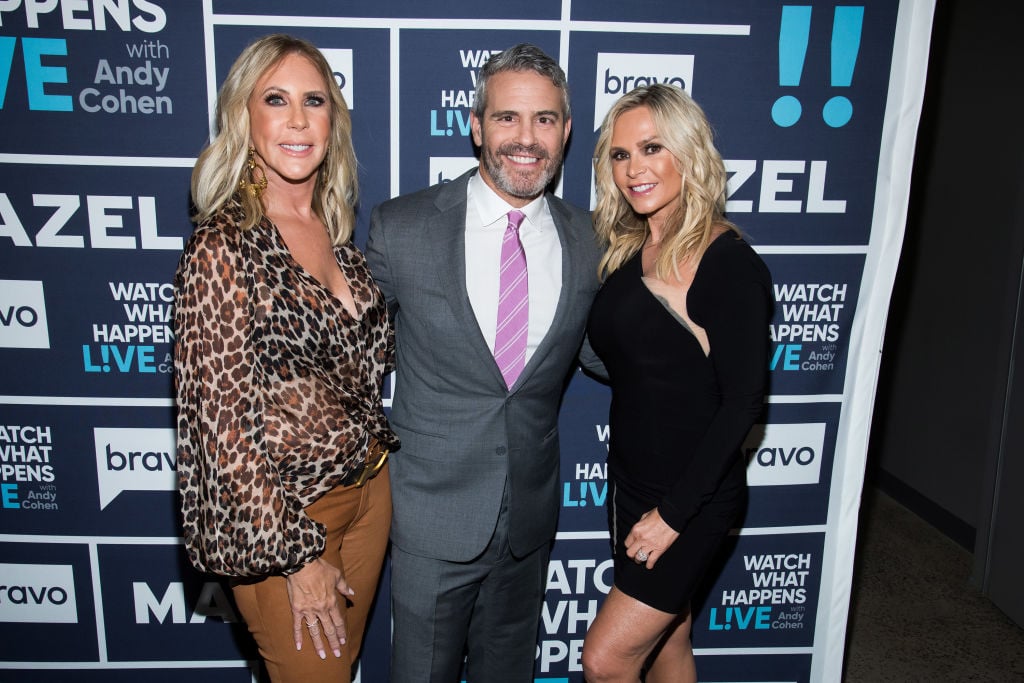 The Watch What Happens Live host posted a message retweeting Judge's announcement she was exiting RHOC after 12 years.
"An unprecedented run from a woman who was always entertaining, surprising and dramatic – and never ever aged. And now she's the queen of CBD," Cohen tweeted.
"You're literally firing these chicks left and right and then posting love notes to them, it's so frikken weird," a fan wrote.
"RHOC will not be the same without Vicki and then you turn around and re-sign unbearable Braunwyn. Shame, bad decision," a viewer tweeted.
"Wow no Vicki Gunvalson or Tamra Judge? What kind of RHOC is that going to be? Boring AF. Seriously, after all these years we've become invested in these women. If it's their decision, fine, but if Bravo did this… bad move," a Twitter user commented.
"Whatever Andy," another fan added. "You keep throwing these Housewives franchises down the drain."
"Hey Andy, you fire them and then send them a love note. How sweet of you. Can you do me a huge favor and fire Kelly Dodd so I can start watching them again?" another viewer suggested.
Vicki Gunvalson announces her exit
Gunvalson broke the news on Instagram of her departure from RHOC ahead of season 15.
"I will always be the OG of the OC, but it's time to say goodbye to The Real Housewives of Orange County," Gunvalson wrote on Instagram. "It's been an incredible ride for 14 years and I want [to] thank all of you for your support, for your love and for 'whooping it up' with me along the way."
As the longest-serving housewife, Gunvalson assured her fans she was not leaving the limelight completely.
"I've been working on new projects that will be exciting, empowering and inspirational," she continued. "My podcast with Westwood One will be launching soon and I will have much more to say about this on Whoop it up with Vicki. I hope you will join me on my new journey, so please stay tuned. I love all my fans, and I want to thank Bravo and Evolution for this incredible experience which my family and I have will never forget."
Tamra Judge quits 'RHOC'
A day after Gunvalson announced she was leaving RHOC, Judge also confirmed the news on Instagram.
"It's been a wild 12 years but it's time for me to move on," Judge wrote on Instagram. "I'm sad to go but I'm very excited about my future. Love you guys."
In a statement to People, Judge said she was looking forward to living life without cameras.
"It's been a wild ride, and after all these years, I'm looking forward to life away from the cameras," Judge told People in an interview. "I was offered a chance to come back to the show in a limited role, but would prefer to walk away on my own terms."
Season 15 of RHOC is expected to start production soon and will begin airing later this year on Bravo.