'RHOC': Heather Dubrow Hits Back At Tamra's Claim She Self-Produces – 'That's Bulls***'
Heather Dubrow hit back at Tamra Judge's remarks that she self-produces on The Real Housewives of Orange County. But she also addressed Judge's comment about how the show openly included Dubrow's children's sexuality.
Max Dubrow came out as being bi-sexual and wrote about a book. Most recently Dubrow's daughter Kat came out as gay, which was seen on RHOC. Dubrow said she texted Judge after she made the comments because she was surprised.
Heather says it is 'bulls***' that she self-produces
"I think that's bullshit," she said on the Behind the Velvet Rope with David Yontef podcast about Judge's remark that she self produces. "That's what I think. I think it was bullshit and actually, Tamra and I texted about it the other day, cause I was like, what? Really? What are you talking about? You've known me, you know me better than any of these girls. Are you out of your mind? What are you talking about?"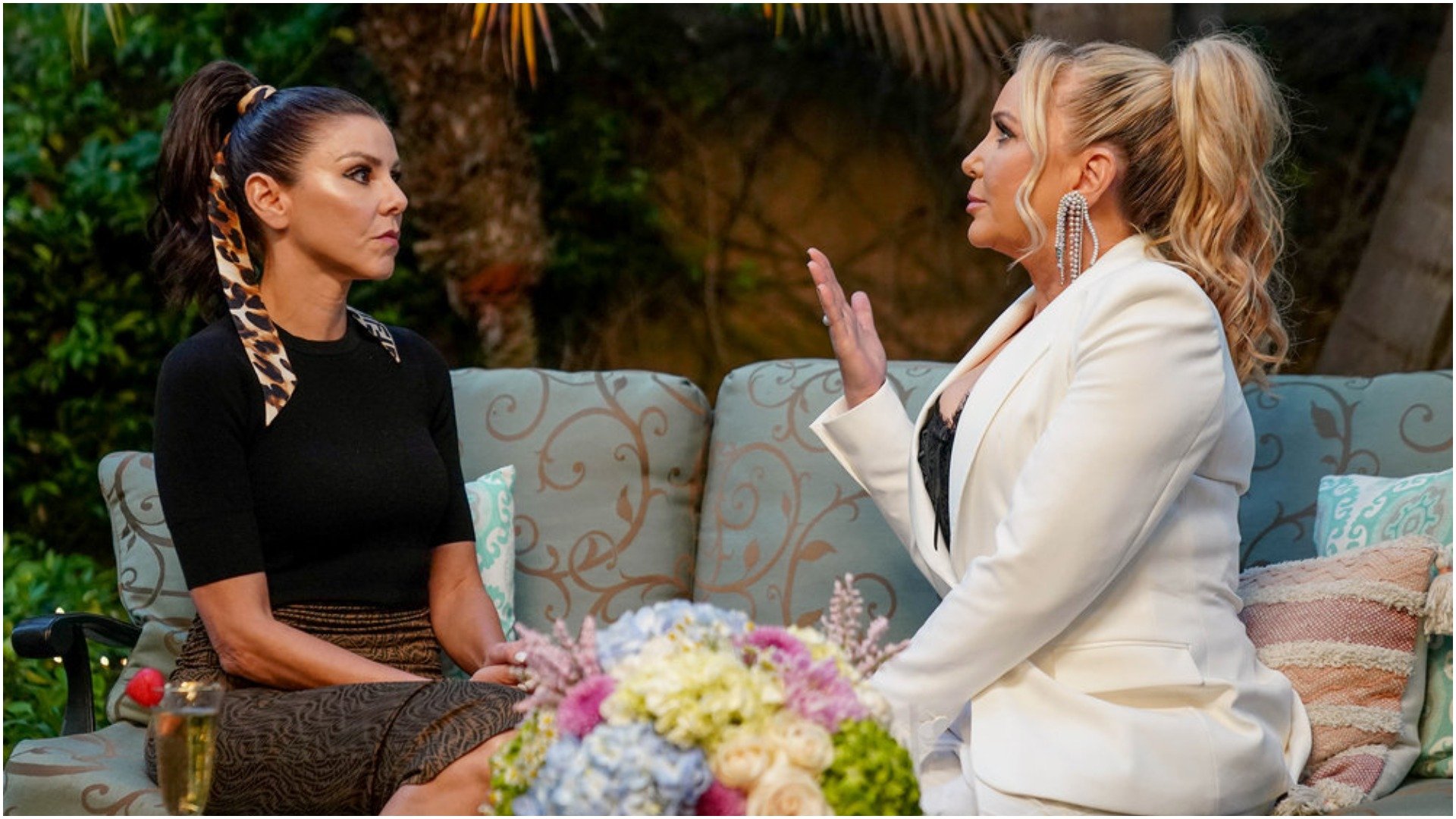 "If you think I have time to self-produce and listen, here's the truth about this show. When you think you are smarter than the show, you have lost. So if you think you are self-producing and writing scripts – it doesn't work. And going back to like me sitting down with Shannon [on RHOC] and acting like a mob boss, look, when I watched it, I laughed. I was like, oh yeah, it looks, it looks pretty dramatic," she admitted.
Dubrow added, "Although I do tend to be a little dramatic, but the truth is I was so upset. And again at the reunion, maybe you'll agree. Maybe you won't agree with why I was so upset, but I was so upset and I wanted to be very clear that this is never happening again. Did I take it too far? Did I sound too crazy? You know, I don't know, but in that moment, that's how I felt."
Heather asked Tamra why she had an issue with the children sharing their sexuality on 'RHOC'
Dubrow also saw a comment Judge made about allowing the show to openly address Dubrow's children's sexuality. "I saw that," she said. "That's why I texted Tamra. I go, why are you saying that? So I would never use my children as a storyline. Ever. My kids have their own stories to tell."
"And, for example, with Max, you know, I knew she was gay way before she came out. She came out publicly in her own time when she wanted to, it had nothing to do with me. That's when she came out," she shared.
"Now, was that part of the impetus for us coming back as I told you earlier? Yes, because I thought, OK, well Max is out, let people see how normal this is. And yes, of course, that was something in the back of our minds."
The conversation with Kat on 'RHOC' was authentic
Dubrow said her return to RHOC was a family discussion and the children were involved. "And it was something we discussed with her before we made the decision to come back on the show," Dubrow recalled. "[Max] had written a book. We did a book party. We talked about it. It was all very, you see Noella running up to her, "Oh my God, you're bisexual." Max, isn't weirded out by it. She's like just fine. And that's where I thought that was going."
Max addressed her sexuality before Dubrow returned to the show. But Kat may have surprised viewers. "Of course, I knew Kat was gay as well. But again, it's her story to tell. And it wasn't a big coming out conversation. It was supposed to be just this moment where we gardening," she recalled of the moment on the show.
"So, you know, it was during the filming time, I'm like, let's film it," she said. "And she's like, OK, great. And so we sat down to film it. It wasn't an intended conversation. It just was the conversation. And that's where this show can work really beautifully and, and not just be a s*** show of drama and this and that.
"And have these authentic moments with your children or your parents or your friends that, you know, resonates with people. I'm so proud of the fact that she felt comfortable with cameras around to even have that conversation and, and be open about it." 
RELATED: 'RHOC': Tamra Judge Recounts 'Explosive Fights' on 'RHUGT' – 'It Was Pretty Bad'