'RHOC': Tamra Judge Admits Eddie Isn't 'Thrilled' Vicki Gunvalson Is Back in Their Life
Tamra Judge from The Real Housewives of Orange County may be back in Vicki Gunvalson's life but that doesn't mean that husband Eddie Judge is just as happy.
Tamra recently admitted that Eddie still won't forget about the rumors Vicki started about him – telling people she thought he was gay. The gossip formed cracks in Vicki and Tamra's relationship. And even though they mended the past, Eddie still isn't back to where Tamra is today.
Eddie Judge won't be going to dinner with Vicki Gunvalson any time soon
Tamra said Eddie and Vicki's relationship is complicated. "He never tells me not to be friends with somebody or not to do something," Tamra said on her Two T's In A Pod with Teddi Mellencamp and Tamra Judge podcast. "And he doesn't quite understand it. He was the victim of a big rumor that was brought on by her."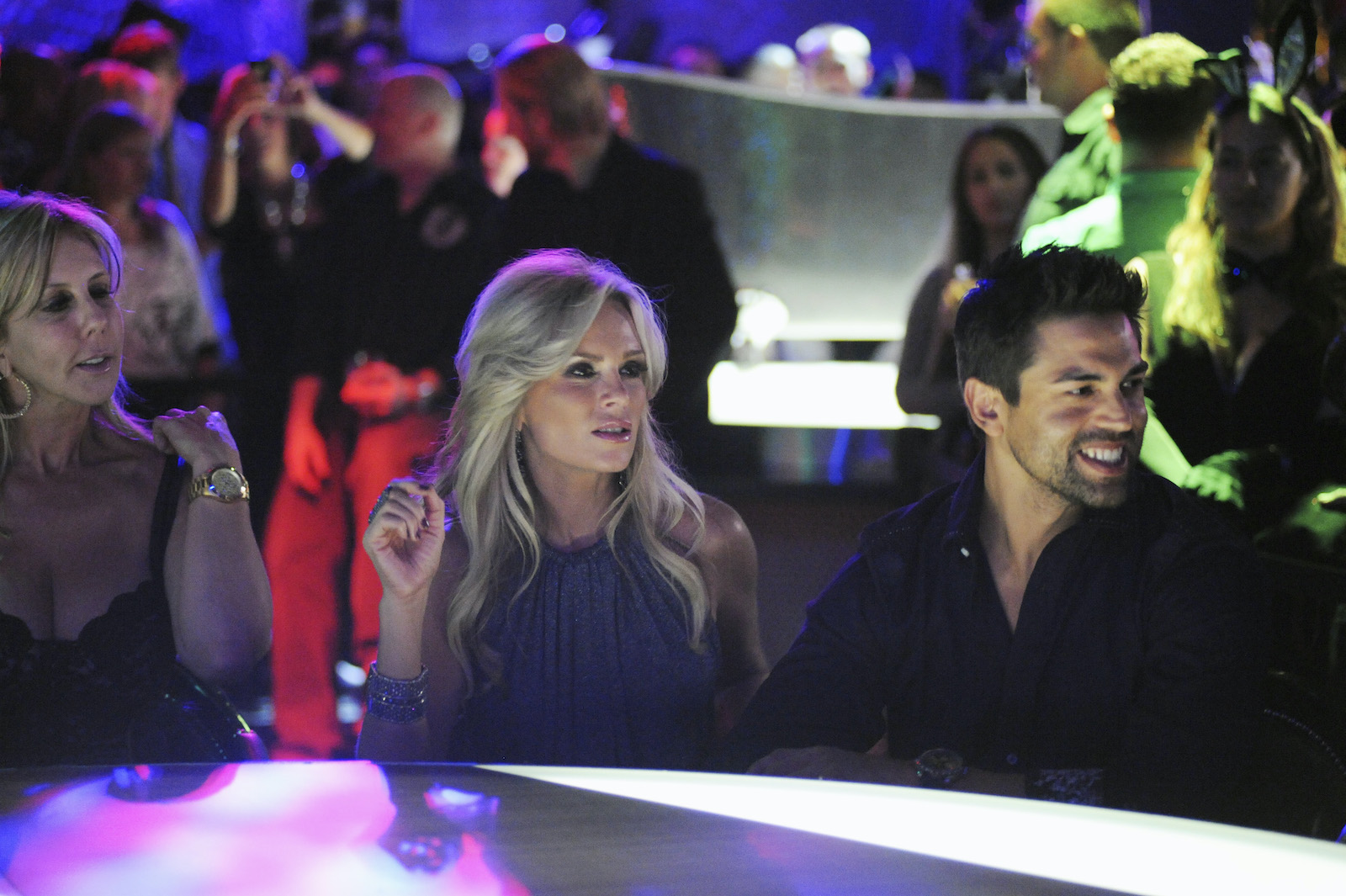 "I understand reality TV in the sense like sometimes girls do stuff to make good TV," she continued. "And I think that's what she was doing. He, on the other hand, doesn't have a reality TV head. So he's like, she talked badly about me. Like she was making up rumors about me and I'm not OK with it. So he's not thrilled."
And while he understands that his wife is friends with Vicki, "Does he want to go to dinner with her? No," Tamra said.
Tamra Judge from 'RHOC' said Vicki Gunvalson set the stage for the rumor
Tamra said Vicki staged the whole rumor that her husband was secretly gay. "First of all, it was totally staged," she previously said on Watch What Happens Live with Andy Cohen (via E!). "Vicki set up the entire scene, it was quite evident by the bad acting." The rumor began when a former friend of Tamra's said he saw Eddie kissing another man. And Tamra believes that Vicki latched onto the gossip and blew it up.
RELATED: 'RHOC': Tamra Judge Slams Shannon Beador for Calling Her a Liar: 'That's Why You Can't Keep Friends'
"I think in today's day and age that we're still talking and trying to humiliate and bring somebody down is disgusting. You know what? Who are they to say that. Let's say that he was, who are they to just throw him out of the closet like that? I just think it's absolutely sickening," she added.
Tamra continued, "We were talking about it and it's like we put stuff on TV and we accuse people of this, 'You're gay or you're this or you're that' and we're feeding into people that want to bash people and I think that it was just kind of sick."
But Vicki doubled down on the rumor about Eddie Judge
Vicki doubled down on her insistence that Eddie was gay. "Gay is not less than," she told Too Fab. "If you are married to a woman and you are a man and you have had a past… deal with it. She's taking this and twisting it to make her feel like a victim."
"Eddie is a great man," Vicki added. "I don't really give a crap what his past is… When you're married in a male-female relationship, and if you've had a past being with the same sex, I would think that would be a conversation you'd have with your wife. The point is — you're married to a woman — why is it such a bad thing that you had a past in that? Own it! Just say, 'I have been with men in the past and Tamra's cool with it,' and move on."
RELATED: 'RHOC': Tamra Judge Says Vicki Gunvalson 'Dodged the Lodge' After Reports Surface That Steve Lodge Is Engaged