'RHOC': Tamra Judge Reveals Bravo Did Not Like the 'Tres Amigas'
Tamra Judge will no longer be appearing on The Real Housewives of Orange County next year. The fitness maven walked away from the Bravo reality ahead of season 15 after she was only offered to appear in three episodes. Judge had been with the show for 12 years and is now revealing behind-the-scenes tidbits. During a recent interview, the star said that the cable network did not like the "Tres Amigas" concept.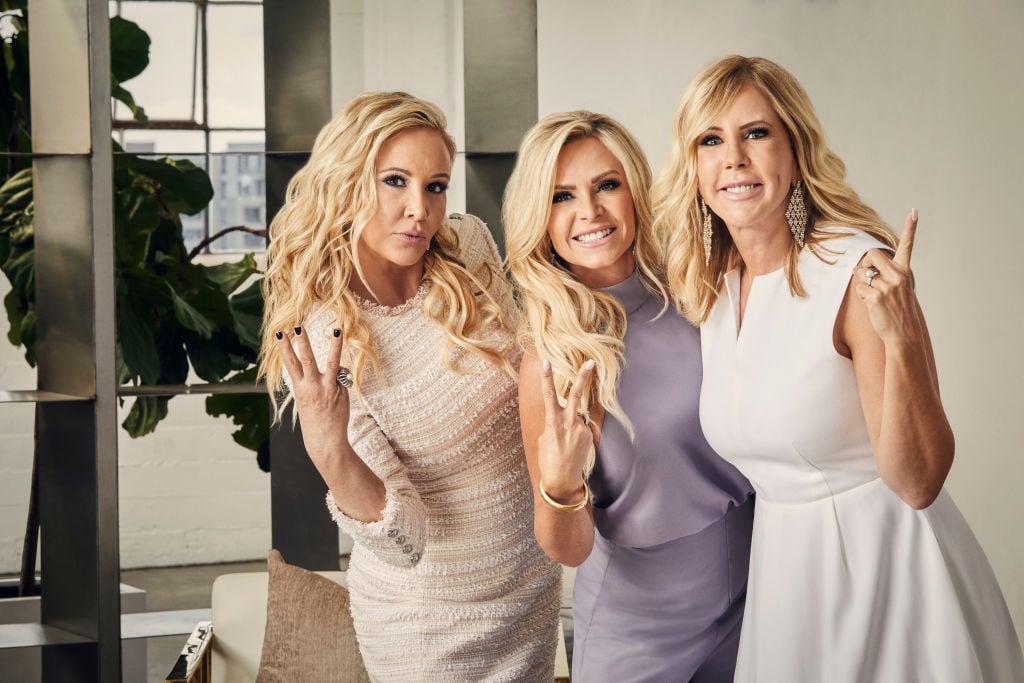 The "Tres Amigas" were made up by Judge, Shannon Beador, and Vicki Gunvalson. It was Beador who came up with the name and created a click within the cast, which is the main reason Bravo did not like it.
"[Beador] really likes these dress-up things and names but it was never like a gang," Judge said on Jeff Lewis Live. "It was not an old lady gang where you're not allowed in. I just feel like the three of us have the longest run on the show. We have a good bond."
The SiriusXM host, who is close to Beador, said he didn't like the "Tres Amigas" concept because they isolated themselves from the rest of the RHOC ladies.
"Bravo didn't like it either," Judge added.
For season 15, both Judge and Vicki Gunvalson are gone, effectively splitting the "Tres Amigas." Beador is now the lone wolf and will have to make friends with the rest of the cast without her closest friends there anymore.
Is Tamra Judge coming back to 'RHOC'?
Over the past week, Judge has hinted that she might be returning to RHOC for season 16. During her interview with the former Flipping Out star, she revealed that Andy Cohen is telling her she will be back.
"It was a job to me and when this job ended, I never thought, 'Oh my gosh, I'm going to get another show,' because I don't have agents," Judge said. "Well, I've been approached. Andy told me to hold off on signing any kind of contract, run it past him first cause he says that I'll be back next year."
Lewis then shared that he believes she was only let go because they are trying to cut costs. As a 12-year veteran, she was making $1.2 million during her last season on the show.
"It'll be half of what you make today," Lewis told Judge about the money that they would offer her to return to RHOC. "I think it's all about money [and] that advertisers are not paying what they used to. I don't think it's as profitable as it was and I think they have to go through and they have to cost-cut."
Tamra Judge walks away from 'RHOC'
Judge was only asked back to appear on three episodes of the new season. For the show's star, it was not worth it and she walked away from the opportunity.
"We had offered her three episodes to come back and kind of wrap out her story. … That is true," Cohen said during an interview on Radio Andy. "She didn't want to do that. Look, she's been on the show for 12 years. We wanted to give her a send-off."
The Watch What Happens Live host said that he is hoping that Judge returns to RHOC.
"I'm hoping, and this is not lip service, that she will come back in some form, either this season or in the next couple," Cohen said. "Because I just feel like she is someone that I am always interested in, I always want to check in with her on. She has been an incredible Housewife, she really has. She's been dramatic, she's vulnerable… she has been great."
For now, Judge is going to focus on her businesses. She has a gym that she runs with her husband as well as a line of CBD products.