'RHOC': Tamra Judge, Vicki Gunvalson Filming Together, Tease Fans
Tamra Judge and Vicki Gunvalson were let go from The Real Housewives of Orange County. The former Bravo personalities had been with the longest-serving stars on the reality series. Over the weekend, both celebrities shared a photo of themselves filming in front of the cameras. The pic got their fans abuzz trying to guess what they were up to next.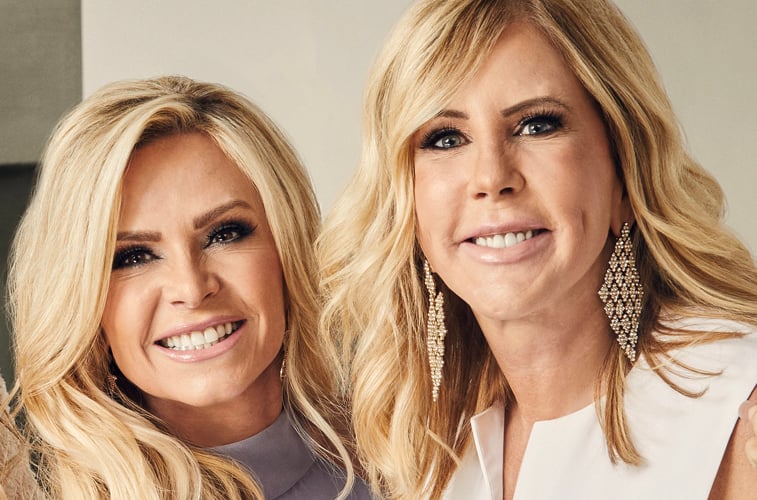 In the Instagram post, Gunvalson and Judge are sitting down in their kitchen counter with a glass of wine.
"Just another Sunday night," Gunvalson wrote with no further context to the image.
The OG of the OC did add hashtags that read, "Life after Housewives" and "can't keep us down."
Over on Judge's Instagram, she shared a story where they are both together. The text superimposed on the video reads, "You thought you saw the last of us?"
The former Housewives obviously want the fans to believe they are filming the new season of RHOC. It is unclear what they are doing together. Some fans say it's for a podcast, while others speculate they are shooting a pilot to shop around to a network.
Vicki Gunvalson quit 'RHOC'
Following a season where Gunvalson had been demoted to a friend role, the Bravo star announced she was leaving RHOC for good. The show's star had been with the show since its inception 15 years ago.
"I will always be the OG of the OC, but it's time to say goodbye to The Real Housewives of Orange County," Gunvalson wrote on Instagram. "It's been an incredible ride for 14 years and I want [to] thank all of you for your support, for your love and for 'whooping it up' with me along the way."
Gunvalson teased fans that she wasn't leaving for a long time as she was going to start her own podcast shortly.
"I've been working on new projects that will be exciting, empowering and inspirational," she continued. "My podcast with Westwood One will be launching soon and I will have much more to say about this on Whoop it up with Vicki. I hope you will join me on my new journey, so please stay tuned. I love all my fans, and I want to thank Bravo and Evolution for this incredible experience which my family and I have will never forget."
Tamra Judge walks away from 'RHOC'
In the case of Judge, producers offered her a three-episode stint for season 15. The Bravolebrity ultimately turned down the offer, which she later explained the reason behind her decision.
"Those three episodes wouldn't make any sense to me because I am very much a person who is very honest on the show," Judge told People. "At the time, Simon did not want to come forward with [his cancer diagnosis], so I could not talk about it. It didn't make any sense for me to be like, 'I'm sorry, I've been very busy now, gotta go,' because it would be a lie. I couldn't be honest. I couldn't be real."
Since then, Judge said she had been offered a show but when she ran it by Andy Cohen he said to hold off on signing because she would be returning to RHOC in season 16.
"It was a job to me and when this job ended, I never thought, 'Oh my gosh, I'm going to get another show,' because I don't have agents," Judge said on the Jeff Lewis Live radio show. "Well, I've been approached. Andy told me to hold off on signing any kind of contract, run it past him first cause he says that I'll be back next year."
RHOC is set to return later this year on Bravo.