'RHOC': Vicki Gunvalson and the Season 10 Cancer Scam Revisited
Real Housewives of Orange County alum Vicki Gunvalson is once again making headlines because of a medical issue. The "OG of the OC" says she's battling an "unknown cold," while a source claims she's tested positive for COVID-19.
Gunvalson doesn't want to talk about her private medical issues now. But as RHOC fans recall, Gunvalson had no problem talking about her ex-boyfriend Brook Ayers' cancer back in season 10. Which turned out to be a scam.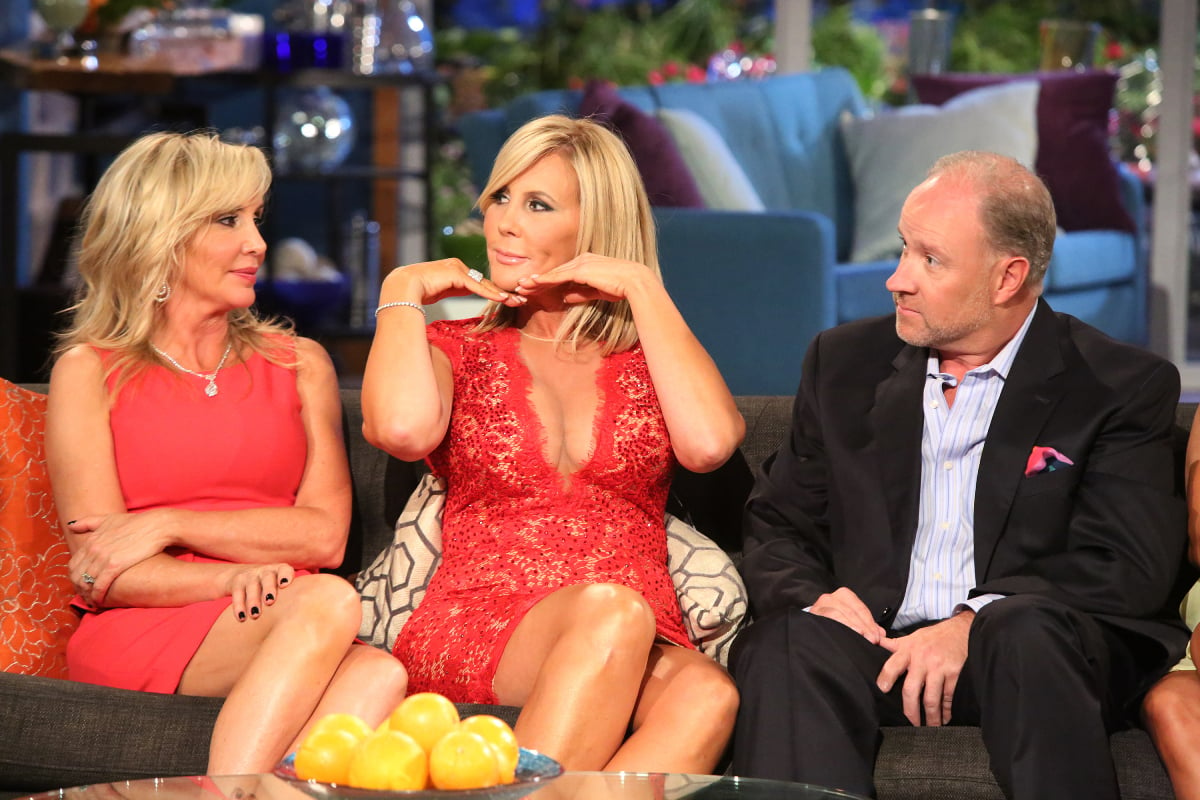 Vicki Gunvalson chose not to get vaccinated due to 'underlying' health issues
According to The Daily Mail, an insider claims that Gunvalson recently tested positive for COVID-19 after choosing not to get vaccinated. The RHOC alum refused to confirm to the outlet that she had tested positive for the virus. But she did say she wasn't vaccinated due to a "health exemption."
"You're not writing a story about an unknown cold I have," Gunvalson said. "My medical information is not public. Whatever happened to privacy? Do you want your medical records all over the internet? I have underlying issues, I cannot get the vaccine. I've got blood clots, I have a health exemption."
The 'Real Housewives of Orange County' alum has her concerns about the vaccine
Even if she would have been eligible to get the COVID vaccine, Gunvalson probably would have opted out anyway. Her son from her first marriage — Mike Wolfsmith — revealed on Instagram that when he got vaccinated, Gunvalson told him it "broke her heart."
Gunvalson admitted that her son was telling the truth, explaining that "he's very liberal, my son is. I'm not. It did [break my heart he got the vaccine], because of all the people that are getting sick. It did break my heart. He already had Covid. It doesn't work."
Vicki Gunvalson got caught up in Brooks Ayers' cancer scam during season 10
Long before she met her current fiancé Steve Lodge, Gunvalson had a scandalous relationship with businessman Brooks Ayers.
During season 10 of Real Housewives of Orange County, Ayers claimed he was battling cancer. And he was fighting the disease with Gunvalson by his side. It was a storyline that dominated the season and produced a couple of specials.
But Gunvalson's RHOC co-stars despised Ayers and they didn't buy his story. Despite his repeated claims that he had stage 3 non-Hodgkin's Lymphoma, no one believed him.
Meghan King Edmonds even spent the majority of the season trying to disprove the diagnosis and went so far as to call his doctor to fact check.
The 'Real Housewives of Orange County' cancer scam was one big mess
Ayers often gave detailed interviews about his supposed diagnosis and treatment, and then blamed RHOC for creating drama when Gunvalson's co-stars didn't believe him.
"It's nothing more than a manufactured storyline," Ayers told Us Weekly in 2015. "It creates drama and relevance for them to be able to challenge somebody else's illness. I simply wanted to share with people that you can survive a relationship in the public eye and be there to nurture each other."
Between filming a special titled Brooks Tells All and its air date on Bravo, he finally admitted that he forged medical documents that supposedly proved he underwent chemotherapy. But he still insisted he had cancer and was keeping the real details to himself.
Did Vicki Gunvalson know the truth?
For months, Gunvalson stood by Ayers' side and was furious with her co-stars for doubting the cancer diagnosis. In one episode she asked, "What does Brooks need to do? Die to prove everyone wrong?" But later, she broke up with him and distanced herself when the scam came to light.
She said on social media that she would never speak to Ayers again and stated publicly how much she hated him. But what fans really wanted to know was how much Gunvalson knew about Ayers' scam. Did she know the truth? Was she involved? Was it all for a storyline?
The only people who know the answer to those questions are Gunvalson and Ayers.
RELATED: Vicki Gunvalson Is Taking A Major Pay Cut With Her Demotion On 'RHOC'
Related post url: