'RHOC': Vicki Gunvalson Is Called out by Fans for This Pro-Trump Tweet
Vicki Gunvalson has acquired more negativity around her persona and made 'RHOC' fans even more angry. The Bravo reality star tweeted in support of Trump and viewers are not happy.
Vicki Gunvalson from The Real Housewives of Orange County is once again surrounded by controversy. The OG of the OC has made fans upset once again when she seemingly tweeted something positive about Donald Trump. In the tweet, the insurance maven shared an article about the Secure Act that Trump signed.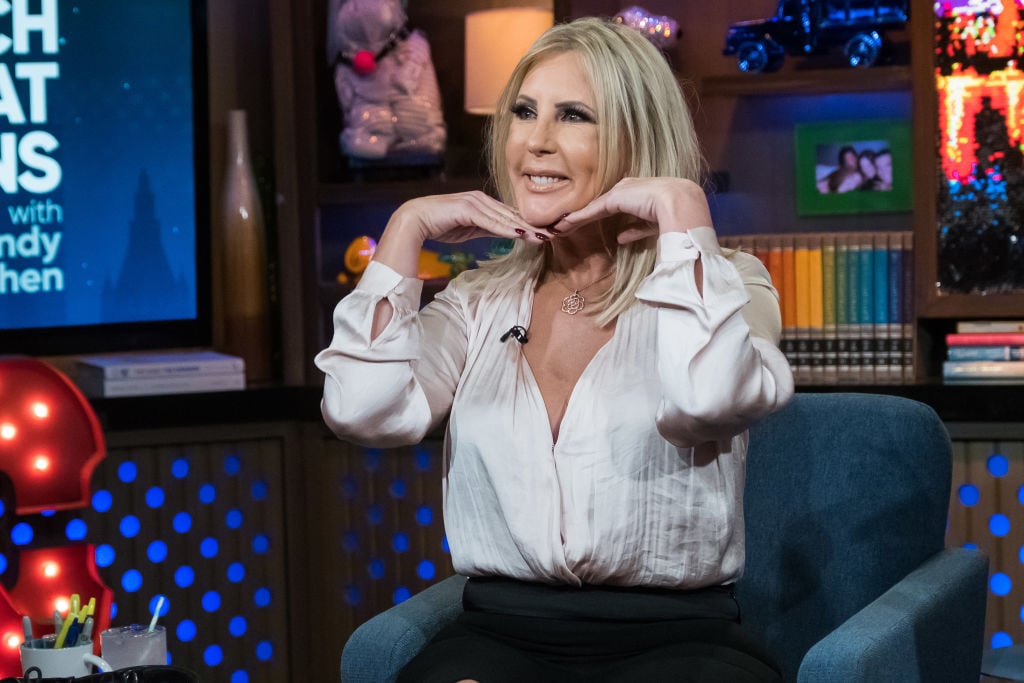 Fans react to Vicki Gunvalson's tweet
Gunvalson appeared to be endorsing Trump for passing the bill and RHOC fans were not having it. Replies to Gunvalson's tweet quickly came in denouncing her tweet and calling her out.
"Please no," a fan replied. "He does so many mean, divisive, horrible things and calls people fat and is all about power and money. I don't trust him as far as I can throw him. [I] was a fan of yours and sorry it just went down a notch. Still love you though."
"I'm out," a viewer said. "Clearly your finances are more important than children in cages."
"Oh Vicki, now I really do have to quit you," a Twitter user wrote.
"First fired from 'your' show, now canceled in the public eye. You're so done," another fan added.
"If I didn't dislike you before this, I most definitely dislike you now," another viewer pointed.
"Wow, you just alienated a lot of the fan base you had left," another Twitter user commented. WTF is wrong with you? Oh, I get it now, this is a dog whistle for the Trumpsters to defend you. It's all you have left now."
"Vicki, you are a terrible woman," was another comment in the replies. "You give out nothing but hate and judgment. You are not a supporter [of the] LGBTQA community. You have done so many inappropriate things, terrible manners but you can't see beyond yourself."
Vicki Gunvalson accused of being homophobic
The Trump controversy comes as Gunvalson received backlash for her comments during the RHOC reunion. During the show, she clashed with Braunwyn Windham-Burke for making out with Tamra Judge. Gunvalson suggested she do it off-camera but fans took it as she didn't want to see two women kissing.
RHOC viewers took to social media to vent and Gunvalson didn't take long to defend herself from the backlash.
"I've been seeing some things on social media that people are portraying me as homophobic. I'm going to hit it right-on, head-on. I am not homophobic," Gunvalson said in an Instagram video. "I've got family members that are gay and lesbian. I've got, obviously, Bravo fans, personal friends… I'm not."
"I don't think it's appropriate for Braunwyn to be making out on TV. I don't care if it is with her husband, or Tamra, or anybody. I just think it's inappropriate," Vicki added. "If she wants to do that, do that off-camera. I don't really think that we all need to see it. Sorry if you all took it any differently than what the truth is. The truth is, the girl bugs me. So, pretty much anything she does would bug me."
Gunvalson was demoted for season 14 of RHOC and it's not certain if she will be made a full-time housewife again for season 15. Casting has not been confirmed yet and production is supposed to start in February 2020.