'RHOC': Vicki Gunvalson's Kids Have Coronavirus Symptoms After Housewife Insists It's 'the Flu'
Vicki Gunvalson from The Real Housewives of Orange County has plenty to worry about as the world copes with the coronavirus pandemic. Both of her kids have taken to social media to express that they have symptoms related to COVID-19 and are now in quarantine. News of their health comes days after the OG of the OC minimized the outbreak and called it "the flu."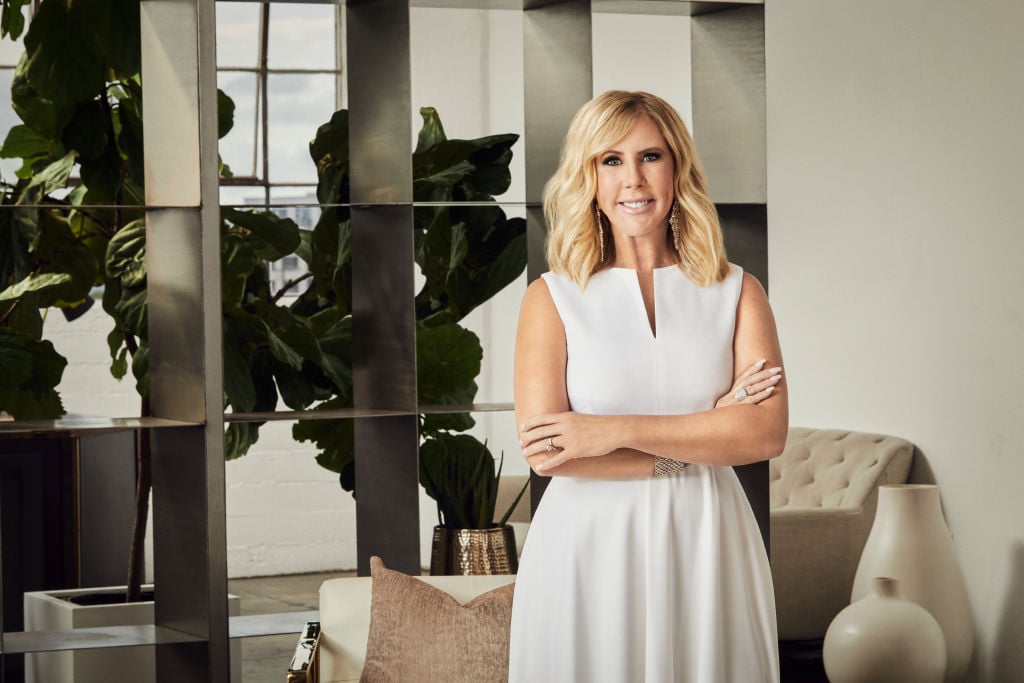 What did Vicki Gunvalson say?
During a recent episode of her podcast Whoop It Up with Vicki, the former RHOC star tried to dismiss the coronavirus health crisis.
"I think everybody's gone crazy. This is the flu. I'm not freaked out about it," the former Bravo star said. "The Lord has already determined when we're going to die and how we're going to die so literally, I don't care."
Gunvalson echoed what Donald Trump had been saying during rallies up until two weeks ago, minimizing the severity of the virus. The star said she tried to go to Costco to buy stuff for her Puerto Vallarta home, but it was impossible due to all of the shoppers stocking up on supplies.
"The parking was out of control and people were outside with empty carts trying to get toilet paper. The aisles are empty," she noted.
Vicki Gunvalson's son in self-isolation
Gunvalson's son, Mike Wolf Smith, posted on his Instagram account that he was going to isolate at home after presenting symptoms of the virus. He also shared a photo of a music festival he had attended that might have been where he contracted the virus.
"Was looking for a screenshot and found this photo from CRSSD fest [from] a couple of weeks ago," Smith wrote. "Pretty sure Dani [his girlfriend] and I both contracted the virus there. We are both fine now but we were extra tired with sore throats and coughs."
Smith, who lives in San Diego, sought medical attention but was not tested for COVID-19.
"My doctor told me I'm not worth wasting a test one," he continued. "Been isolating at home. Stay home, everybody. Looking back, this party should have never happened."
In a reply to a friend, Smith explained his symptoms more in-depth.
"It was worse for Dani in her throat. We were both extra tired but it didn't affect my daily life as much," he explained. "I had [a] fever for 2-3 days. It moved from my throat to my lungs which is where it has been for like a week. I've definitely noticed it when I go for jogs at night by myself. I'm healthy and have still been working out at home and working. More worried about who I could give it to if it is [coronavirus]."
Vicki Gunvalson's daughter also has symptoms
Briana Culberson, Gunvalson's daughter, is a nurse in North Carolina and has been working extra hours after the pandemic. Her husband, Ryan Culberson, shared a heartbreaking text from Briana telling him she had to be quarantined.
"I started coughing bad at work this morning and was short of breath. They put me on a 14-day quarantine and sent me home," the text read. "I have to call occupational health in the morning to follow up and see what's next."
"No fever yet but I have chills," she added. "I'm going to sleep upstairs and probably will have to stay away from you guys as much as possible until I know more."
Ryan shared the message on Instagram and said, "Woke up to the text every medical family dreads this morning. Guys, please take these warnings a little more seriously, it's not just your family you're putting at risk. Not looking for sympathy just trying to raise awareness. Please keep Briana in your thoughts and prayers."
As of now, Gunvalson has not shared a public statement regarding these incidents.