'RHOC': Vicki Gunvalson Reveals Lisa Rinna Snubbed Her at Andy Cohen's Baby Shower and the 'RHOBH' Cast Looks Down on Her
Vicki Gunvalson from The Real Housewives of Orange County says the cast from The Real Housewives of Beverly Hills does not respect her and even snubbed her during Andy Cohen's baby shower.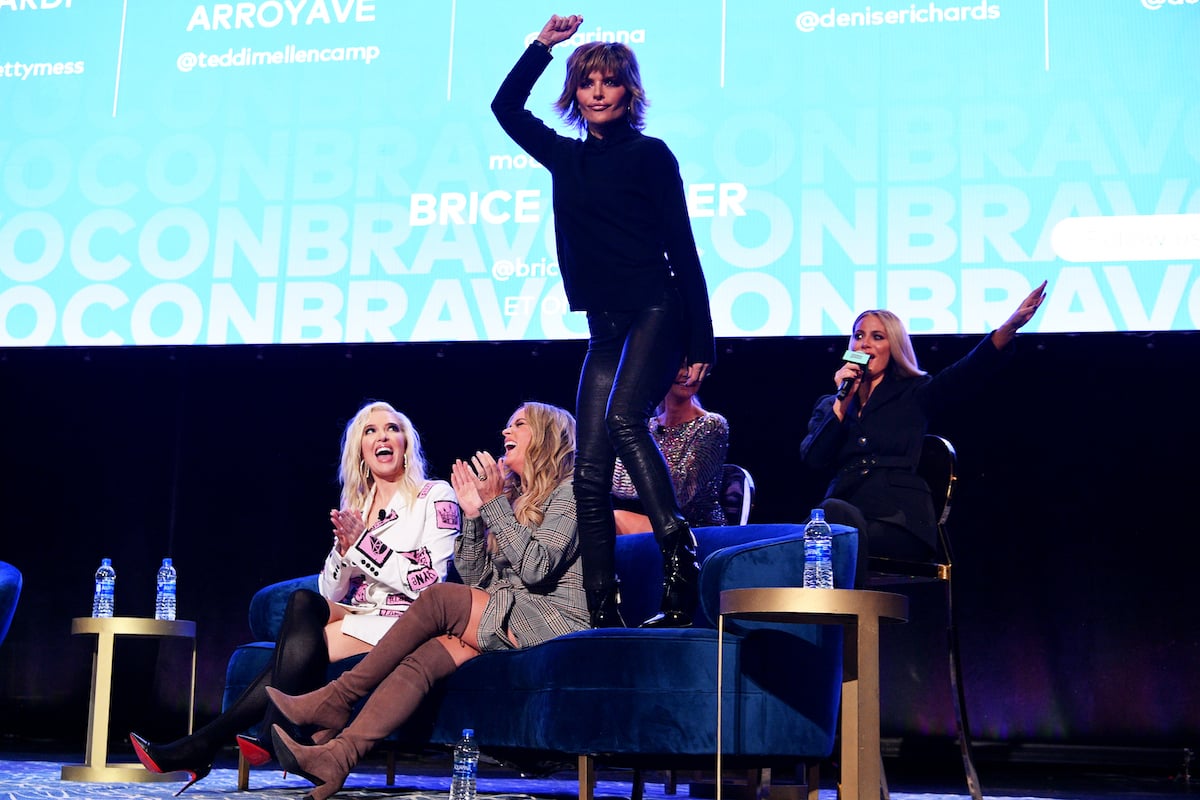 "I don't really socialize with the Beverly Hills ladies," Gunvalson said on the Behind the Velvet Rope with David Yontef podcast. "I think they think that we're Orange County and they're Beverly Hills. And you know, I think there's a little bit of, 'Go away, girls.' I feel that from them that they think they're above us. I mean, I wouldn't live in Beverly Hills if you paid me. I love my Orange County."
She added that she doesn't bump into anyone from RHOBH. "I don't think they gave me the time of day," she said. "They wouldn't have a job if it wasn't for me starting this damn thing."
Lisa Rinna snubbed Vicki Gunvalson at Andy Cohen's baby shower
Gunvalson encountered some RHOBH cast members at Cohen's baby shower and said Lisa Rinna, in particular, was especially icy.
"So the last time I saw all of them was either at BravoCon or Andy's baby shower in January of last year," she recalled. "And truly, you know, Lisa Rinna didn't give me the time of day. I said hi to her."
"And she was like, Oh yeah, you're Orange County," Gunvalson said. "I just felt looked down on, you know, she's up on the tables, dancing. I'm like, why? This is Andy's baby shower. You want attention? I just sat back going, wow, this is a little messed up. Everybody was having fun. But you just see it from a different perspective when you're not on anymore." 
"Like you are all about who's looking at you, you know?" she said. "So it's fine. It's just, you see it through different lenses. And I have been there. I've done that. I've wanted people to stare at me. I wanted them to know, I know how to whoop it up. But when you're not on it anymore and you see the theatrical experiences that are happening."
Vicki Gunvalson compares 'Housewives' to high school
Gunvalson said the show becomes almost an addiction. "They think they're invincible and it is a popularity contest," she remarked. "It's a sorority on steroids. And we all do have that synergy where we were all in a reality show together. And there's a lot of ladies coming and going and a lot of franchises. So it is nice to have that group of women that we can have some sort of relationship with. But I think it's very misguided this popularity. We're not in high school anymore, you know?"
Despite having this bond with the other series, Gunvalson said there is still competition between casts. She remembered sticking with RHOC cast members during Cohen's shower and at BravoCon.
"I stayed with my cast, you know, I really did. Like Shannon [Beador], Tamra [Judge] and I at BravoCon hung out morning, noon, and night," she said. "We had such a great time and you know, we all had our significant others, so it wasn't like, 'Oh, I'm dying to talk to Erika.' I didn't even know Erica Jayne. I have no idea what I would say to her. Like, 'Hi, I like your pigtails?' Like, I didn't feel like I needed to reach out to anybody."