'RHOC': Vicki Gunvalson Says Rumors of Split From Steve Lodge Are Untrue
Vicki Gunvalson from The Real Housewives of Orange County said rumors that she and fiancé Steve Lodge split came from someone who was bored and trying to "stir up crap."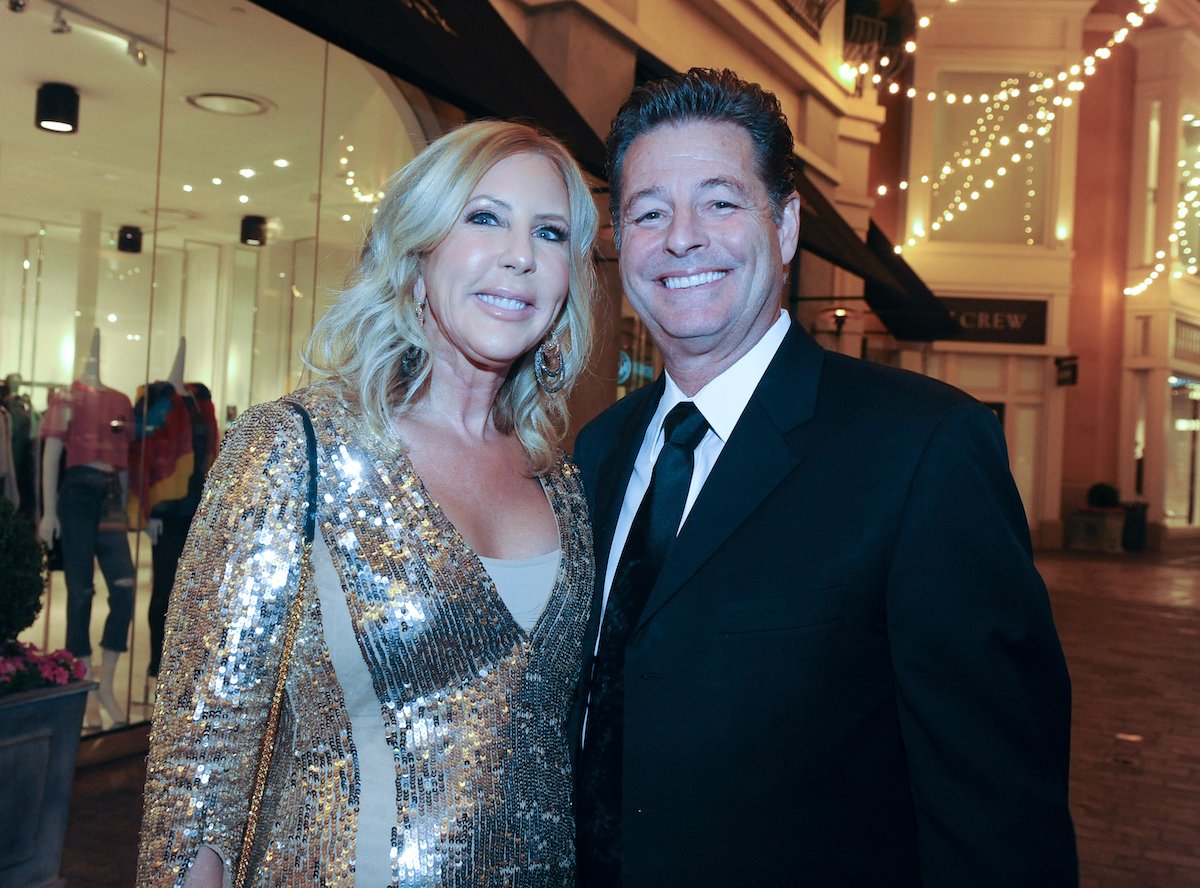 "I have no fricking idea where this came from," she told Us Weekly. "Someone bored trying to stir up crap. [We] live together and live a very private romantic life. We don't follow each other on social media and haven't for a long time, and we don't post photos of each other – what's the point?"
Fans noticed that Gunvalson and Lodge do not follow each other on social media, which sparked rumors the pair were splitting up. Fans often glean suggestions from Instagram ranging from unfollows to changes in a cast member's bio.
Vicki Gunvalson said the rumor is a 'complete joke'
Gunvalson added, ""This is a complete joke and not worth even commenting, but I did." This isn't the first time rumors dogged the couple about a breakup.
Fans wondered if Lodge and Gunvalson called it quits when they postponed their wedding in April. "No. We're doing nothing. I told him the wedding's off. We're doing nothing," Gunvalson told Hollywood Life in April.  "I'm still engaged. But, we were going to go get married in April and try to get as many of our six kids together and all of that." 
"We're still going to get married," she said. But she wasn't "rushing to get down the aisle right now. There's a lot more I've got to do which is keep this business and my staff who's not here right now." Like many couples with wedding plans, COVID-19 trashed the notion of a normal wedding. As a result, Lodge and Gunvalson continue to wait.
Sometimes 'unfollows' have validity
While Gunvalson scoffed at the idea that unfollowing her betrothed sparked rumors, fans know that Instagram hints can tell more of the story. For instance, Malia White and Tom Checketts from Below Deck Mediterranean stopped following each other on Instagram. White deleted photos of Checketts, which prompted fans to wonder if the couple broke up.
Checketts and White later shared a photo of the two reunited in London, England. They briefly started following each other but then White revealed he cheated on her. They opened up about troubles in their relationship during the season 5 reunion.
"We're just trying to work it out," Checketts said when asked why the couple didn't follow each other. "I don't know, it's been a sh*tstorm online, to be honest." 
"We're trying to maintain the best relationship we can," Checketts said. "To say I haven't seen Malia for five and a half months. I've just done a really busy summer season. And Malia has as well. And we haven't seen each other since May." The couple filmed the reunion only days before White went public that Checketts had cheated on her and that she was now single.