'RHOD' D'Andra Simmons Explained Why She Threw Shade at Cary Deuber During a Live Podcast
Real Housewives of Dallas star D'Andra Simmons showed up to her co-stars Stephanie Hollman and Brandi Redmond's live episode of their podcast, A Weekly Dose of B.S., as a special guest star.
During the podcast, the women brought up former full-time Dallas housewife Cary Deuber and her husband, Mark, several times as the brunt of their jokes.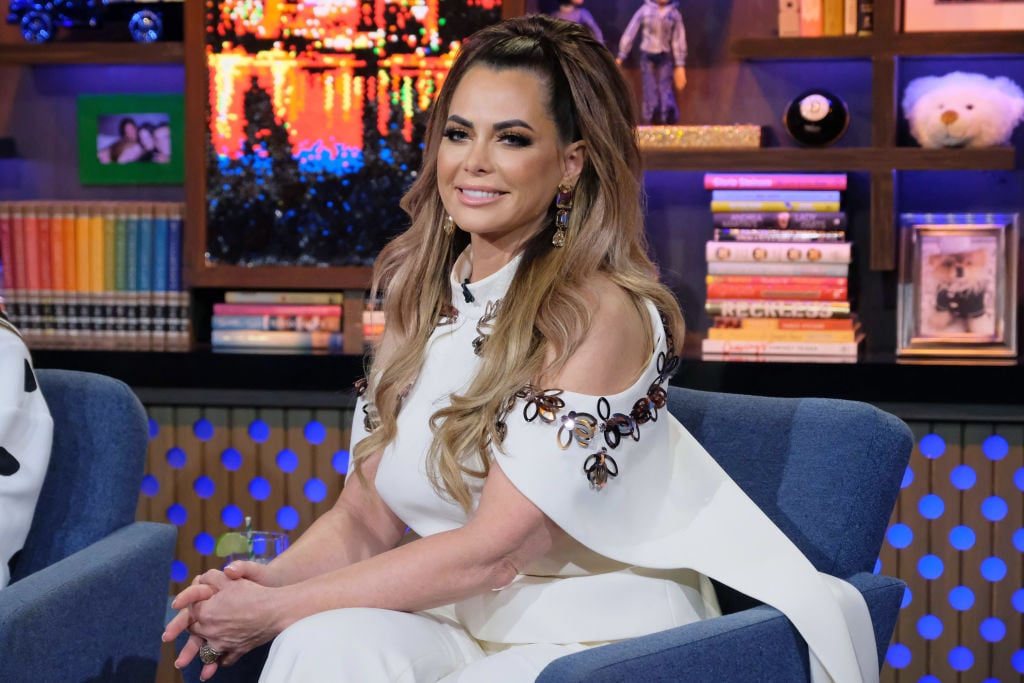 In a game of "kill, marry, shag," Simmons noted she would rather "kill Cary" and admitted she liked her less than frienemey, LeeAnne Locken. When the clips went viral, fans became confused because they didn't understand why Simmons seemingly hated the Deubers so much.
She explained why she threw shots at her former co-star in a tweet and during a different podcast before she appeared on A Weekly Dose of B.S.
Cary Deuber left 'Real Housewives of Dallas' after Season 3
In 2016, Cary Deuber joined the Real Housewives franchise alongside Tiffany Hendra, Stephanie Hollman, LeeAnne Locken, and Brandi Redmond.
After the third season, Deuber announced she would leave the series and returned for Season 4 as a friend of the housewives. In September 2019, Deuber revealed she took a step back to focus on a new television series that revolves around a Dallas medical practice she shares with her husband, Lemmon Avenue Plastic Surgery & Laser Center.
D'Andra Simmons threw shade at Cary Deuber
During a live show for fellow housewives Stephanie Hollman and Brandi Redmond's podcast, A Weekly Dose of B.S., a clip went viral of Simmons ranking her co-stars' wealth.
She claimed Kameron Westcott and Hollman were "at the top" and believed she was "equal" with Redmond. Next, Simmons placed Kary Brittingham because she "doesn't get anything from Eduardo" and then ranked former friend LeeAnne Locken as the least rich of the Dallas housewives.
In another clip, Simmons played "shag, marry, kill" and noted she would rather "kill" Cary Deuber and shag Locken over Cary's husband, Mark. She explained she "likes Cary less than LeeAnne" with a shrug and then defended her answer by yelling, "at least I'm honest!" at the audience once they began to boo her.
D'Andra Simmons explained she took shots at Cary Deuber on Twitter
Fans were confused as to why Simmons threw shade at Deuber because they didn't seem to have a problem with each other on RHOD. A Real Housewives fan tweeted they were "searching for the reasons" why Simmons seemingly hated the certified registered first nurse assistant, and the Hard Night Good Morning owner answered, "A lot of things were cut from this season between she and I. She knows what she did," with a facepalm emoji.
Deuber responded to Simmons by tweeting she was "minding the business that pays" her and included a link to her skincare line. The first nurse assistant nurse also said she didn't care. A few weeks before attending the live podcast, Simmons appeared on Out in the Wild podcast, where she implied Deuber was fired and didn't quit.
Additionally, she admitted the two were not friends and "ended on a bad note." Unfortunately, Simmons didn't go much more into detail, so it's still unknown why the Dallas women have problems with each other.