'RHOD' Season 4 Reunion: LeeAnne Locken Questioned Over Husband's Comments and Lackluster Wedding
During Part 1 of the 'RHOD' Season 4 reunion, the ladies questioned LeeAnne Locken over her lackluster wedding and Rich Emberlin's inappropiate comments.
For the first part of the Real Housewives of Dallas reunion, the ladies questioned LeeAnne Locken about her lackluster wedding and if she invited her mother to humiliate her.
The Infinity Dress creator admitted she made a lot of mistakes, including inviting people via text message because it was her first wedding. However, she ignored a lot of questions and still believes her planner did a fantastic job with her wedding.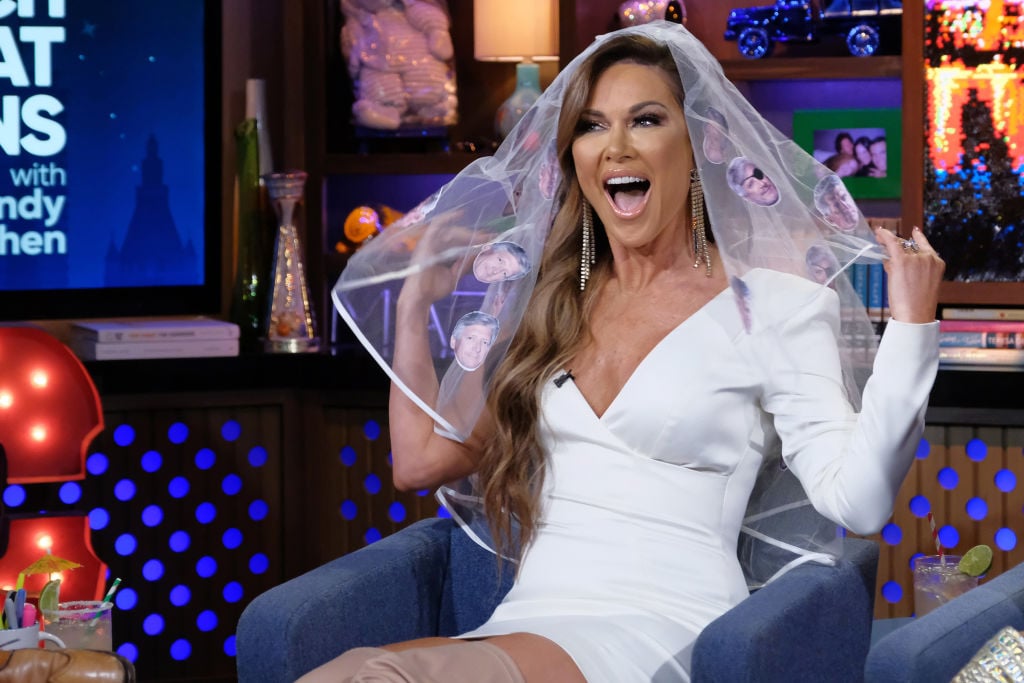 'RHOD' LeeAnne Locken on not having food at her wedding
Housewife Kary Brittingham complained about LeeAnne Locken having her reception around dinnertime without providing adequate food. At the reunion, when asked about the lack of food, she insisted that she thought the cheese and crackers were enough.
Locken also thought people should have been there for her wedding and not the food. When Brittingham continued questioning her, Locken ignored her questions before turning it on other people and brought up irrelevant things to take the heat off herself.
Andy Cohen also said he would have "been pissed" about the food situation, and Locken shadily told him she would have "sent Sonic out" for him.
'RHOD' LeeAnne Locken on Rich Emberlin flirting at the wedding
During Locken's wedding, her new husband was caught on camera, saying other women were attractive and other similar inappropriate comments. The 52-year-old stood by her man and insisted he says things like that frequently, but he's "joking."
Brandi Redmond admitted it was hard to believe Locken because she "has a history of lying," but would feel "disrespected and pissed off" if she were in the Infinity Dress creator's shoes. Again, Locken stood up for Emberlin and claimed she already confronted him about it, but "it is what it is."
The former Dallas Cowboys cheerleader then admitted to Locken that her husband has made her uncomfortable before. She gave an example and said he "groaned" while touching her arm and checked out her butt at their engagement party.
Locken then turned the tables around and said Jeremy Lock, D'Andra Simmons' husband, commented about who he would sleep with first. However, Simmons and Cohen called Locken out for lying because they said the remark would have been caught on the audio.
The host also asked the business owner if she thought Emberlin did cheat on Locken, which Simmons doubled-down on, even though she apologized to her former friend.
'RHOD' LeeAnne Locken on 'humiliating' her mom at the wedding
In Locken's vows to Emberlin, she said she never grew up with love as her mother sat in the front row. Viewers who have been watching the show know that Locken doesn't have the best relationship with her mother because she was molested as a child.
However, fans also felt that Locken purposely invited her mom to the wedding to humiliate her by including that dig in her vows. When Cohen asked the Infinity Dress creator at the reunion about it, she stood firm to the fact that her now-deceased grandmother raised her instead of her mother.
Additionally, Locken claimed the vows were not to hurt her mother and she only wanted to express how she felt to her new husband. However, Stephanie Hollman admitted she "hurt for her mom" watching it.
The 52-year-old responded that she wrote her vows that morning, and Brittingham called her out for not writing them sooner since she was so excited to get married.
Then, Kameron Westcott jumped in to protect her friend and asked why everyone was "nitpicking" before Simmons admitted she didn't think there was any hope for a friendship between herself and Locken.
Watch Real Housewives of Dallas Reunion Part 2 on Wednesday, January 8, at 9 p.m. EST on Bravo.