'RHOD' Stephanie Hollman and Brandi Redmond Explained How the Show Takes a Toll on Their Mental Health
Real Housewives of Dallas stars Stephanie Hollman, who has been open about her experience with depression, and Brandi Redmond, who recently checked into a wellness center, appeared on a podcast to explain how the show takes a toll on their mental health.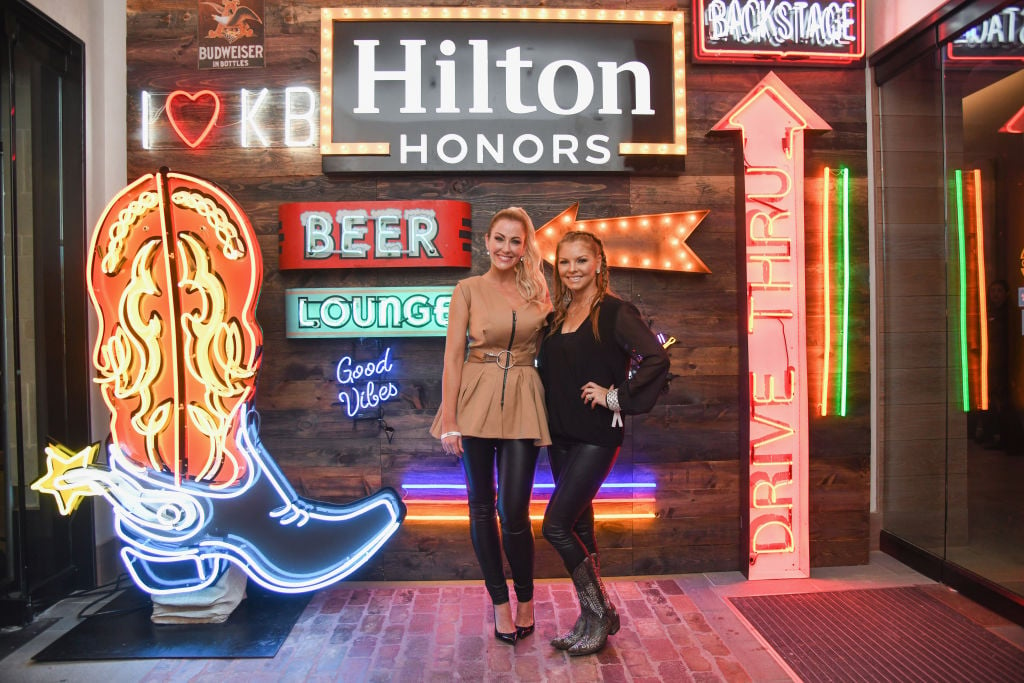 Stephanie Hollman has dealt with depression on the show
In Real Housewives of Dallas Season 3 Episode 2, Stephanie Hollman sat next to LeeAnne Locken at D'Andra Simmons' party. Wanting to build a bridge with the Infinity Dress creator, Hollman opened up about her depression.
Locken admitted she always struggled with depression and attempted suicide four times in her life. Then, Hollman admitted she also tried to commit suicide at the age of 22 after a bad breakup with a guy who made her feel worthless.
In a confessional, the mother-of-two described the heartbreaking story and then told her mother, who was there for the incident, that she opened up to Locken about it. In Season 4, Hollman began taking medication to help with her depression.
Brandi Redmond recently checked into a wellness center
After a 2017 video of Brandi Redmond seemingly mocking Asians resurfaced and went viral, the mother-of-three checked herself into a wellness center for a little over a week.
She experienced negative backlash for the video, and for the way she defended herself as she insisted it was a "good impression." Fans then began calling for Bravo to fire Redmond alongside Locken, who also made racially motivated comments towards Mexican-native housewife Kary Brittingham.
When Redmond returned, she explained in an 11-minute Instagram video that she uses humor to cope with her insecurities. Therefore, when D'Andra Simmons called her eyes "squinty," Redmond made the Instagram video "poking fun of it."
She said she apologized and deleted the video almost immediately after posting and accused Locken and her wedding planner, Steve Kemble, of maliciously recording and then holding on to the video to release later.
Redmond also explained the housewives knew the intent behind the video and leaked it on the heels of Locken's controversy as a deflection. As a result of the intense bullying she experienced, the mother-of-three admitted she "didn't want to live anymore," so she checked herself into a wellness center.
Stephanie Hollman and Brandi Redmond described how the show takes a toll on mental health
In an interview with National Podcast of Texas, Redmond acknowledged she "always used laughter and humor to feel liked and loved," so when the video was used against her, "that wall broke," making her feel she lost everything.
However, in therapy, the former Dallas Cowboy cheerleader realized she "never looked in a mirror" and told herself she loved her. Even though it might sound "ridiculous," Redmond said she learned that "we have to love ourselves and have enough respect for ourselves, and then everything else just falls into place."
While the housewife acknowledged "the hate is still there," the difference is now she knows she loves herself and "it's their problem." She also realized how painful the experience was as a grown woman, as many teenagers go through similar things aren't "able to admit that they need help."
Using Locken's controversy as an example, Hollman agreed and put some accountability on fans "shaming them to death." She said, "I feel like whenever they know what they did is wrong, and it's been addressed, and the audience has had their input, I think supporting them to change and grow and be a better person is always the better thing to do.
Because if you shame to death, then they're never going to get out of that space. And how can somebody grow if they're constantly being reminded of the most horrible time in their life?"
When it comes to the show and Hollman's depression, she said she separates her job from reality, so she doesn't get caught up in a "very lonely, depressing, sad place to live."
She also noted housewives feel like they're "on display and judged" when the show is airing, which is "when you really have to take care of yourself."