'RHOD' Stephanie Hollman Says Brandi Redmond Is 'Absolutely Not' Racist After Video Mocking Asians Resurfaced
Almost immediately following LeeAnne Locken's controversy surrounding her racially insensitive comments towards a co-star, a video resurfaced of Brandi Redmond seemingly mocking Asians.
On Watch What Happens Live with Andy Cohen, her best friend, Stephanie Hollman, explained the former Dallas Cowboys cheerleader is "absolutely not" racist and described why.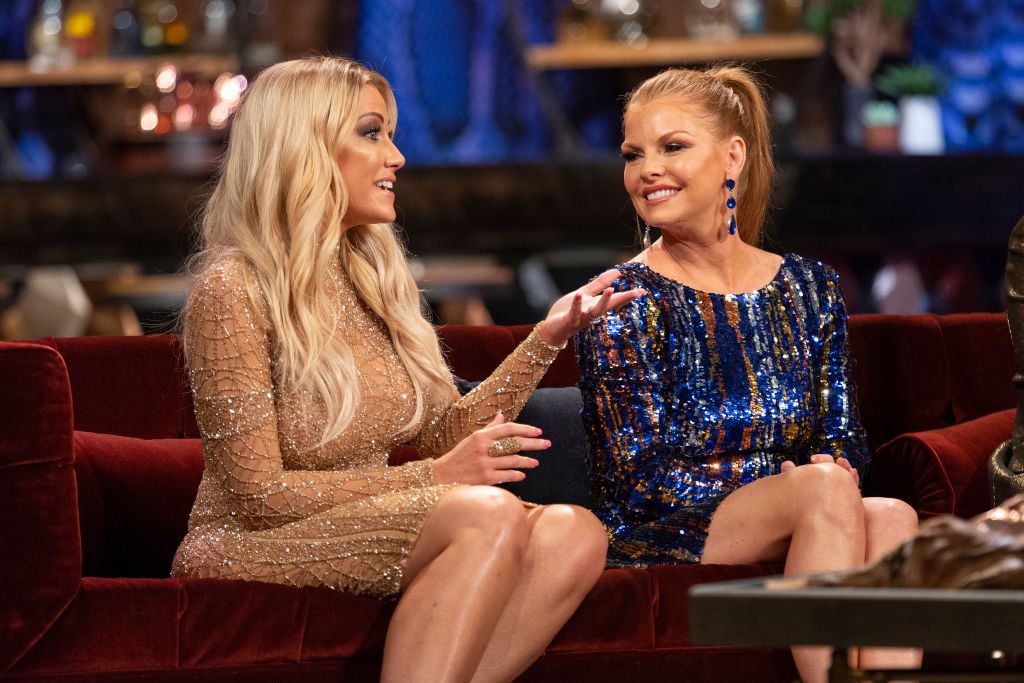 Stephanie Hollman called LeeAnne Locken out for racist comments
During the Real Housewives of Dallas finale, when asked if she thinks LeeAnne Locken is racist, Stephanie Hollman responded, "She says stupid s**t" and didn't label her that.
However, at Part 2 of the Season 4 reunion, Hollman admitted it was racist, and she "wants to think LeeAnne is a better person than that." The 52-year-old tried to defend herself by explaining she was "ignorant," "didn't think calling someone by their nationality was racist," and "wasn't mentally present" while she made one of the comments.
The ladies, and Andy Cohen, called Locken out for not being that ignorant, deflecting, and making excuses instead of owning up to her mistakes. She did apologize to Kary Brittingham and promised her co-star she would never make those remarks again, but the Guadalajara-native couldn't "even look at her."
At the end of the conversation, Hollman, D'Andra Simmons, and Brandi Redmond all said they believe the 52-year-old is a racist. Additionally, Redmond, who didn't answer what she thought of Locken during the finale, said her co-star's comments were "disgusting" and racist.
She even brought out another chair for Locken to sit in because she didn't want any associations with her. However, only a few weeks after filming the reunion, a questionable video resurfaced, and Redmond came under fire.
Video of Brandi Redmond mocking Asians resurfaced
After the first part of the reunion aired, Locken's wedding planner, Steve Kemble, who the other ladies have accused of harassing them on social media as well, tweeted a video of Redmond seemingly mocking Asians with her children in the background.
In the clip, the former Dallas Cowboys cheerleader says in a high-pitched accent with broken English, "Oh, everybody ask me what Asian I am because my eyes, they squinty. But I have a new hair-do."
In the caption, the wedding planner demanded Redmond apologize to Locken, or she would receive the racist label as well. The cheerleader responded to several followers after the video went viral, explaining she made it three years ago in response to Simmons calling her eyes "squinty."
Before apologizing, Redmond doubled down on her video, insisting it was a "good impression" and "there was no harm done."
Stephanie Hollman does not think Brandi Redmond is racist
The video resurfaced after the ladies filmed the reunion, so they couldn't discuss it there. Instead, Hollman was a guest on an episode of Watch What Happens Live with Andy Cohen, which aired immediately following the final part of the reunion.
Of course, he asked her about her Redmond and if she perceived the video as racist. Hollman stood by her friend and said the cheerleader "made a horrible mistake," but she's "learning and growing."
Additionally, the mother-of-two revealed Redmond is "struggling with the shame" and "realized it's not okay." When asked about the video coming to life right after Locken's comments, Hollman explained she thought it was "a deflection" and is entirely different from the 52-year-old because the dress designer "had hate with it."
However, she knows Redmond does impersonations, and they weren't "mean spirited" like Locken's comments were.