'RHONJ' Alum Caroline Manzo Says Her and Teresa Giudice's Friendship Unraveled Because of Giudice's Competitiveness
Caroline Manzo is no longer a cast member on RHONJ but her apparent rivalry with Teresa Giudice remains. But Manzo says the rivalry is one-sided. Per Manzo, her friendship with Giudice began to fall apart thanks to Giudice's competitiveness.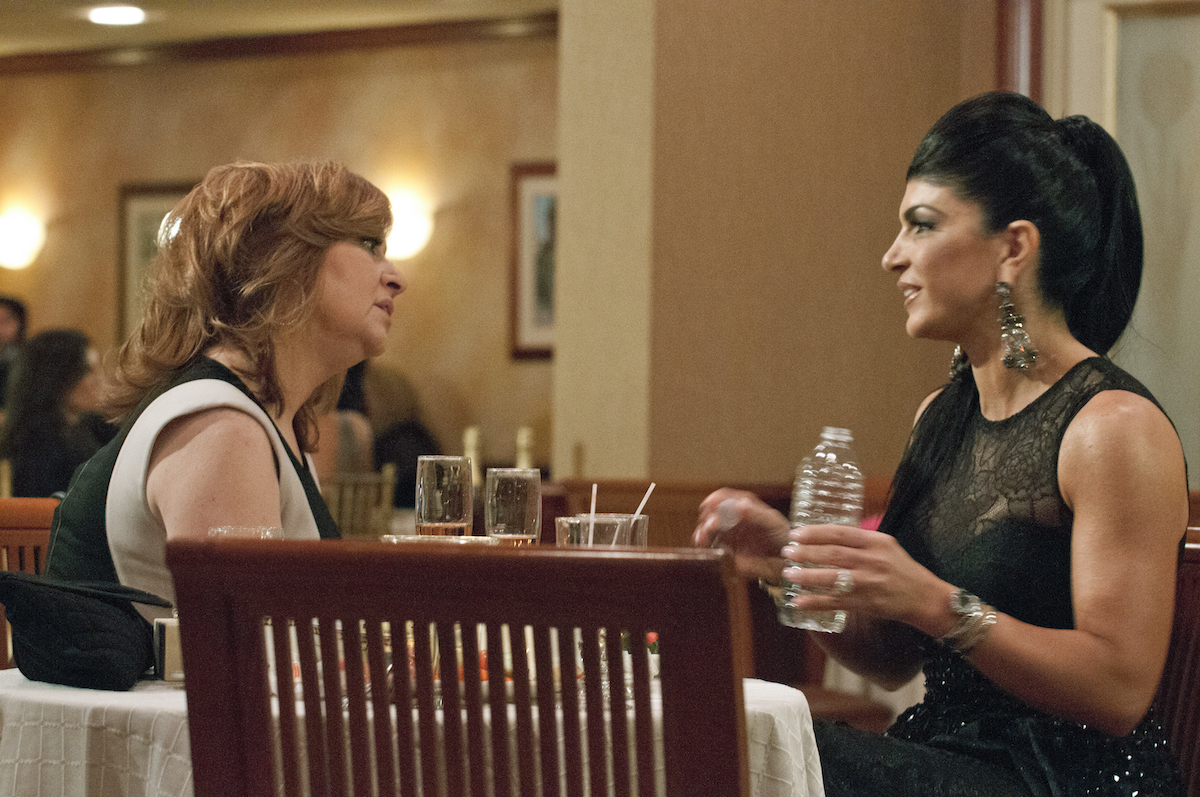 Teresa Giudice and Caroline Manzo's friendship unraveled on 'RHONJ'
The Giudices and the Manzo's have a seemingly close relationship from the start of RHONJ. In fact, it was the Giudices and the Manzo's against Danielle Staub for the first two seasons of the show.
But by the season 3 reunion, Caroline and Giudice were at odds. Caroline accused Giudice of bridging a gap between her and her sister, Dina Manzo. Dina later claimed that Giudice is not responsible for her fallout with her sister.
Related: 'RHONJ': Teresa Giudice Calls Caroline Manzo and Jacqueline Laurita 'Evil People'
Per Caroline, Giudice allowed the fame of the show to get to her head. She also accused Giudice of spreading nasty rumors about her family when they joined the show in season 3. Giudice's brother and sister-in-law Joe and Melissa Gorga – and her cousin's Rich and Kathy Wakilie – became full-time cast members. 
At the time, the family was estranged. Caroline tried to play peacemaker between Giudice and her family, but Giudice did not budge. 
When the Giudice's legal trouble began in 2013, Giudice accused Caroline of telling the feds of them, prompting an investigation into the Giudice's for bankruptcy fraud.
Caroline Manzo says Teresa Giudices competitiveness caused their friendship to fall apart
Caroline says that despite how close her and Giudice's relationship appeared on the show, they did not know one another as well as perceived. During a recent interview with Bravo, Caroline shared that an age gap contributed to her initial estrangement with Giudice. Due to the close friendship between Giudice and her sisters, Caroline and Giudice eventually established their own bond.
"I'm a lot older than all of them (Manzo is 11 years older Giudice) and she was friends with all of them [my sister and sister-in-law] and she would come over every now and again to swim in the pool with Gia at the time who was the only child she had – so I knew her very, very casually in that way," Caroline explained.
Related: 'RHONJ': Teresa Giudice Reveals If She and Caroline Manzo Resolved Their Feud
Giudice admitted during the first season of the show that she was closer to Dina, though she also viewed Caroline as an older sister, or in a motherly way. Giudice and Dina remain close friends, despite the issues between Dina and Caroline – and Dina and Giudice. For Caroline, the reason her friendship with Giudice changed is due to Giudice's competitive nature.
"When it became a competition for her…it was always Teresa, Caroline…I was just doing my own thing, I didn't care and until this day I defy anyone who says I was anything but supportive to her," Caroline insists. 
Caroline also says Giudice did not like to be told the truth. She cites Giudice referring to her as "old" several times throughout the show but Caroline believes Giudice preferred not to receive her wisdom. Giudice often referred to Caroline as a "bully." 
Per Caroline, Giudice's longstanding upset with her stems from Giudice's accusation that Caroline befriended Melissa.